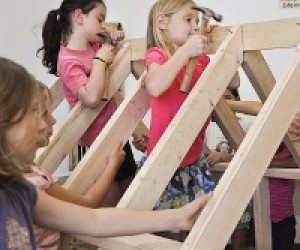 Best New NYC Summer Day Camps for Kids 2012
[UPDATED: February 18, 2013] We realize the number of summer camps in NYC can feel overwhelming. There are literally hundreds of day camps to choose from in the five boroughs, and it seems like new ones pop up every year.

All of these notable NYC summer day camps debuted in summer 2012 with innovative and enriching programs, and they're back this summer, too. Kids can create awesome robots, make like Jeremy Lin on the basketball court, start on the great American novel, commune with nature, or grab a hammer and nails and start building. These camps sound so awesome we want to go!
PlayWell TEKnologies Engineering Camps – Midtown East
St. Bart's, 325 Park Avenue between 50th and 51st Streets Leman Manhattan Prep, 1 Morris St. between Trinity and Broadway
Ages 5-11
I came across PlayWell, a really cool kids' engineering program, at the New York Hall of Science's incredible Maker Faire last fall. For the first time this summer, this national program will host a week-long half-day camp in Manhattan. In the Pre-Engineering camp, kindergartners and first graders will get to create boats, bridges, mazes, motorized cars and more out of 100,000 Lego pieces. In Engineering FUNdamentals, second to fifth graders will tackle engineer-designed projects. Younger kids attend in the morning, older campers go in the afternoon. The camps will also be offered in the Bronx, and Westchester, Nassau and Rockland Counties.

ConstructionKids – Brooklyn Navy Yard
Building 92, Brooklyn Navy Yard, 63 Flushing Avenue between Carlton Avenue and Adelphi Street
Ages 4-9
Although this popular program isn't new, it is moving to an amazing new location at the Brooklyn Navy Yard. Kids participate in hands-on building projects, using real hammers and nails, and other tools of the trade. Each week there is a different theme, like vehicles, skateboards, buildings & cities. Campers work on their own and also collaborate on large-scale projects. Some unique amenities include flat-screen video technology for demonstrating project themes, individual toolboxes and construction animation week during which campers build things, then put them in a movie.

Writopia Lab Summer Camp – Upper West Side
155 West 81st Street between Amsterdam and Columbus Avenues
Ages 9-18
This veteran writing program for school-aged kids is hosting an amazing Fiction and Fun intensive; kids work on fiction, memoir, poetry or scripts with the help of a published author. In Playwriting and Performance, dramatists help children pen plays and musicals, with a final performance for family and friends. There will also be lit-themed field trips to publishing houses like Penguin Books and "character" kickball in Central Park.

The New York Botanical Garden Summer Camps – the Bronx
2900 Southern Boulevard
Ages 5-10
The Bronx oasis hosts a trio of nature camps. In Art in Nature, kids use the gorgeous grounds as inspiration for drawing, sculpting and painting projects. The more outdoorsy Wild Wetlands features canoeing, nature walks, science experiments, bird watching and frog catching. In Forest Adventures, kids can climb trees and explore the NYBG's pristine woodlands through scavenger hunts and pressing plants. Sessions are selling out fast so sign up soon.

Teen Theater Summer Institute – East Village
14th Street Y, 344 East 14th Street between First and Second Avenues
Ages 13-18
Got a drama queen teen? Then this is the camp for you. Developed by the Y's in-house arts fellowship program LABA, this theater intensive allows high schoolers to pick their own focus. Amas Musical Theatre, MCC Theater, Red Fern Theatre Company and LABA run workshops in musical theater, acting, playwriting and theater for social justice. The two-week session culminates in a performance. Bonus: All campers get a free summer Y membership, which includes access to the gym, fitness classes and other activities.

Brooklyn Robot Foundry – Gowanus
303 Third Avenue near Carroll Street
Ages: 5-11
Mechanical engineer Jenny Young and doctor of educational technology Dave VanEsselstyn launched this hands-on program last year. Elementary schoolers learn the mechanical and electronic principles of robotics by designing, building and playing with giant robots and vehicles in the Foundry's well-equipped work space.

NYC is my Backyard – Manhattan and Brooklyn
Ages 5-11
Although NYC Is My Backyard is a relative newcomer to the camp scene (started 2012), the founders are New York City public school teachers, so they certainly know all about sharing the wonders of NYC with kids. Campers will explore one Manhattan or Brooklyn neighborhood each week by learning about its history, visiting its landmarks and cultural institutions, taking photographs and writing up their experiences. While there will be some playtime each day, the focus is academic. By the end of each week, campers will go home with their own professionally bound guidebook to the area they visited.

Basketball Stars – Financial District
Leman Prep, 25 Greenwich Street near Morris Street
Ages 7-15
This basketball program just launched in NYC September 2012, so last year was their first summer camp. Kids can improve their game in a friendly environment with help from top coaches and former division 1 NCAA players. Players of all skill levels will do drills, go swimming and then play an afternoon game of hoops.

Brooklyn Music Factory Summer Camps – Gowanus
295 Douglass Street between Third and Fourth Avenues
Ages 6-12
Two awesome kid faves, Brooklyn Music Factory and Brooklyn Boulders, are joining forces for a pair of summer camps that really rock—in both senses of the word. In Jam 101 and Rock, Write and Record, kids will spend part of their day learning how to rock on the keyboards, guitar, bass, drums or microphone. They'll also get a real workout at Brooklyn Boulders, the city's only dedicated rock climbing gym. Limited to four to six campers every week, so if you're interested act fast.
Find out about other awesome summer programs in our NYC Summer Camp Guide.