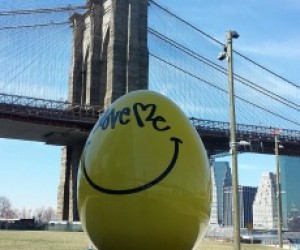 News: Giant Designer Easter Eggs Invade NYC, Free Kayaking in Tribeca, NYC's First Cupcake ATM Opens, Coolest Playgrounds Ever
Have you seen any of the dozens of giant egg sculptures hiding throughout the five boroughs? No idea what we're talking about? Then read on for everything you need to know about the Fabergé Big Egg Hunt, which seems to be taking the local social media scene by storm.

Plus, we've got the lowdown on New York City's first-ever cupcake ATM, a great deal on scoops at both Big Gay Ice Cream shops, a new play space growing in Brooklyn, a planned ice-skating rink in Washington Heights, and links to two must-read articles, one about the world's most fantastical playgrounds, the other about a playground that looks like a junkyard where no parents are allowed.
An Easter egg hunt even parents will love You're never too old to search for eggs... especially when the prize is jewelry! From Tuesday, April 1 through Friday, April 25, keep your eyes peeled for approximately 260 large-scale egg sculptures, all part of the Fabergé Big Egg Hunt, which benefits the nonprofits Elephant Family and Studio in a School. Through Thursday, April 17, the designer-made eggs will be hiding all over the five boroughs. (As you can see from our pic, you'll spy a few in Dumbo in Brooklyn Bridge Park.) From Friday, April 18 through Friday, April 25, all of the eggs will be on display in Rockefeller Plaza. If you want to vie for one of the three "precious gemstone pendants" Fabergé is awarding, download the app and then check in at every egg you find to be automatically entered into the sweepstakes. Or, you know, just take cute pics of your kids in front of the eggs. That's what I plan to do.
Cool new kids' stuff coming soon Though the owners of Park Slope's Norman & Jules toy store didn't make their fundraising goal, they're still planning to go ahead with a scaled-down version of their proposed outdoor play space, promising a slide, a sand-and-water sensory table, a playhouse and a performance space by the end of May.

Also debuting in May: Downtown Boathouse's new FREE kayaking location at Pier 26 in Tribeca, which replaces its old Pier 40 launch site. The org's no-cost kayaking program resumes around Memorial Day weekend. Check the website for updates.

Meanwhile Long Island City in Queens is getting a sleek new children's and women's boutique, mimi&mo, come April that looks like the perfect complement to all of those expensive glass luxury condos going up in the nabe.

And while we won't get to enjoy the outdoor ice-skating rink coming to Highbridge Park in Washington Heights until fall, we're super-excited about it. The northernmost Manhattan rink promises free youth programs, a warming tent, skate rentals and concessions.

Sugar rush Though we suspect this will be more popular with stoned college students than parents of little kids, we feel it's our duty to share that Sprinkles' brand-new, 24-hour cupcake ATM machine in Midtown East is open for business. Just in case plying your children with sugar at 3am is on your wish list.

Perhaps a less dangerous idea is to treat your kids to a small scoop after school. From 2 to 5pm every weekday, both downtown Manhattan Big Gay Ice Cream Shops are offering special small-size versions of their chocolate/vanilla/twist ice cream to children of all ages for just $2 a pop. It's certainly more fabulous than Mister Softee.
Great performances American Idol alum Fantasia is set to return to Broadway's After Midnight on Tuesday, May 13, and the show is donating $5 from every ticket sold for her opening night to the Harlem School of the Arts in honor of its 50th anniversary. If you love classic Duke Ellington and Cab Calloway songs, incredible tap-dancing and over-the-top costumes, it's a great date-night option, or even a family outing if you have tweens.

If you have a child on the autism spectrum, the New Victory Theater is hosting an autism-friendly performance of circus show Bello Mania on Thursday, April 17. Trained specialists from nonprofit Autism Friendly Spaces will be on-site to welcome families and facilitate activities, various fidget tools and a calming corner. There's even a Meet Your Seat option, which allows families to visit the theater ahead of time so kids can feel more comfortable.
Groundbreaking playgrounds Two articles about noteworthy playgrounds caught our eye this week. The first is an eye-popping roundup of the most fantastical playgrounds the world over. These pictures are certainly worth thousands of words—my personal favorite is Tokyo's oversize tire monsters park—but I'm sad to say not one is located in NYC. I think Tom Otterness' whimsical play structure in Silver Towers Playground in Midtown and Staten Island's nautical-themed Seaside Wildlife Nature Park are worthy of inclusion.

Finally, as a mom who's been excoriated online for revealing that I allow my kids to stay home and travel to and from school alone (even in a blizzard), I read the recent Atlantic feature The Overprotected Kid with selfish interest. The piece describes The Land, a so-called "adventure playground" in the U.K. designed to foster open play with no parental supervision (though there are professionally-trained "playworkers" in case things get out of hand). It looks like a junkyard and yes, it's potentially dangerous. The goal is to encourage children to take risks while playing so that they may emerge with self-confidence and courage. The article is truly a fascinating read. Would you allow your child to play—and light fires—in such a space without looking on? Tell us your reactions in the comments.