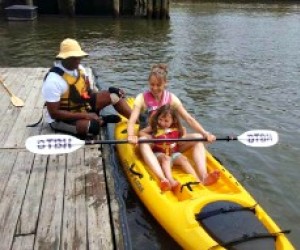 Free Kayaking with NYC Kids: Places to Kayak and Tips for Families
We may live in a concrete jungle but there are still plenty of great ways to connect with nature in New York City. And with the renewed interest in waterfront access in NYC, it's easier than ever to get out on the water to row, canoe and kayak during the summer months.

As part of our ongoing commitment to highlighting interesting nature outings for families in NYC, Mommy Poppins is proud to launch a series of guest posts by the Appalachian Mountain Club's Kids Outdoors New York City. Kids Outdoors is a FREE online community for families filled with ideas on outdoor activities in the NYC area and expert advice on how to get started. Our first post is by Cheryl and William de Jong-Lambert, Outdoors with Kids New York City authors and local parents. They took their children, ages 7 and 10, kayaking in NYC for the first time and shared their experience and important tips for families. They've got the scoop on the best places to go kayaking with kids for FREE in Manhattan, Brooklyn and Queens.
Kayaking always struck us as a quintessential summer pastime—one that would be as exciting for our kids as sprinkler-studded playgrounds, pools and beaches. Originally, we figured we'd try it someday on a lake or pond somewhere upstate. Then we discovered we could take our first-ever paddle on the Hudson River just off midtown Manhattan, with cruise ships, large yachts and ocean-bound barges chugging by. Once we got over our initial fears and apprehensions—Is the water clean enough? Will we be swept into the shipping channel? Will we tip? Can we actually do this?—it was an exhilarating and memorable experience for us and our kids.

The dockhands at Downtown Boathouse, an all-volunteer organization that offers FREE kayaking at Pier 26 in Tribeca, are experts at showing newbies the ropes. Before we got on the water, they had us sit kayak-style on the dock and learn how to maneuver the paddle. They also spoke with our children about the importance of staying calm and enjoying the ride. The Downtown Boathouse uses sit-atop kayaks. Young children can sit on a parent's lap in a single-person kayak, while older children are encouraged to sit in the front seat of a double. All facilities also have life vests for children and adults.

While policies may differ at various boathouses, children should be able to swim confidently before kayaking. They should also be able to sit still during the ride and not reach overboard, no matter how tempting. You can practice on shore with younger children by sitting on a blanket for 10 minutes while going through the motions of rowing. You should also explain that they'll need to sit in a small area of a similar size when you're on the water. Here's a handy list of additional tips for boating with kids. You can also find city-sponsored kayaking classes and events at piers and docks throughout the city.

Weather permitting, you can kayak for FREE at the following locations in Manhattan, Brooklyn, Queens and Staten Island through October. Reservations are not required, and one adult must have an ID and sign a waiver for the boat.

Downtown Boathouse – Tribeca
Pier 26 near North Moore Street and the Hudson River
On weekends, holidays and select weekday evenings, the Downtown Boathouse offers free kayaking on the Hudson River at Pier 26. Expect to get a little wet when you kayak. The Boathouse suggests wearing a bathing suit, but we didn't and found that on a hot summer day, we dried off quickly. Children under 16 need to be accompanied by an adult and only one kid is permitted per boat. If you'd like more supervision, the volunteer organization also runs kayaking classes every Wednesday evening.

Manhattan Community Boathouse – Midtown West & the Upper West Side
Pier 96 at 56th Street and the Hudson River
72nd Street and the Hudson River
Formerly run by the Downtown Boathouse, this new org is handling walk-up kayaking on weekends at 72nd Street, and every day at Pier 96 as of summer 2014. Check the website for the complete schedule.

North Brooklyn Boat Club – Greenpoint
Broadway Stages Boatyard, 49 Ash Street at McGuinness Boulevard
On the second and fourth Saturdays of the month, you can kayak on Newtown Creek, the body of water that narrowly separates Brooklyn and Queens. Members can paddle more often and try out challenging weekend trips. Children must be at least 4′ 8″ tall so it's best for older children. Visit the calendar for more details. Afterward, stroll the Newtown Creek Nature Walk or check out other cool things to do in Greenpoint.

Brooklyn Bridge Park Boathouse – Brooklyn Heights
Pier 1 in Brooklyn Bridge Park
The Brooklyn Bridge Park Boathouse offers kayaking on Saturdays and select Thursday evenings. Reportedly lines can get pretty long so be prepared to wait. Check the calendar for a complete list of dates and times. Afterward, check out all of the things to do in this awesome park including a carousel, a pop-up pool and an incredible water playground.
Red Hook Boaters – Red Hook
Louis Valentino, Jr. Park and Pier, Coffey and Ferris Streets
Another all-volunteer group that offers public kayaking on Sunday afternoons and Thursday evenings in an effort to promote awareness of the Brooklyn waterfront. The members hold beach cleanups during every paddling session, so in addition to boating it's a great way to chip in and help keep the shore clean. Check the calendar for full details.