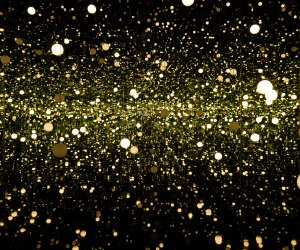 Yayoi Kusama Returns to NYC with Mirrored Infinity Room in Chelsea
New York City might officially have a case of Yayoi Kusama fever. The 90-year-old Japanese contemporary artist, best known for her immersive infinity mirror rooms, debuts a new float in the NYC Thanksgiving Parade later this month, and will mount a large-scale exhibit at the New York Botanical Garden in May 2020. Meanwhile, just last week Kusama unveiled one of her celebrated new works at David Zwirner's Chelsea gallery, in an exhibition that is FREE and open to the public on a first come, first entry basis.
The installation, titled "Dancing Lights That Flew Up To The Universe," made our list of the most-anticipated family activities in NYC this fall. Part of the artist's "Every Day I Pray For Love" exhibition, Kusama's new infinity room is on display until December 14, and if you're looking for a unique art experience to share with your kids, this just might be it. For a look inside the space and tips on what to expect—and how to visit with kids—read on.
Followed by a global audience, Kusama's works tend to be distinctly recognizable thanks to their use of repetitive elements, such as dots, to evoke both microscopic and macroscopic universes. Kusama, who works primarily in sculpture and installation, began creating these immersive "infinity room" environments in 1965 and has since produced more than 20.
Kusama's latest infinity room, which measures only 9 feet by 13 feet, is constructed from mirrored glass, wood, metal, and acrylic panels. Illuminated by an LED lighting system that projects the appearance of infinite space, the effect is both poetic and somehow whimsical.
RELATED: 31 Things We Can't Wait to Do This Fall in NYC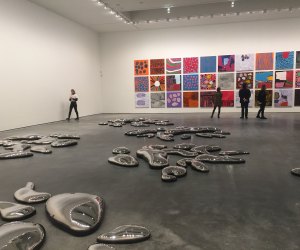 "Clouds" is a 90-part floor installation included in Kusama's exhibit "Every Day I Pray For Love."
Kusama's new exhibit also features some works on canvas, as well as a few aluminum and fiberglass sculptures. There's also a 90-part stainless steel floor-based installation entitled "Clouds" that children will find interesting.
But the Infinity Mirror Room is by far the exhibit's biggest attraction. Known to draw mass audiences and considered a social media sensation (#infinitymirroredroom has more than 20K posts on Instagram), Kusama's immersive environments generate long wait times wherever they go, and staff at the Zwirner gallery say they expect more than 100,000 guests to visit the site. The gallery has already issued warnings about expected wait times of more than two hours, and time limits will be enforced for each visitor who enters the space, to keep waits to a minimum.
Which begs the question, is the new Infinity Room worth the wait for kids? While the art itself is massively kid-friendly, after waiting for a few hours to spend just a few minutes in the infinity room, you might be dealing with some frustrated kids. And perhaps just as concerning, the gallery has no public bathroom facilities, which for parents of little kids might make this exhibit a no-go. For older kids, there are plans in place to open the space to school groups on Mondays for pre-arranged visits.
The gallery is upfront in its Kusama Visitor FAQs about the expected line length (spoiler alert: it's long) and plans to posts updates on wait times on their Twitter feed. If you plan to go, our recommendation is to visit early on a weekday for the shortest line—and plan to make up for the wait with a visit to the High Line or the nearby playground at Clement Clarke Moore Park, perhaps followed by some treats at Chelsea Market.
Yayoi Kusama's exhibit at the David Zwirner Gallery is located at 537 West 20th Street between Tenth and Eleventh Avenues in Chelsea. The exhibit is currently scheduled to run from Saturday, November 9 through Saturday, December 14, during the gallery's opening hours, Tuesday–Saturday, 10am–6pm. The gallery will be closed on Thursday, November 28, for Thanksgiving. The exhibition is FREE and open to the public, no tickets required.