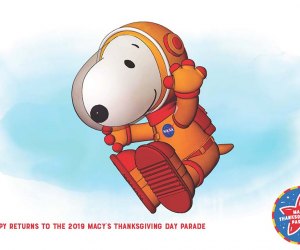 What's New in the Macy's Thanksgiving Day Parade Lineup for 2019
With Halloween firmly in the rear-view mirror, the holiday season is officially upon us, and we're gearing up for one of our favorite turkey day traditions: The Macy's Thanksgiving Day Parade, which has just announced the new additions for the 2019 parade.
Read on for the details and new stars of the show, from soaring giants to gliding floats, and then start plotting your Thanksgiving parade viewing strategies, whether you're planning to watch the balloons come to life on the Wednesday night before the parade, or see the main event, which steps off at 9am on Thursday, November 28.
Thanksgiving Parade Balloons
Astronaut Snoopy
Honoring the 50th anniversary of the moon landing, Snoopy gets a deep space makeover in 2019. The beloved Peanuts character is the longest-running character balloon in the Thanksgiving parade, and his appearance in 2019 is his 40th, though he's worn eight different identities. This astronaut look might be new, but Snoopy's no stranger to space; he went as an Apollo astronaut in 1969.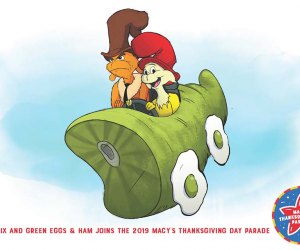 Green Eggs and Ham
In honor of Netflix's new show, the Seussian characters Sam and Guy take flight in a ham-mobile. At 51 feet long, 27 feet wide, and 46 feet tall, this cartoony car could carry a cargo load of 4 million eggs or 14,000 hams.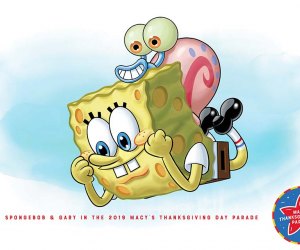 SpongeBob SquarePants & Gary
In honor of his show's 20th anniversary, the beloved sea sponge gets a makeover that includes his pet snail coming along for the sky-high ride. This will be the 15th flight for SpongeBob, who debuted in 2004 and was redesigned once before in 2013. In addition to celebrating his show's anniversary, SpongeBob is gearing up for a year that includes a made-for-TV musical, new movie, and a spin-off show.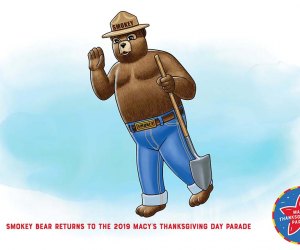 Smokey Bear
Known by generations of kids for his PSA message—"only you can prevent wildfires"—Smokey Bear returns to the parade as a heritage balloon celebrating his 75th birthday. Smokey's first flight came in 1966; his last appearance was 1993.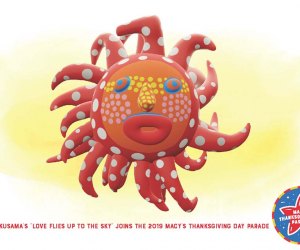 Love Flies Up to the Sky
Yayoi Kusama is the latest artist to make her parade debut with her creation for the BlueSky Gallery collection. Inspired by her My Eternal Soul series, the balloon is a whimsical, happy sun-shaped face, bedazzled in the artist's signature polka-dots. Can't get enough Kusama? The artist's Infinity Rooms will be on display at David Zwirner Gallery from November 9-December 14, and she'll be the focus of a major exhibition at the New York Botanical Garden next spring.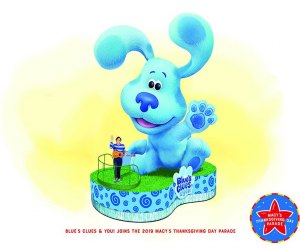 Thanksgiving Parade Floats
Blues Clues & You
Beloved Nickelodeon preschool character Blue has had the pleasure of starring in parade's past as both a float and a balloon. This year, she's both. A giant inflatable Blue is perched upon a new float, waving her sparkly paw as she passes by, touting her new show, Blues Clues & You and escorting Josh Dela Cruz, the new host.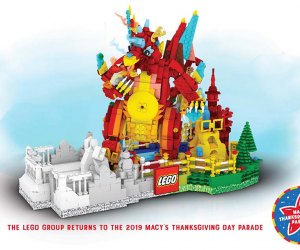 The Brick-Changer
The beloved Lego bricks are given a larger-than-life treatment in this new float. "The Brick-Changer," who is part dragon, part turkey, rides on the float as part of a fun, funky city-scape made from toy bricks. If actual Legos were used, more than 2,000 (oversized!) pieces would be needed. KPop stars NC 127 will perform on the float.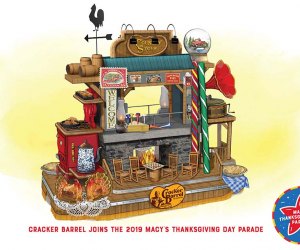 Home Sweet Home
A little bit of country comes to the big city, thanks to this float from Cracker Barrel Old Country Store. Beloved for their down-home charm, porches framed by rocking chairs, and adjoining stores full of classic home goods and playthings, Cracker Barrel's signature style will be on display in this endearing new float. Fittingly, country star Tenille Townes lends her sound to the scene.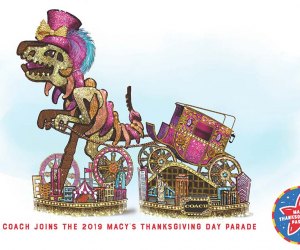 Rexy in the City
Presented by luxury brand Coach, Rexy represents the brand in glittery fashion. The two-story tall, fashion savvy dino is taking to the streets with a carnival-inspired look. He'll pull a stagecoach behind him as he dwarfs some iconic NYC landmarks. Broadway star Billy Porter is along for the ride.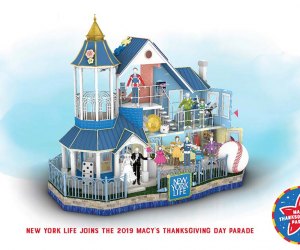 Toy House of Marvelous Milestones
New York Life celebrates its 175th anniversary with this ode to life's most important moments. A paper-doll dwelling is the backdrop for milestones ranging from graduations to retirements. The gold turret on the roof pays homage to the corporation's downtown NYC headquarters. Singer Kelly Rowland performs.
Renderings courtesy of Macy's