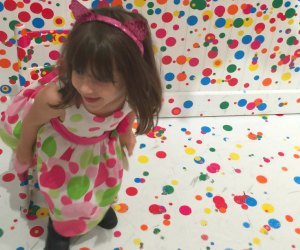 Yayoi Kusama: Infinite Mirrors at The Broad—Is It Worth the Wait for Kids?
When tickets for the Yayoi Kusama: Infinite Mirrors exhibit at the Broad Museum went on sale, they sold out almost immediately. It's no surprise, given how many people have lined up for hours at the popular downtown museum, to spend less than a minute inside its Infinity Mirrored Room (and then share the photos on Facebook). The famous room is part of the museum's permanent collection, but the temporary Infinite Mirrors exhibit by the same artist is only open through the end of 2017. Chances are, if you haven't already booked your tickets, you're probably not going. That said, there are daily stand-by tickets, so if you're wondering whether to succumb to the hype and queue up for a chance to pose your kids in the infinitely Instagrammed exhibit, we've got some insights to help you decide.
Given that the new show has a whopping six of Kusama's kaleidoscopic infinity rooms—and tickets for kids are free—parents might logically see the exhibit as a colorful, interactive way to introduce kids to modern art. In a lot of ways, the exhibit does feel custom-made for kids. As you walk into the Broad, enormous pink spheres covered with polka-dots descend from the ceiling and lounge on the floor. The greatest challenge for most parents will be convincing little ones they can't touch the art, given how much some of it looks like playground toys. Keep in mind, though, that guests are only allowed 30 seconds in each room, which may be tough to explain to little ones just getting warmed up at that point.
The first infinity room is an oldie-but-goodie: the Infinity Mirrored Room that has been part of the museum from day one is included in the show (and doesn't go back to being included in regular admission until 2018). As with all the infinity rooms on display, there's usually a wait, which can be wearing for kids, but lines move quickly. Visitors simply step inside what feels like a jumbo-sized kaleidoscope. Squint, and the starlike lighting and endless reflections can make it easy to imagine what it might feel like to be adrift in space. While it might be scary for very small kids, most little ones will get a kick out of it.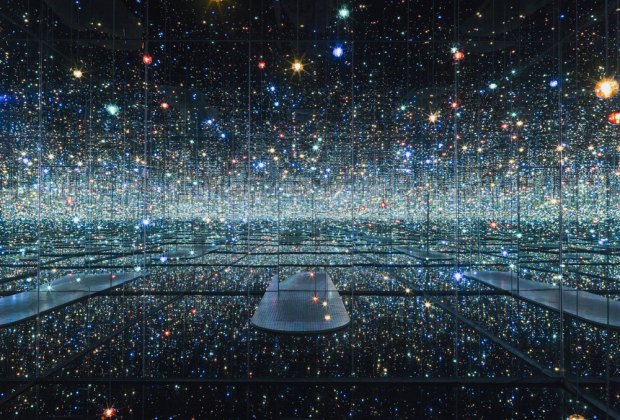 "Infinity Mirrored Room—The Souls of Millions of Light Years Away" - Photo courtesy of The Broad
While each infinity room is mind-bending fun, it's a challenge to actually capture that wow factor on film. Though you can enter alone or with the members of your party, every group shot shows at least one person staring down at the camera, and getting kids to all look in the same direction at once is even more complicated when their faces are reflected in every surface. The good news? One infinity room—All the Eternal Love I Have for the Pumpkins—which is owned by Kusama, does not allow pictures. While that might be a disappointment for some, it's also a welcome respite from trying to find a good angle in less than a minute.
Some of the infinity rooms dim the lights or turn them off briefly, but docents are quick to give a heads-up, especially if you have little ones in tow. What might be a thornier issue for some parents is Kusama's interest in incorporating, uh, phalluses into her art. Chance are, kids won't necessarily make the connection, especially when they're plastered to a bathtub and spray-painted silver. Still, be prepared for some interesting questions or gales of laughter if they do figure it out.
There's one room in the exhibit that comes with a parental advisory: there are photos that contain some nudity. Though they aren't graphic, there is a written warning on the wall, and guards are quick to give parents the warning in advance.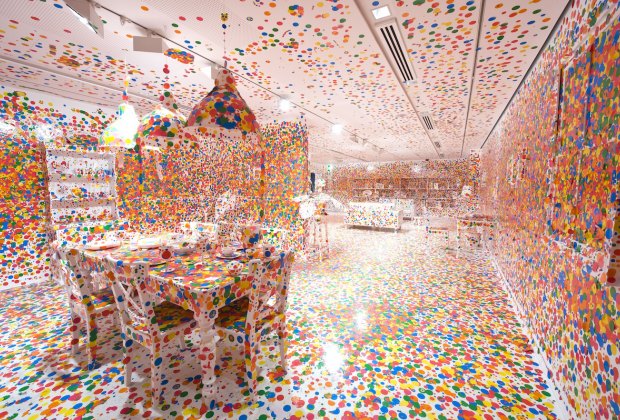 "The Obliteration Room" is infinitely colorful. Photo courtesy of The Broad
It's the last room that's likely to make younger kids take notice, though. After walking into a replica of an apartment in which everything from the flowers on the kitchen table to the toys in the bookshelf and the bicycle against the wall are painted white, every person entering the room gets a page of brightly-colored, circular stickers. Visitors are encouraged to plaster these anywhere they like. Kids love the chance to leave a mark (and maybe sit at the table or on the tricycle), while grown-ups satisfy their urge to take photos. Given that the infinity rooms leading up to this one may be a little disappointing from the kid perspective, the Insta-riffic last room is a welcome reward.
Taken as a whole, there are probably events this holiday season that are more kid-pleasing than this one. Holiday lights are free and look great in your Facebook feed. But if your heart is set on a social media phenomenon like Museum of Ice Cream or Happy Place, Yayoi Kusama: Infinite Mirrors boasts the highest street cred of the set. People will be lining up at opening time for stand-by tickets daily, except Mondays, through the end of the year. The appeal, at least, appears to be infinite.