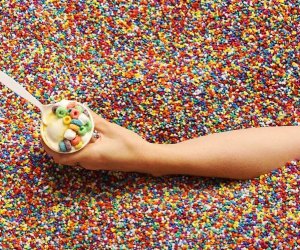 Museum of Ice Cream and Its Sprinkle Pool of Treats Hit Los Angeles
UPDATE: The Museum of Ice Cream is currently closed and looking for a new location in DTLA.
Evidently we all must have screamed, because that Museum of Ice Cream pop-up phenomenon that our NYC friends were taunting us with last summer is arriving for an LA run this spring. Organizers call it a "whimsical urban ice cream playground." The New York Times says it "evokes the Willy Wonka flair." And word on the street is you can wade barefoot through rainbow sprinkles. 'Nuff said? Tickets go on sale April 3 and are likely to sell fast, so read on for the scoop.
The "museum"—which pops up in DTLA from April 22 through August 21 (yes those are more dates than before!)—is the vision of Maryellis Bunn, a woman looking to fulfill a childhood fantasy about swimming in a pool of sprinkles. Amen! A group of artists and designers have created a screamingly likable, occasionally lick-able display with a host of interactive exhibits, and, yes, artisanal, custom-made ice cream concoctions to actually eat.
Kids might enjoy the ice cream sandwich swing, an ice cream scoop seesaw, or a massive collaborative ice cream sundae. And that pool of rainbow sprinkles is one of the biggest highlights; the sprinkles aren't edible but look and feel real. Essentially, it's a giant ball pit filled with sprinkles and the occasional bouncy toy shaped like a cherry (all of which organizers promise are changed regularly, in case you wondered).
OUR LATEST VIDEOS
Other fantastical frozen features include a jungle of melted ice pops (that you don't need to clean up) and a banana split made of 10,000 bananas. Ice cream tastings and treats rotate throughout the length of exhibit, from master Golden State sweet mongers that include Salt & Straw, McConnell's, and Coolhaus. The Angeleno version of the lactose tolerant festivities includes a uniquely California-themed room, too. In & Out shakes, perhaps?
All told, LA's Museum of Ice Cream is planned at four times the size of its eastern version. The proceedings are family friendly, though be prepared for your kids to wait in line behind selfie-snapping millennials for the seesaw or sprinkle pit. Which brings us to the prices, which are steep: $29 for adults, and $18 for kids. Nonetheless, tickets are expected to sell out fast, as they did in New York. If you want to go, purchase now. Seriously.
The Museum of Ice Cream opened at 2018 E 7th Place in DTLA on Saturday, April 22, 2017, and is currently looking for a new location. Admission is accessible only by timed ticket. Buy tickets from the website in one-hour timed slots.
Photo credit: Museum of Ice Cream