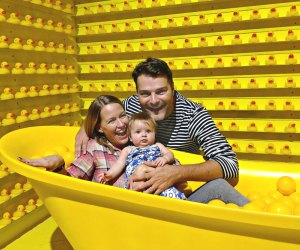 Happy Place: Have an Instagrammable Family Day Out at this Pop-up
Note: Happy Place is currently closed due to city zoning issues; it is due to reopen later this month at LA Live. More information is available on its Instagram page.
Move over Disneyland; there's a new happiest place on Earth. Following in the exceedingly Instagrammable footsteps of the Museum of Ice Cream, here comes Happy Place, a pop-up art installation with a serious commitment to putting a smile on your face—and a selfie on your phone.
With 13 rooms of interactive exhibits, spread out over a 20,000 square foot warehouse in the white hot Arts District, this social media hub is a memorable place for some holiday snaps. You and your kids won't know what to crawl on, dive into, or taste first.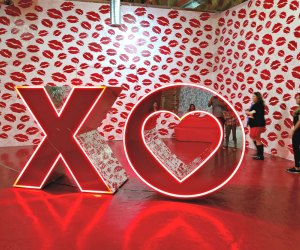 OUR LATEST VIDEOS
At $28.50 per person, Happy Place tickets aren't cheap, but our bet is once you step inside you'll consider it worth the price of admission. Your family will get to swim in a pot of gold, climb onto a birthday cake the size of a swimming pool, and step inside what's being billed as the world's largest confetti dome. There's even a food truck out back, with rainbow colored grilled cheese sandwiches.
Every nook and cranny of this exhibit offers something to look at, and perhaps even take the perfect family photo in front of. And here's the best part: it's appropriate for any age, from little kids to kids at heart. Heck, even my four month old had a good time, although we did learn the hard way not dip a really young one in the ball pit, unless you want to go fishing for babies.
RELATED: Little Damage in DTLA: Selfies with Charcoal Ice Cream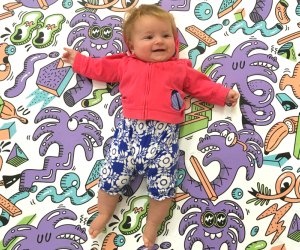 The neighborhood is an added bonus, with cute coffee shops and restaurants everywhere you look. And while street parking can be tough, there's a brand new lot right next door—plus the exhibit exits directly into the parking lot of the Los Angeles Gun Club (for a little juxtaposition).
The installation opens November 20th and runs through January 7, but it's likely to sell out fast. Timed tickets are available on the website.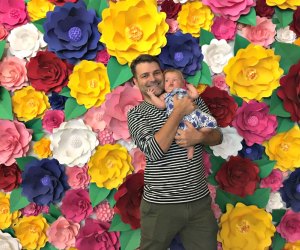 Photos by author