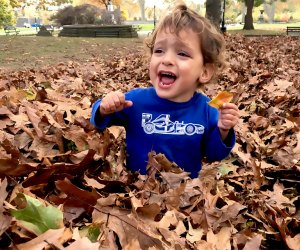 31 Things We Can't Wait to Do This Fall in NYC
The other day, I spotted the first of the Halloween pop-up shops that dot city streets come Fall, and it hit me: Though my AC is working overtime, and I'm still cramming as much summer fun in with my kids as possible, the winds of change are blowing.
Rather than lamenting the things we didn't get to, though, we decided to look forward to what's on tap, so here's our season-long look at the family-friendly fall fun we can't wait to get started on. After all, we've got lots of assorted school holidays and long weekends to fill before the weather really changes. Without further ado, here are 31 things we're looking forward to doing this fall in NYC, a mix of seasonal favorites and new openings that has us actually looking forward to September.
1. The first day of school....well, not really, but I am looking forward to adding my own kids' photos to the adorable trail of first-day pictures that have been filling up my social media feed.

A procession of handmade lanterns floats through Morningside Park to Columbia's campus. Photo courtesy of the event
2. Making reservations for an interactive lantern-building workshop, then seeing the breathtaking Morningside Lights procession on Saturday, September 21. FREE
3. Getting in touch with my Italian roots at the over-the-top Feast of San Gennaro in Little Italy.
RELATED: Best Annual Fairs and Festivals for NYC Kids

Children's Day at the Brooklyn Book Festival gets kids excited about new books and reading. Photo courtesy of the event
4. Picking out some great books to cozy up with on cool Fall mornings during the annual Brooklyn Book Festival and its Children's Day, on September 22, where kids can enjoy readings from kid-lit icon Mo Willems, Jon Scieszka, and other stars of the genre. FREE
5. Re-acquainting ourselves with a favorite old character when The Pout Pout Fish takes over the stage at the New Victory Theater.
6. Enjoying some farm fun with the Queens County Fair on September 21 and 22 at the Queens County Farm Museum.
7. Getting lost in the Amazing Maize Maze, or exploring one of these other corn mazes outside city limits.
8. Explore our favorite toy store/free playspace at CAMP, which gets a new theme come mid-September and enjoy a brand new CAMP spot in Brooklyn's City Point later in the season.
9. Loading up baskets overflowing with freshly picked apples, and noshing on apple cider donuts on the way home.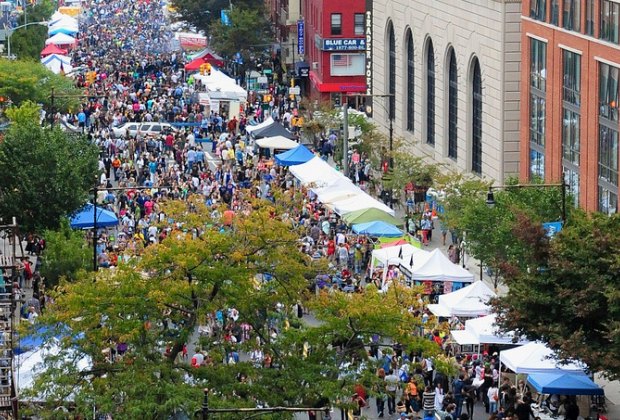 Hit the streets of Brooklyn for the Atlantic Antic. Photo courtesy of Atlantic Antic
10. Heading to Brooklyn for the annual, mile-long Atlantic Antic with its 500+ vendors and 10 stages of live entertainment on Sunday, September 29. FREE (fees for some activities).
11. Visiting Manhattan's only lighthouse during the annual Little Red Lighthouse Festival on Saturday, October 5. FREE
12. Exploring the candy trail, watching pumpkin-carving demos, catching a magic show, and visiting all our favorite Bronx Zoo animals during the annual Boo at the Zoo.
13. Spending some quality time with furry friends closer to home and taking them to the Blessing of the Animals at St. John the Divine on Sunday, October 6.
RELATED: 30 Perfect Fall Family Day Trips from NYC

Take in the foliage at one of NYC's amazing parks. Photo of Central Park by the author
14. Taking a brisk fall walk while enjoying some excellent leaf peeping at one of these city parks. Push yourselves a little harder with one of these hikes.
15. Visiting the New York Botanical Garden to enjoy the Edible Academy's bountiful harvest over Columbus Day Weekend.
16. Sneaking away for a long weekend at these fall-friendly haunts around the Northeast.
17. Visiting Governors Island once the crowds die down. Bonus: Pumpkin Point returns in late October for a third consecutive year!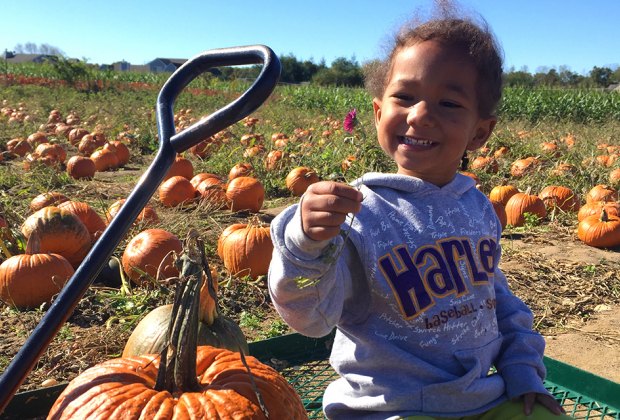 Picking the perfect pumpkin at the pumpkin patch. Photo by the author
18. Nabbing the perfect pumpkin at one of these nearby patches.
19. Getting some serious pumpkin carving inspiration at the stunning Great Jack O'Lantern Blaze in Croton-on-Hudson.
20. Buzzing across the river to explore the long-awaited American Dream Mall when it opens on October 25, bringing with it the indoor amusement park Nickelodeon Universe.
21. Another opening we're anticipating: The renovated, expanded, and improved Museum of Modern Art, which has been closed since mid-June as it reinvents itself.
22. More artistic fun comes courtesy of David Zwirner Gallery, which hosts a solo exhibition from Yayoi Kusama, complete with a new Infinity Mirror Room. To get a taste of what's in store, read our recap from her 2013 exhibition at the gallery.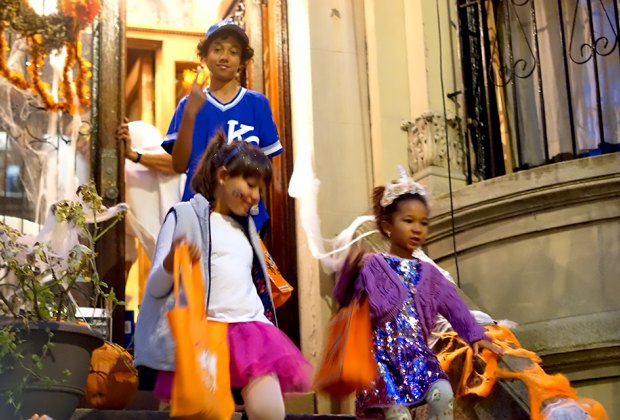 Hit the stoops of Harlem for a fun Halloween night of trick of trick-or-treating. Photo by the author
23. One word: Halloween.
24. Once we've had our fill of costumes, parades, and trick-or-treating, we'll turn our attention to the Day of the Dead celebrations city wide.
25. Catching the Big Apple Circus when it opens its 42nd season at Lincoln Center in mid-October.
26. Spending the day exploring a museum thanks to Smithsonian Museum Day on September 21. Tickets are already available for download. See our full story for details. FREE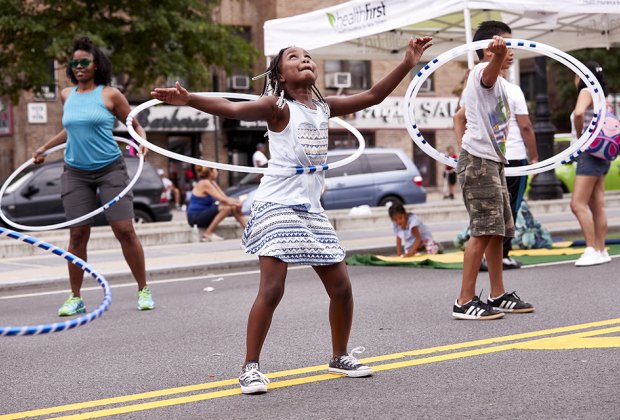 Photo by Argenis Apolinario
27. Boogie-ing down in the Bronx with the annual Boogie on the Boulevard on Sunday, September 15. FREE but advance registration requested.
28. Getting an up close view of our favorite Sesame Street characters as they celebrate their 50th anniversary with a Lincoln Center stage show, orchestra, and Wynton Marsalis.
29. Celebrating another important milestone: Disney on Broadway's 25th anniversary. Disney teamed up with NYC's Fashion Institute of Technology to showcase students' re-imagined designs for its leading ladies.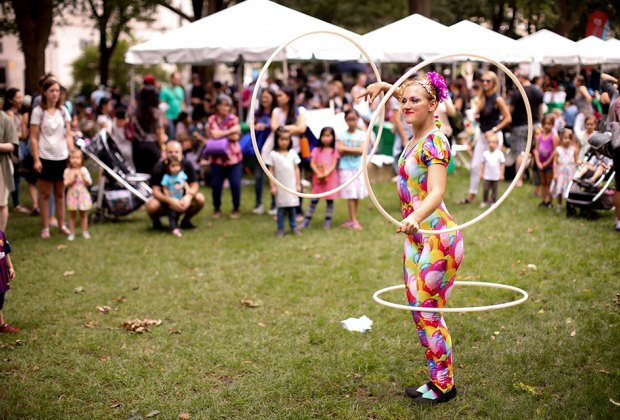 Performances and entertainers take over Madison Square Park. Photo courtesy of Madison Square Park
30. Rocking out during the annual Madison Square Park Kids Fest on Saturday, September 14. FREE
31. Toasting the changing seasons at the Mid-Autumn Harvest Moon Festival while enjoying traditional mooncakes and tea on Saturday, September 7.