The Adventures of Tortoise & Hare The Next Generation
The Sheen Center

The Very Hungry Caterpillar Show
DR2 Theatre

NYC Easter Brunch Cruise 2023
Event Cruises NYC
Sign up for our free newsletters.
Starlight Park in the Bronx Reopens After a Stunning Renovation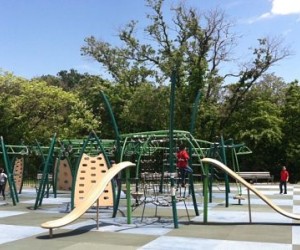 5/29/13
- By
Sonia Gonzalez
As a Bronx resident, I can say from firsthand experience that we don't get as many fancy newfangled parks and playgrounds as some of the other boroughs. So I'm always thrilled when a new state-of-the-art green space like Starlight Park opens in my neck of the woods.

Technically, Starlight Park isn't new but it was closed for more than a decade. It finally reopened earlier this month after a $18 million overhaul and is full of new amenities. Nestled between the Bronx River and the Sheridan Expressway, the renovated 13-acre park features two playgrounds, picnic areas, bike trails, ball fields, manicured lawns and access to the waterfront. The one big downside to Starlight Park is that it's tough to get to. Read on for a look at all the green space has to offer as well as tips for the best way to get there.
The new Starlight Park has attractions for all ages including a synthetic turf multi-purpose field; basketball courts; picnic and chess/checkers tables; a pair of playgrounds; broad paths for jogging and biking; and lots of open green space to romp in along the lush woods that line the Bronx River. There's also waterfront access via floating docks—great launch sites for canoes and kayaks. My kids were big fans of both playgrounds—they're more or less side by side, separated by a large spray shower area. The park is also a great place for picnics (on the tables or lawns), and learning to ride bikes or scooters.

There is one controversial aspect to Starlight Park: Getting there. The park is located between the Bronx River and the Sheridan Expressway so it's tough to get to. The best way is via the East 174th Street Overpass, which has a mid-span stairway that goes down to the park. But many nearby neighborhoods are pretty much cut off from it by the river and railroad tracks. There has been a community outcry about the lack of access, especially since plans for a bridge over the railroad tracks and river were scrapped due to indemnification issues. It's being worked on so perhaps in the future the bridge will be built. I hope so—it's such a lovely park, everyone should be able to enjoy it easily.

Starlight Park is located from 172nd and 174th Streets between the Sheridan Expressway and the Bronx River. It's part of the Bronx River Greenway, a series of parks along the Bronx River. Take the 2 or 5 train to 174th Street and walk across the overpass.

Get the scoop on other awesome parks and playgrounds in NYC.