SplashDown Beach: Family-Friendly Water Park in Hudson Valley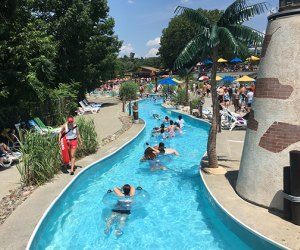 4/13/17
- By
Sonia Gonzalez
A water park is hard to beat on a hot summer day. With summer's heat on the horizon, I'm re-living the fun my family had at SplashDown Beach in Fishkill, New York last summer. We hardly noticed the blazing temperatures as we coasted along the lazy river and enjoyed the waterslides and other thrill rides. Dubbed "America's Biggest Little Water Park," this Hudson Valley park, about 90 minutes north of NYC, offers all the fun of its larger counterparts, with a solid family-friendly vibe, attentive staff, and fun rides for all ages. There's a reason we included SplashDown in our roundup of best water parks for toddlers, but really the fun extends to big kids, teens, and parents, too.
Don't forget to check out the Mommy Poppins Theme and Water Park Guide for more amusement park fun—and waterslides.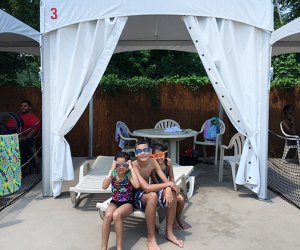 Enjoying our private cabana.
SplashDown Beach sits on 19 acres making it a comparatively compact water park, which was one of the reasons we wanted to visit. You can get to every ride in one visit if you stay all day. We chose to reserve a private cabana, which comes with two lounge chairs and a table with seating for four under a shaded tent. Locker rental and waiter service is also included. This optional add-on was great for my family.
Once we were lathered up with sunblock and had our personal effects stored safely away, we headed to the Monster Wave Pool to cool off and figure out which ride to try first. My kids had so much fun in the waves, I had to remind them there was more to see and do.
RELATED: Best Water Parks for Families Near NYC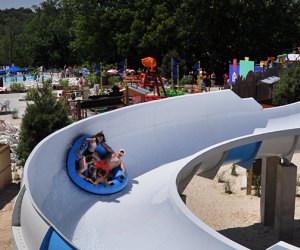 Zip down the Arctic Mammoth waterslide as a family! Photo courtesy of the park.
Because it was my kids' first visit to a water park, I was a little worried my 7- and 8-year-old daughters would be scared to take on some of the bigger slides and rides, but I shouldn't have been. They made a beeline from the wave pool to the Arctic Plunge Racer, a tall, twisting waterslide that you race down headfirst! Our next stop was the Arctic Mammoth, SplashDown's largest attraction. The kids loved that we were able to experience that ride together on a five-person raft.
We visited several more rides (some more than once), breaking periodically to eat, hydrate, and reapply sunblock. We saved the Humunga Half-Pipe for last. This zero-gravity ride is more than four stories high and the only ride of its kind in New York state. I'd say it's probably the scariest—er, most thrilling—ride at SplashDown. I was shocked when my youngest asked to go on it. My little daredevil and her two older siblings took on the massive ride with their father (I opted to watch from the sidelines)—and they loved it, of course!
RELATED: Family Day Trips and Weekend Getaways Guide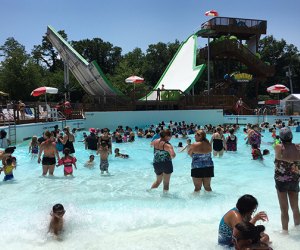 Watch the daredevils on the Humunga Half Pipe from the safety of the family-friendly wave pool.
Overall, our visit to SplashDown Beach was fantastic, and one of the best family fun days we've had to date. The park offers so many rides and attractions, with several areas for toddlers and preschoolers including Splash Works, Water Whirler, and Shipwreck Lagoon. Monster Wave Pool, Croc Creek Wavy Lazy River, and Coconut Pool are also great for visitors of all ages.
The entire park maintains a solid family-friendly atmosphere and I was seriously impressed with the staff—from super-attentive and plentiful lifeguards, to polite and friendly waitstaff, everyone we encountered was helpful. Also, the grounds were impeccably maintained. As crowded as the park was on our visit, we saw no litter or messes from food or drinks, and the bathrooms we used were as clean when we left just prior to closing as they had been when we first arrived, an unfamiliar site for those used to NYC beaches.
Good to Know Before You Go
Life jackets are available free-of-charge.

Towels are not provided, so bring your own.

Kids ages 2 and younger must wear the park's $9 swim diaper, but the purchase grants the tot free admission (including for future visits).

Outside food and beverages (aside from water) are not allowed in the park. There is a picnic area adjacent to the park.

Restrooms are located throughout the park, with baby changing stations available in both the men's and women's restrooms in Adventure Island. There is also a changing table in the women's room at Cosimo's Pizza on the Boardwalk. Changing rooms are also available, though no showers.

You must be under 36-inches to enjoy Shipwreck Lagoon and Splash Works, making them great for the preschool and younger set. To enjoy the Water Whirler and Arctic Mammoth, kids must measure more than 36-inches, and most other rides require at least 42-inches.

You'll find seating everywhere, some shaded. I was pleasantly surprised by all the lounge chairs and seating areas throughout the entire park, including a super shady area with picnic tables near the Coconut Pool.

Private cabanas are available to rent and should be reserved in advance.

Try to visit on a weekday if you can. The park is less crowded and cabana reservations cost less. Plan to arrive as early as possible. If a half-day is all you need, consider a late afternoon/early evening visit after the morning crowd and summer camps have departed.
SplashDown Beach is located in Fishkill, New York, about an hour and 40 minutes by car from Midtown Manhattan. The park opens on weekends beginning Memorial Day weekend and is open daily from late-June through Labor Day. Half-day and full-day passes are available for purchase, with discounts for booking online. Check the website for full pricing information. Season passes and birthday packages are also available.
Top image: Glide down the Lazy River and you might just forget about that heat wave. All photos by the author unless otherwise noted.
This post, originally published in July 2016, has since been updated.