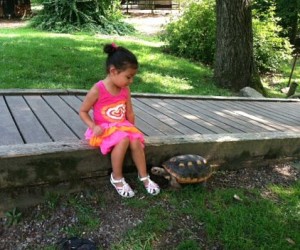 Nature Centers Near Westchester to Explore With Kids
We've told you about great places to go hiking with kids and where to find authentic farms in Westchester. Well, if you find yourself looking for even more ways to commune with nature, head to one of the many nature centers located throughout Westchester County. These centers allow children (and adults) to learn about their natural environment, explore undisturbed habitats and encounter wildlife up close, often in a smaller and less zany environment than, say, a big, crowded zoo.
Westchester County offers fantastic nature centers full of exploration opportunities, scenic trails and landscapes, interactive fun and even a playground or two. Learn about honeybees, visit a dragonfly pond, get up close and personal with resident animals, check out historic artifacts and more. Read on for our top picks for nature centers in Westchester.
Croton Point Nature Center – Croton-on-Hudson
This Center features Hudson River exhibits, Native American history and hands-on activities. You and the kids can explore four miles of shoreline and see birds in their natural habitat. The kids will love the shore and you just may want to bring the rain boots so they can really get their feet wet! The Center is open 9am–4pm, Tuesday-Saturday. Trails are open daily from dawn to dusk. Parking is $5 with a park pass and $10 without pass.
Greenburgh Nature Center – Scarsdale
This 33 acre preserve comes complete with a pond, gardens and trails. The Center is an amazing place for the kids to get up close with live animal species in the indoor exhibit. There is an animal museum, art exhibits and interactive activities. Their new nature-themed Discovery Playground is amazing! The indoor exhibits and animal museum are open Monday-Thursday from 9:30am–4:30pm and weekends from 10am–4:30pm. The center is closed on Fridays. The grounds are open daily from dawn until dusk. Admission to the indoor Center is $7 adults, $6 seniors/students, $5 children 2–12. Admission is free for members and children under 2. There is no fee for parking.
Lenoir Preserve – Yonkers
This 40 acre nature preserve features a dragonfly pond and butterfly and hummingbird garden. Late summer is a perfect time to really enjoy the butterflies and the kids will surely be excited to spot them. Make an eye spy game out of your visit for extra fun. Nature exhibits are found inside the center which is open Monday-Friday from 9am–4pm during August. A county park pass is not required for admission.
Rye Nature Center – Rye
Rye Nature Center offers many great opportunities to learn about ecology, animal habitats and nature fun. What's the buzz? Oh, it's just the honey bees. Learn all about them at the indoor observation hive. The kids will also love visiting the Nanderwhere Pond and the creative playground. The center is open Monday-Friday from 9am–4pm. The grounds are open from dawn to dusk.
For additional nature centers in Westchester County, visit the county parks nature center page.