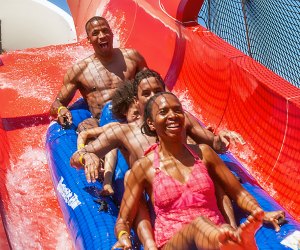 9 Super Fun Water Parks, Slides, and Pools on Long Island
Slip-slidin' away! There are few better ways to stay cool on Long Island this summer than by heading down a slippery water slide, splashing around in a refreshing swimming pool, or getting drenched at a water park. That's why we invite you to check out our list of the hottest spots on Long Island where kids and adults can stay cool, even on the most sweltering days. Check websites for rates and hours. Town pools are usually open to nonresidents, but they might have to pay a higher entry fee.
Find more fun in our guide to Long Island theme parks and our guide to the best parks and playgrounds for Long Island families.
Cantiague Park — Hicksville
Hugely popular with Nassau County residents, the outdoor swimming facility at Cantiague Park features everything the serious and not-so-serious swimmer needs, including an Olympic-sized pool and a diving pool, a training pool, and kiddie pool for little ones plus a fun water-play area, and two water slides. What more does a family need?
North Woodmere Park — Valley Stream
Another favorite spot to cool off in the summer, North Woodmere Park has not one, not two, but three water features for young swimmers: a wading pool, training pool, and an interactive water-play area. For the rest of the family, there is an Olympic-sized pool, a diving pool, and a huge water slide.
Wantagh Park — Wantagh
The whole family will have fun spending the day at this swimming complex, which has water amenities to suit all preferences and abilities, including an Olympic-sized pool, diving pool, kiddie pool, and training pool. There are two 30-foot water slides plus a water-play area for the little ones.
Suffolk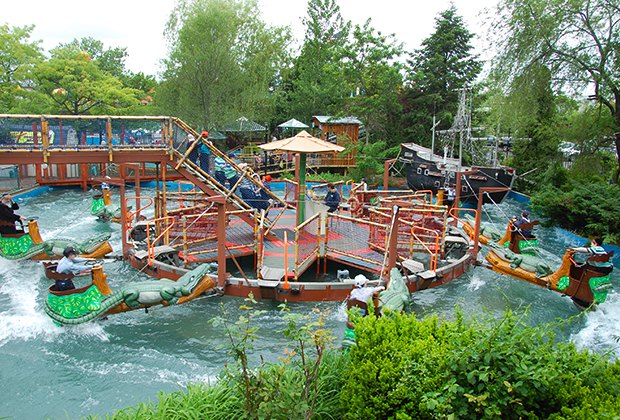 Beware of the "crocs" at Crocodile Run in Adventureland.
Adventureland — Farmingdale
Along with its thrilling roller coaster and Ferris wheel, this venerable Long Island amusement park boasts three exciting water rides. Adventure Falls is a popular flume ride for bigger kids with twists, curves and a high-speed drop, while the Little Dipper is a fun log flume ride for the younger set. New this year is Saf-T-Swim's Rescue Boats where riders get to navigate the waters while keeping an eye out for "crocs."
Boomer's Family Fun Center — Medford
The bumper boats might not be the primary attraction at this multithemed family center in the center of the Island. But after a few runs on the go-kart course and roller coaster, and some swings in the batting cage, who can resist cooling off on the bumper car-like water track? Note: The demolition-derby theme requires kids to be at least 44 inches tall.
RELATED: Thrill to These Awesome Long Island Amusement Parks

The Tunnel of Terror at Splish Splash features a 40-foot vertical drop. Yikes.
Splish Splash — Calverton
When most Long Islanders think water park they immediately think Splish Splash. And, why not? This 95-acre park has enough water-themed rides, slides, and attractions to keep an entire family happily saturated. Thrill seekers should seek out Riptide Racer, a high-speed water race, and Bombs Away, which features dueling 300-foot slides. A family of four can take a ride on Bootleggers Run, and there's a large kiddie area just for little ones. And, Parrots of the Caribbean is back. Check out the live performances from June 16 to September 3.
Town of Brookhaven Pools — Centereach and Holtsville
Families have their choice of three public pools in the Town of Brookhaven, two with slides.The main pool in Centereach has a 16-foot slide and a spray pad with water features for younger children, while the Holtsville complex includes the main pool, dive tank, and a kiddie pool.
This article was first published in 2014.
Photos are courtesy of the parks.