Splish Splash Water Park: Fun in the Sun for the Entire Family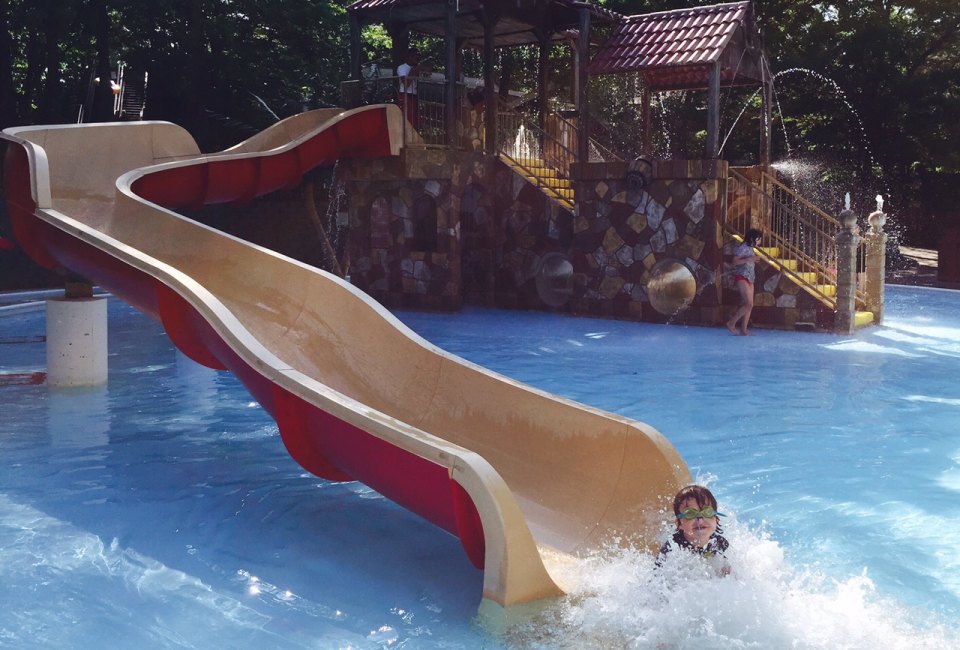 7/7/15
- By
Judy Young
The heat and humidity in the summer months leave many parents looking for fun ways to cool off with the kids, and one of my family's favorite activities involves careening down a water slide. We'd previously stayed with the smaller water parks that cater to little kids, but recently we had the chance to pay our sponsor Splish Splash a visit. I was a bit apprehensive about graduating to bigger (and more intense) water slides, but I didn't need to worry. With its tree-lined paths, kid-friendly coves and thrilling-themed slides, my two kids (ages 8 and 9 years old) both agreed that Splish Splash is the "best water park ever." Even my husband—who is not a big fan of amusement parks—had a fantastic day!
Located 75 miles from midtown Manhattan (exit 72 off the Long Island Expressway), Splish Splash offers tons of water fun for the entire family. The 96-acre park features two huge progressive entry wave pools: the calmer Surf City, and Kahuna Bay for more seasoned wave jumpers. While there are no height restrictions for either, kids under 48" must wear one of the Coast Guard-approved life jackets provided free at Murf the Surf's Rentals near the main entrance. My kids, both 4' and change, ran straight for Kahuna Bay and spent nearly an hour enjoying the roughly 7 minutes-on/7 minutes-off wave rotation.
After prying them away from the wave pool, my husband and son explored the five areas designated for younger kids. Each activity is rated at an intensity level from 1 to 5, and parents quickly learn what their kids can handle. A favorite was the Octopus Pool, one of four themed wading pools in the Kiddie Cove, where kids under 54" can swing on the tentacles of a giant octopus. My son also loved the hard-to-find (look behind Dinosaur Falls), but really fun Monsoon Lagoon, with a big, tipping overhead bucket, rope ladders and long, but gentle water slide.
In the meantime, my thrill-seeking daughter and I hit the 13 larger attractions. First up was Bootlegger's Run, a coaster slide that uses hydromagnetic technology to shoot your four-person raft uphill before plunging you down thrilling twists and turns. By far, the most intense slides are Dr. Von Dark's Tunnel of Terror and Alien Invasion, where you speed through pitch-dark funnel tubes and scale gravity-defying vertical walls; let's just say there was a lot of screaming during those runs. In addition, Max Trax, Cliff Diver and Barrier Reef offer super-fast, steep thrills, while The Abyss and Giant Twister provide dizzying loop de loops.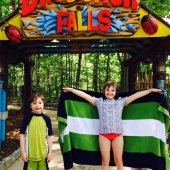 Other rides that both my son and daughter could enjoy together included the tamer Dragon's Den and Dinosaur Falls, as well as The Battle of Mutiny Bay, which just opened last summer and allows kids to board a pirate ship equipped with water cannons, to engage in battle with other ships.
Before taking off, we caught the day's last performance of the park's sweet and funny live parrot show, Wings Over America, and ended the visit in the thoroughly relaxing 1,300 foot-long Lazy River.
While the kids are enjoying the slides and rides, there is ample seating for parents. My husband loved the lush, natural surroundings full of leafy oak trees and tall pines that provided shade as he sat in the sturdy Adirondack chairs he found near every water feature. I appreciated the relatively inexpensive snacks ($3.99 for a massive braided pretzel my kids shared). There are several dining locations, including a freestanding Johnny Rockets, as no outside food or drinks are allowed in the park (and they do check). There is a pleasant picnic area just outside the park entrance, if you'd like to pack a cooler and keep it in your car.
Lockers are plentiful, easy to use and cost $14 - $22/day depending on size. We entered the park in our swimsuits and carried our few belongings with us. Little tubular cubbies are available near all rides and pools to hold shoes and towels. There are also seven monitored cabana areas where private spaces can be rented for $40 to $400/day.
We visited Splish Splash in mid-June, and our longest wait for a ride was 20 minutes. Visitors are advised to experience the top attractions right when the park opens or in the late afternoon, or you can purchase an H2GO Pass ($35 to $60 per person/per day), which allows you to schedule ride times using kiosks throughout the park.
Tickets for Splish Splash are $41.99 for adults and kids over 48"; $31.99 for smaller kids and seniors. And if you had as much fun as we did, you may want to apply your entry fee towards season passes, which start as low as $62.99 per person.
Splish Splash is open through September 7.
This post is sponsored by Splish Splash, but the opinions are those solely of the author.
Places featured in this article:
Sign up for the Mommy Poppins Newsletter today!