25 Fun Things to Do in Buffalo, New York with Kids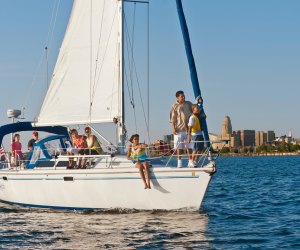 5/25/19
- By
Clementina Verge
In Western New York, hugging the shores of Lake Erie, awaits Buffalo, the second largest city in the Empire State. Famous for its spicy chicken wings, this vibrant area is also known for its history, art deco architecture, great restaurants, and plenty of family-friendly fun, indoors and out. The nearby Niagara Falls usually attracts the most tourist attention, but do not skip a visit to Buffalo, which makes the list for being one of our favorite family getaways in upstate New York.
Below are nearly two dozen suggestions of kid-friendly activities for a great family trip to Buffalo, New York.
Top Activities in and Near Buffalo
1. The Buffalo Zoo
This beautiful 23.5-acre zoo, one of the oldest in the United States, offers many up-close animal encounters, including tigers, bison, gorillas, giraffes, sea lions, and rhinos. In the Arctic Edge, one of the newest exhibits, kids will be thrilled to find polar bears, Arctic wolves, and the majestic bald eagle. Children will also enjoy the carousel, playground, and interactions with farm animals.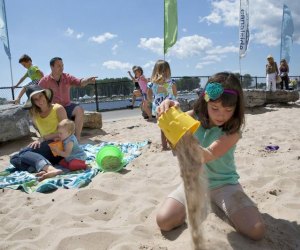 A faux beach area along the waterfront's Canalside section lets kids get their hands dirty. Photo by Rhea Anna
2. Canalside
Stroll along the Erie to find tons of family-friendly activities and events in the waterfront area known as Canalside. There's a giant sandbox called "the beach," game tables, a playground, concerts and festivals, pedal boat rentals, biking, and plenty more brewing along these 21 historic acres, especially in the summer. You might enjoy just taking a walk along the boardwalk with the kids to soak up local culture, or relaxing in a chair and watching a sunset.
3. Tifft Nature Preserve
​Sprawled across 264 acres and 5 miles of trails, this nature preserve is home to ponds, marshes, and woodlands. Hike, bird watch, and learn about the local flora and fauna.
RELATED: 100 Things to Do in New York State with Kids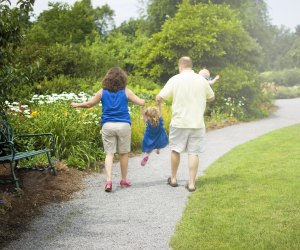 Take time to smell the flowers at Buffalo Botanical Gardens. Photo courtesy of Amanda Longergan.
4. Buffalo Botanical Gardens
Inspired by the famous Crystal Palace in England, this national historic site boasts stunning architecture along with exotic horticulture. Stroll through the Palm Done, filled with tropical trees and towering palms, for a little seasonal inspiration. Admire the orchid and bonsai collections in the Asian Rainforest, and learn about medicinal and carnivorous plans. The outdoor children's garden hosts seasonal events and offers hands-on sensory exploration, a special treat for young visitors.
5. Buffalo Harbor State Park
Kids can swing, climb, and slide on a nautical-themed playground at this state park. Enjoy views of Lake Erie, fishing, and play on a sandy beach (no swimming allowed).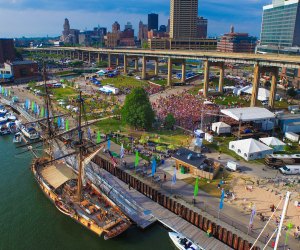 Visit the Naval & Military Park within the Canalside waterfront area to explore decommissioned warships. Photo courtesy of Buffalo Aerial Pictures.

6. Buffalo and Erie County Naval & Military Park
Tour World War II warships and get close to aircraft, a submarine, a destroyer, and the Cleveland-class cruiser USS Little Rock at this naval park.
7. Adventure Landing
Take the kids to Adventure Landing for a round of mini golf or head indoors for arcade fun (more than 60 games). There's also a Teddy Bear Factory here where kids can create their own personalized stuffie.
8. Buffalo Bisons
Root for the minor league baseball team, the Buffalo Bisons, at the local triple-A stadium to get kids into the swing of summer.
9. Chestnut Ridge County Park
Burn off that ice cream with a half-mile trek to a waterfall within the pretty Chestnut Ridge County Park. Named by early settlers for the abundance of great chestnut trees growing in the area, the park spans more than 1,200 acres and is home to the Eternal Flame Trail. Cross-country ski, sled, or even snowshoe here during the winter.
10. Buffalo Harbor Cruises
Let someone else handle your Buffalo tour with a relaxing, narrated harbor cruise. Cruises offer various experiences, whether you want to brush up on history, see a lighthouse, or admire the city skyline from a different perspective.
11. Penn Dixie Fossil Park & Nature Reserve
Get ready to dig for fossils! About a 15-minute ride from Buffalo, children will enjoy exploring a 54-acre preserve that includes nature trails, wetlands, and a larger quarry rich in real Devonian Period fossils. The site actually nearly guarantees that your kids will come away with a real fossil. There are so many of them that it is hard not to find one. Summer days get hot here, so be sure to bring sunscreen, a sunhat, and water. The site is open weekends from April 27 through October 20, and daily from June 17 to September 6.
12. Forest Lawn Cemetery
Sprawled across 269 acres, this special and scenic cemetery shows off a unique blend of natural beauty (lakes, valleys, streams, flowers), sculptural masterpieces, and history. Buried at the site are artists, inventors, and the 13th US president. Take the trolley tour for a narrated ride about the site's most famous residents.
Indoor Fun in Buffalo for Kids

Kids can explore hands-on STEM exhibits at the Buffalo Museum of Science. Photo courtesy the museum
13. Buffalo Museum of Science
The exhibits here offer glimpses into biodiversity, ranging from birds-of-paradise to polar bears. Children will delight in hands-on opportunities to explore physics, motion, weather, and space at this STEM-filled science museum. The Yum! exhibit, focusing on nutrition and healthy habits, is a favorite among little visitors.
​14. The Buffalo Transportation Pierce-Arrow Museum
See an impressive collection of cars, bicycles, motorcycles, and artifacts at the Buffalo Transportation museum. Check out electric carriages, a bus from 1919, and a 1913 Lad's Car, designed for young boys. Also on display is a unique fuel station designed by Frank Lloyd Wright in 1927. The station was meant for downtown Buffalo but never built.
RELATED: Top Science Museums for Kids Across the Country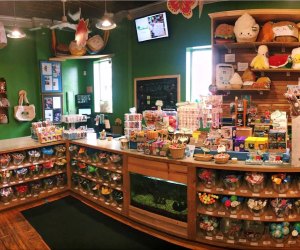 Find the perfect kid-friendly souvenir at the Treehouse Toy Store. Photo courtesy the store
15. The TreeHouse Toy Store
Every trip needs a souvenir (or something to entertain the kids back at the hotel or on the ride home), and a special place to get one in Buffalo is The TreeHouse. This locally-owned independent toy store opened in 1996 and offers everything from board games to puppets, art supplies, science kits, and much more.
16. Albright-Knox Art Gallery
Featuring more than 200 paintings, the museum will surely keep the family inspired. Matisse, Monet, Renoir, Picasso, and many other greats adorn these walls. On the second Sunday of each month, museum admission for the entire family is only $5 and includes a variety of activities. Do not forget to peruse the outdoor sculpture garden.
17. Explore & More Children's Museum
Play, explore, and giggle your way through an adventurous day. This new 40,000-square-foot museum on the waterfront features interactive activities and educational play areas that encourage children to learn about geography, culture, history, agriculture, and more.
18. Anchor Bar
The Buffalo Wings phenomenon began here in 1964 and to this day the restaurant boasts "the best wings in the world." The family-friendly establishment serves wings featuring various levels of hotness, but also includes a children's menu for the hot dog and fries-loving crowd.
19. Herschell Carrousel Factory Museum
Learn about the history of carousel horses, see how they are made, ride a 1918 carousel, and venture outside to the collection of children's rides, such as the horse and buggy, helicopter, boat ride, and more.
20. Lake Effect Artisan Ice Cream
All the sightseeing will likely put the whole family in the mood for a treat. Buffalo boasts many popular ice cream shops, but Lake Effect is a highly rated favorite. Interested in coffee and vanilla ice cream with chunks of donut fry cakes, donut glaze, espresso sauce, and whipped cream? That's just one of the many artisan sundaes on the menu, which also includes frozen decadences such as French Caramel Macaron, Sweet Salt and Smoke, House Chocolate Volcano, and Wee Bite of Scotland.
RELATED: 30 Fun Things to Do in the Adirondacks with Kids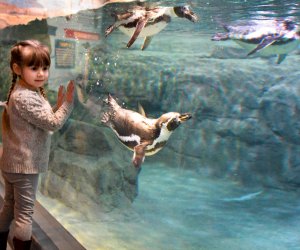 Watch the penguins, seals, and jellyfish at the Aquarium of Niagara​. Photo courtesy the aquarium

21. Aquarium of Niagara
A short drive from Buffalo, penguins, seals, piranhas, and jellyfish await at the Aquarium of Niagara. Learn about increasingly endangered species, such as the balloonfish, and play peek-a-boo with colorful clownfish.
22. Rainforest Cafe
Continue the animal theme with a stop for lunch at the —the only New York location.
23. Billy Beez
Spend a rainy day at the indoor play space, , beloved by kids for its colorful slides, tunnels, and general jungle gym fun.
24. Bowl-Inn Bowling Center
Or perfect your strike at this bowling alley which regularly hosts kids bowl free hours!
25. Theodore Roosevelt Inaugural Historic Site
Travel back to 1901 when President Theodore Roosevelt stepped into the presidency following the assassination of his predecessor. Enjoy a guided tour of inauguration and life at this historic site. Kids will learn about the issues the young president faced during his terms and have a chance to walk through historically-restored rooms and check out interactive exhibits.
Explore more kid-friendly towns in our City Guides family travel section.
All photos courtesy Visit Buffalo Niagara except where noted