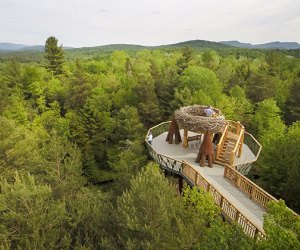 7 Favorite Upstate New York Getaways for Families
New York City and its surrounding suburbs have enough attractions to keep a family busy for a lifetime, but that doesn't mean you should let its magnetic energy prevent you from exploring upstate New York's bounty. The less visited northern and western parts of the state are loaded with fantastic and even international attractions that present a feast for families. Whether you're seeking nature, culture, recreation or a combination of all three, the Empire State won't disappoint.
Check out these seven kid-friendly upstate vacation destinations that will have the whole family saying "I Love New York."
And find more regional travel ideas in our Weekend Getaways and Day Trip Guide.
Western New York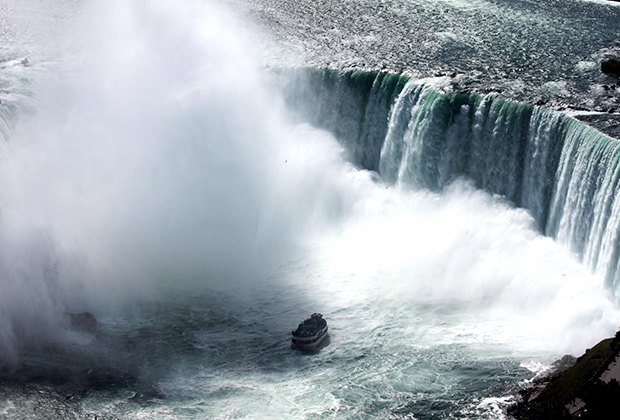 The Maid of the Mist boat tour of Niagara Falls lives up to its name. Photo by Prayitno via Flickr.
Majestic Beauty in Niagara Falls
Niagara Falls is Mother Nature's must-see wonder, drawing visitors from around the globe. Be prepared to ponder the miracle of planet Earth because the scenery is that beautiful. Up-close views of the falls abound when you catch the Maid of the Mist 30-minute boat tour. You're sure to get wet despite the rain poncho that you are provided with, but that's part of the fun. The boat zips past the thundering rush of water, spraying a powerful blast of mist directly on you. The thrill is way better than any amusement park ride.
As spectacular as they are, the falls don't hijack the narrative. They are located within Niagara Falls State Park's 400-acre landscape, chock-full of diverse wildlife. Stroll through the park or ride the cute trolley. Let the kids stay up late to watch the firework display over the falls each Wednesday, Friday and Sunday night at 10pm, from May 1 through October 31, weather permitting. If your family enjoys interactive history, drop by Old Fort Niagara. You'll interact with tradesman like blacksmiths and trappers and watch battles reenacted in summer months. You may be surprised that the town itself is a well-oiled tourist machine. There are wax museums and arcade games galore, but the Aquarium of Niagara is probably the most worthwhile stop, thanks to resident penguins and seals. There's also tons of seasonal fun happening in nearby towns. The adorably magical two-day Fairy House Festival, filled with whimsical performances, displays and costumes, takes place June 17-18 in nearby Lewiston's Artpark.
There are plenty of chain hotels, as well as smaller, family-operated motels. If your family wants to keep in tune with the earthly beauty of the area, there are many nearby farms that welcome visitors. Becker Farms has been in the same family for five generations. They invite you to pick your own produce, plus there's a working brewery and vineyard so parents may enjoy an adult beverage.
RELATED: Summer Weekend Getaways Less Than 3 Hours From NYC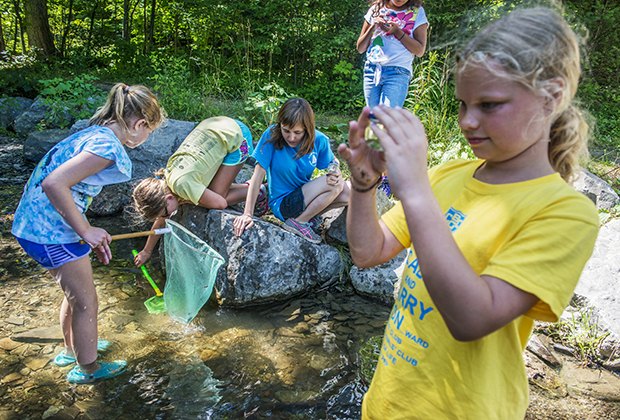 Catching minnows in Chautauqua. Photo by Joshua Boucher/courtesy of The Chautauquan Daily.
Summer Learning and Outdoor Fun in Chautauqua
If you're interested in a weeklong vacation that combines fun with learning, meet the Chautauqua Institution. This lakeside village is a summer learning community of the finest caliber. It was founded in 1874 as a learning vacation destination for Sunday school teachers, but today it prides itself on its interfaith commitment. Participating families choose from a full schedule of lectures and classes during the nine one-week sessions. Guest lecturers have included everyone from U.S. presidents to gossip-worthy celebrities. Adults attend morning classes centered on a single theme, such as the Supreme Court, Shakespeare or Italian Opera. Children simultaneously attend supervised age-appropriate recreational programs. In the afternoon, there's plenty of unstructured family time to swing a golf club or tennis racket, sail, fish, kayak or swim in the lake. There's nightly entertainment to the tune of concerts and dance performances in the open-air theater.
There's the lovely old-school Athenaeum Hotel on the grounds, but most families rent simple housekeeping cottages for modest fees. There are no cars at Chautauqua (you park your vehicle in the lot and won't see it until the week is over), so everyone walks or cycles. The car-free streets are lined with colorful Victorian homes and provide a safe environment for city kids to get their first taste of freedom and independence.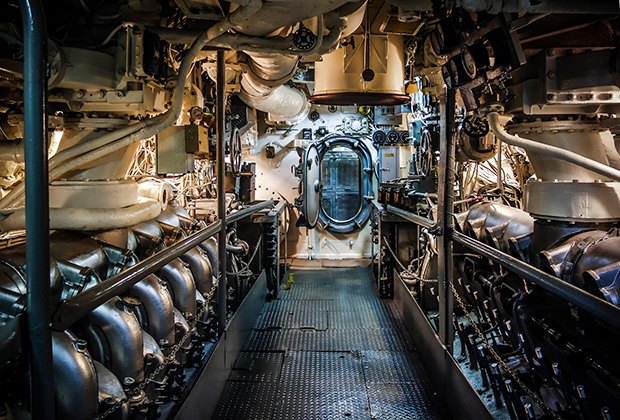 Go deep and explore the U.S.S. Croaker submarine at the Naval and Military Park and museum in Buffalo. Photo by MJBarnes via Flickr.

Urban Renewal, Navy and Water Sports in Buffalo
Buffalo may not immediately come to mind when you think of family vacation hotspots, but this city has pumped millions of dollars into its revitalization. The Canalside waterfront is the focal point of the city's push for urban renewal. If you've got kids who crave in-water activity, they can kayak, stand-up paddleboard and water bike along the Buffalo River. To further entice families to hangout at Canalside, ping-pong, foosball, beanbag toss and many more classic games are available for free. Thursday night summer concert series brings nationally touring acts to the water's edge and won't cost a cent. The Buffalo and Erie County Naval and Military Park and museum on the shore of Lake Erie allows youngsters to tour a World War II era cruiser, destroyer and submarine.
Buffalo is rich in public art and the waterfront has bold and colorful examples. This city was once the world's largest grain port. Today, its industrial heritage is celebrated with the transformation of these structures into lighting installations with a glittering nightly light show. You'll get excellent views of this unique 'canvas' from the waterfront. Comfy chairs were recently installed, so stay as long as you like. The food scene here is tailor-made for families. Delectable culinary events include the Taste of Buffalo in July and the National Buffalo Wing Festival in September. Regional favorites such as the meat eater's delight 'beef on a weck' sandwich are served at inexpensive eateries all over town. It's less than 30 minutes from Niagara Falls.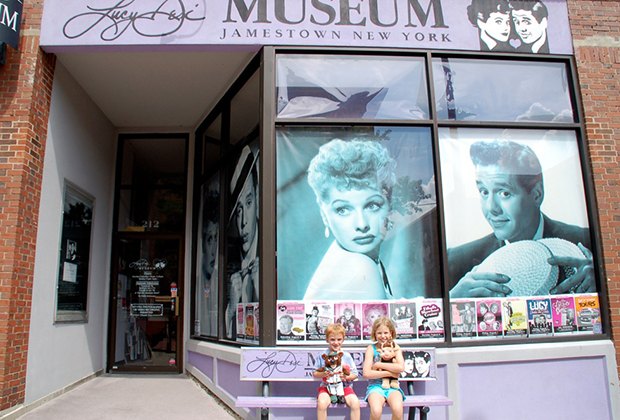 I Love Lucy memorabilia abounds in Jamestown, birthplace of Lucille Ball, but so does a tradition of fostering the next generation of comics. Photo by Lucy Gray via Flickr.
I Love Lucy Laughs and Festivals in Jamestown
Comic genius Lucille Ball was born in Jamestown and residents are fiercely proud of their hometown heroine. Lucy-mania is rampant here, with murals of the redheaded icon dotting the landscape. Die-hard fans may visit her birthplace and grave. The crown jewel is the Lucille Ball Desi Arnaz Museum and Center For Comedy. Its mission is to promote the growth and development of comedy and kids who love to laugh will be in stitches even if the never heard of Lucy. The museum's creative exhibits allow you to take part in wacky comedic skits plucked from Lucy's vintage television show. Remember the episode when Lucy sold Vitameatavegamin vitamin tonic? Head to the recreated set, where you too may try to say this tongue twister. You can watch original episodes of I Love Lucy and browse the costumes and memorabilia, getting a sense of what a true maverick she was. The Lucille Ball Comedy Festival takes place here each August (Lucy's birth month), making it a great time to bring aspiring comedians to Jamestown. Hone your slapstick skills as you participate in workshops at Komedy Kollege. The kid-centric Story Pirates arrive in August for a special show, too. Many of the events, like block parties and tours, are family oriented, and there are many comedy shows just for kids. However, keep in mind that some comedians present racy routines meant for adults.
Friendly people and low prices in this non-touristy corner of New York increase the vacation pleasure quotient. Of special note is the Roger Tory Peterson Institute of Natural History. This 27-acre sanctuary aims to educate children about the natural world with interactive exhibits. Wooded hiking trails are catnip for urbanites craving fresh air and peaceful scenery. Jamestown is not far from Buffalo, Chautauqua and Niagara Falls, so it's a wonderful addition to a Western New York itinerary.
Central New York
Arts and Culture in Saratoga Springs
Saratoga looks like a modern-day Mayberry, but its strong focus on the arts is in the vanguard. The pedestrian-friendly downtown is filled with independent shops, bookstores and restaurants. Famous for its world-class horse racing and plethora of mineral-water springs, this small town delivers as many diversions as a big city. Saratoga's cultural side is anchored by the Saratoga Performing Arts Center, known as SPAC. The New York City Ballet and the Philadelphia Orchestra take annual summer residency here, so expect high-quality performances. Kids 12 and under are admitted free to all classical events on the gently sloping lawn, so spread a blanket and hunker down with a picnic.
The Children's Museum at Saratoga is a find for ages 8 and younger thanks to its wonderful Silly Science Center. The National Museum of Dance is an interactive treat. Its Kids' Discovery Room allows future dancers to try on costumes and perform on a miniature stage. The Saratoga Automobile Museum is a treasure trove for budding car enthusiasts. Kids who like horses will enjoy the interactive National Museum of Racing and Hall of Fame. To really enjoy this town's natural side, head to Saratoga Spa State Park. Hiking trails, tennis courts and two vintage outdoor swimming pools are perfect fresh-air diversions. When the kids are ready to go for a spin, you'll find a yesteryear wooden carousel in leafy Congress Park.
Dozens of restaurants can satiate your appetite in this culinary hot spot, but the popcorn, pink cotton candy and festive atmosphere at Circus Cafe makes it a no-brainer for families. Save room for a homemade sweet treat at Mrs. London's, a popular local bakery. Note that Saratoga is crowded and costly during the annual 5-week racing season, starting in late July, so plan your trip accordingly.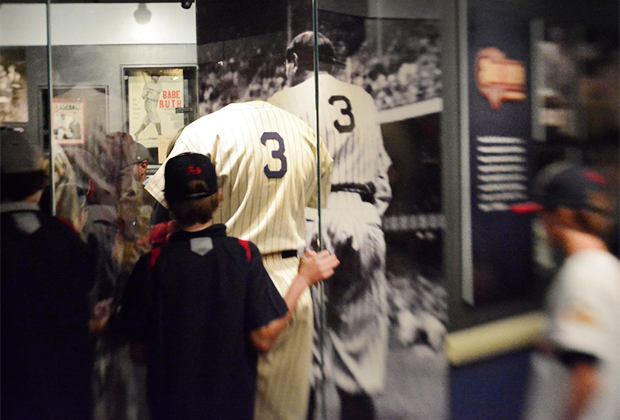 Baseball fans will be in heaven at the National Baseball Hall of Fame. Photo courtesy of the venue.
Baseball and Americana Charm in Cooperstown
This lakeside beauty is the quintessential all-American town in your mind's eye. Home to the National Baseball Hall of Fame, fans of America's favorite pastime come from near and far to pay homage to the sport. With three floors of baseball goods, it is indeed a showcase for memorabilia but it holds multifaceted appeal. Don't miss the poignant exhibit on the early African-American leagues. The Women in Baseball exhibit hits a homerun. Tiny visitors should head to the Sandlot Kids' Clubhouse. Shaped like a mitt, it's a cozy play space geared for the youngest guests. When you exit the baseball museum, you'll be on Main Street, where you can browse the numerous shops, many selling baseball cards.
Cooperstown is more than just baseball. A stop at the Farmers' Museum gives a window into rural 19th century life. Set up as a recreated 1845 village, costumed guides demonstrate the traditions of the region. Ramble about the cottages and watch a newspaper being printed or horseshoes being made. Top it all off with a ride on the Empire State Carousel, where kids may ride on one of 24 indigenous New York State animals. The Fenimore Art Museum is another worthy stop. Built on the grounds of James Fenimore Cooper's former estate, the broad collection of Native American handicrafts is a winner. The approach here is hands-on: curious kids may try on a parka made of seal intestine and marvel at the ingenuity of the Native Americans. Glimmerglass State Park is located a few miles north of the village. You may swim and fish in the lake, as well as spend the night at one of the simple campsites. Book a room at the Otesaga Resort (open seasonally April-November), located a short walk from the baseball museum. Claim a rocking chair on the hotel's sweeping verandah and relax. Wooden staircases with banisters perfect to slide down, gracious service, lovely landscaping and a large outdoor pool add to its charm.
RELATED: Lake George with Kids: 30 Things to Do on Your Adirondacks Vacation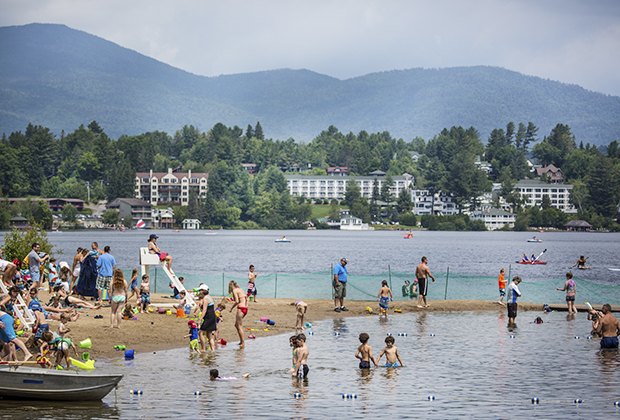 Family swim spot Lake Placid offers pristine public beaches and water, as well as access to hiking trails. Photo via ROOST/LakePlacid.com
Northern New York – Adirondacks
Swimming, Hiking and Wildlife in Lake Placid
This scenic Adirondack Mountain village has twice hosted the Winter Olympics, but summer is an equally fine time to vacation here. Nestled in the Adirondack Mountains, Lake Placid is a hub for those wanting easy access to miles of forests, streams and hiking trails. Contrary to its name, the town is actually located on the shores of Mirror Lake, one of the clearest lakes in the Adirondacks. The pristine public beaches feature crystalline water that begs you to plunge in. The water is surprisingly warm in summer, as it's fairly shallow, so it's nice for baby's first fresh-water swim. Canoes, kayaks and rowboats are a fun way to maneuver. When you feel the need to further cool off, hit the Olympic ice at the indoor skating rink, followed by a stop at the Lake Placid Olympic Museum.
The village offers many dining and shopping options. In the evening, the crowds come out for a stroll topped off with a yummy ice cream cone at Emma's Lake Placid Creamery. Family-run Mirror Lake Inn is a delightful 131-room property that wholeheartedly welcomes children. Parents may want to consider splurging on a treatment at the top-notch spa, where pampering services utilize locally sourced ingredients like maple syrup. Don't skip the 40-minute drive to the Wild Center in Tupper Lake. Nestled in the mountains, it's a favorite with lovers of the great outdoors, thanks to its miles of unspoiled paths, variety of wildlife and new Wild Walk. This connecting trail of elevated bridges is nestled in the treetops of the forest. You'll feel as if you can touch the clouds as your senses are offered an awesome perspective that may just transform the way you view the natural world. Numerous exhibit halls beckon to be explored and animal encounters are a delight.
Top image: Get a bird's nest view—literally—at the Wild Center's new elevated trail, Wild Walk, that lets visitors to the Tupper Lake museum see the Adirondacks from a new perspective. Photo courtesy of the Wild Center.