Family-Friendly Escape to Lake George's Great Escape Lodge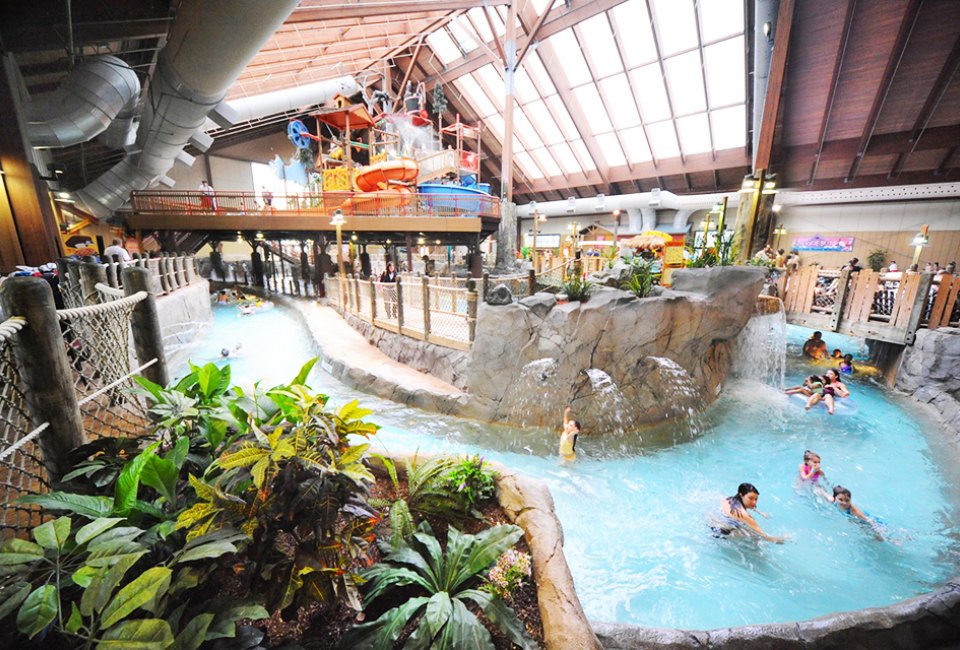 2/17/22
- By
Gwen Tundermann
Lake George is a popular warm-weather destination for those eager to enjoy the natural beauty of the Adirondack Mountains. But did you know it's also a great winter getaway?
The area is a great spot for winter sports and activities, and in February the region comes to life with Lake George's full calendar of Winter Carnival events.
Whatever time of year you visit, Great Escape Lodge in Queensbury has comfortable accommodations and fun activities for the whole family. It's a great option for special occasions or a weekend escape. Located about three hours from Westchester, northern New Jersey, and New York City, it's far away enough to feel like a true escape with the convenience of being a short drive away.
A Family Trip to Great Escape Lodge Near Lake George

Enjoy cozy seating by the fireplace.
Six Flags Great Escape Lodge is located directly across the street from Six Flags Great Escape and just 10 minutes from nearby Lake George. When you arrive, you'll find plenty of complimentary parking. From the outside, the size of the resort is overwhelming, but the expansive hotel has an intimate, cozy feel as soon as you walk inside. The lobby boasts high ceilings with wood beams and a comfortable lounge area with a fireplace. There are also complimentary luggage carts for guests to use located just inside the front doors on the right.
While checking in, send the kids over to the large window to the right of the reception desk, just past the stairs. The window overlooks the water park, giving kids a preview of all the fun that lies ahead. Here, you'll also find the elevators and Northwoods Traders, a gift shop with souvenirs, clothing, toys, and travel necessities.
There are a variety of room types depending on your budget and needs. Traditional suites have a minimum of two queen beds and a sitting area. Other suites have up to four queen beds, bunk beds, and some have kitchens. There are also themed suites that include a mini log cabin appointed with bunk beds. All rooms include, at minimum, a mini fridge and microwave. They also include comfortable beds, plenty of pillows, and extra blankets. The shower includes a clothesline — a necessity after a visit to the indoor water park.
RELATED: Great Things to Do With Kids in Lake Placid, New York

White Water Bay indoor water park is an expansive delight for all ages.
Family Fun at White Water Bay Indoor Water Park
The biggest draw at Great Escape Lodge is the indoor water park. During our stay, it was -6 degrees outside, but, inside, White Water Bay felt like summer.
Like most resorts with indoor water parks, you can enjoy the park on the day of arrival and the day you check out. There are lockers, changing rooms, showers, and plenty of restrooms, including family restrooms. There are complimentary towels, rafts, and life jackets for guests to use. Private cabanas and loungers are available for rent, though we never had trouble finding a chair on which to rest our personal belongings. There are Adirondack chairs to relax in, as well as tables and chairs if you plan to have a snack.
If you need refreshment or forgot to pack something, the park has you covered. There's a reasonably priced snack bar inside the water park as well as a store called Gitchee Goomie with bathing suits, cover-ups, footwear, and other essentials.
RELATED: Indoor Water Parks Near NYC for a Warm Getaway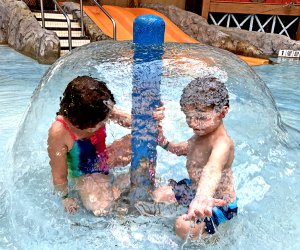 The water park features an area specifically for little ones called Tip-A-Kanu-Beach.
White Water Bay has something for everyone. Tip-A-Kanu-Beach is for little ones, with a zero-entry pool and baby swings, slides for toddlers and small children, and bubbling fountains. Kids 40 inches and up, as well as adults, will enjoy the slides, water cannons, splash pad, and climbing structures at Tall Timbers Tree House. Adventurous kids under 40 inches can enjoy the splash area and a smaller slide. Watch out for the giant water bucket that pours hundreds of gallons of water every few minutes.
Kids and adults alike will love Tak-It-Eesi-Creek, a lazy river that flows throughout White Water Bay. Complimentary tubes are available and can be found floating in the river, or you can grab one from an exiting guest. Our family enjoys experiencing lazy rivers without tubes, freely swimming laps with the current. When you're done taking laps around the river, head to Lott-A-Watta Bay for calmer waters and relaxing fountains raining down from large rock structures. You'll find Lott-A-Watta Bay near the entrance of the lazy river or about halfway along its route just beyond a small alcove.
For true adventurer-seekers, Boogie Bear Surf is a FlowRider surf simulator; try boogie boarding or surfing. If you've always wanted to try surfing but never knew where to start, you can sign up for private lessons in the Gitchee Goomie gift shop.
For even more thrills, check out some of the big slides. Start with Glacier Run and Snow Shoe Falls, a pair of twin slides where you can go head-to-head in a race toward the bottom. Or choose the Avalanche, a white-water slide experience in complete darkness with drops, twists, and turns to satisfy even the most adventurous person. Up to four people can ride at one time in the large raft.
Adults needing to unwind can take a break in the secluded Soakum Springs. This adults-only hot tub area is discretely located underneath the Tall Timbers Tree House, to the left of the steps to Lott-A-Watta Bay. The tucked-away hot tub isn't easy to find, keeping it a quiet, restful place for a long soak.
During our stay, the middle of the day was the busiest time at the water park. Luckily, it was open late and we were able to enjoy a post-dinner swim with few people around. Before closing, the park also had a light and music show, which was a nice surprise.
RELATED: 11 U.S. Hotels With Outdoor Water Parks for Families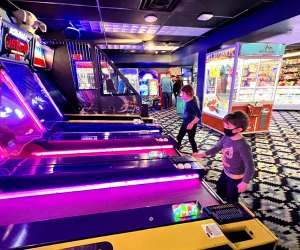 Try your luck at the kid-friendly Starlight Arcade.
Other Family-Friendly Activities at Great Escape Lodge
Though the water park is the primary attraction, there are tons of other activities to enjoy during your stay. The Starlight Arcade was a favorite of our family. The arcade includes mainstays such as skee-ball, air hockey, claw machines, and racing games. There are also arcade versions of other well-known games, such as Connect Four, Barrel of Monkeys, and Deal or No Deal. Games range in difficulty, so there's something for everyone. Tokens and points are all conveniently loaded on to a game card, so you don't need to keep track of coins or tickets. Redeem your points for prizes at the end of the day.
RELATED: 10 Great Water Parks in the U.S. for Kids

Enjoy craft-making and more at The Kids Klub.
The Kids Klub is the hub for crafts and other activities. A schedule of events is posted at the reception desk and ranges from painting classes, paper crafts, cookie decorating, candy bingo, sand art, stuffed-animal making, and more. Some activities are included with your stay; some require a fee. There are also paint-your-own crafts for sale, including T-shirts, pillow cases, piggy banks, and other decorative items.
Great Escape also hosts activities in the lobby. Our trip featured different games and challenges and an evening dance party. When activities aren't taking place, the lobby is a nice area to relax and enjoy the fireplace. Just beyond the lobby doors, a fire pit is opened in the evenings for anyone interested in making s'mores. S'more kits are available for purchase at Northwoods Traders.
Kid-Friendly Activities in the Adirondacks Region
There's plenty to keep you busy at Great Escape Lodge, but if you're ready to stretch your legs and want to explore the area there are lots of activities to choose from. During warmer months, you can walk over the pedestrian bridge to Six Flags Great Escape and Hurricane Harbor. In the winter, enjoy skiing, sledding and tubing in the Adirondack Mountains or take a winter hike in the snow. There are also several arcades, mini-golf, and activity centers located in town.
RELATED: Family Bed-and-Breakfasts Near NYC for a Cozy Getaway

Sample the menu at Johnny Rockets. Photo courtesy of Six Flags Great Escape Lodge & Indoor Water Park
Where to Eat at Great Escape Lodge
There are several dining and snack options at Great Escape Lodge. In the morning, swing by the Bear Claw Café, a coffee shop located near the lobby. In addition to coffee, it has pastries and other light snacks.
On the opposite side of the lobby you'll find Tall Tales Tavern, a casual dining spot with pub fare such as nachos, pretzel bites, salads, BBQ sandwiches, and bread bowls. This is where you'll also find adult beverages, including cocktails and beer.
Our family's favorite was Johnny Rockets, a fun 50s-style diner. Open for breakfast, lunch, and dinner, this is the main restaurant serving Great Escape Lodge guests. It can be busy at peak times, but we found the service to be great. Breakfast was bountiful —a great way to fill up before a full day of fun. Lunch and dinner options include hot dogs, sandwiches, chicken tenders, and its famous burgers. It also has amazing shakes, including a special shake of the day. Gluten-free buns available for those with gluten sensitivity,
There are also food options in town, from fast food to chain restaurants such as Olive Garden and Red Lobster. With Lake George just a few minutes away, you'll have no shortage of places from which to choose.

Rooms and suites are comfortably equipped; themed suites are available, too.
What to Know Before You Go to Great Escape Lodge
We had an incredible time at Great Escape Lodge and already look forward to visiting again. Here are a couple of tips for first-time visitors:
Six Flags members and season pass holders may be eligible for special offers and pricing for stays at Great Escape Lodge.
For a winter getaway, plan your escape for February to enjoy all of Lake George's Winter Carnival activities, including the new ice castles.
Check with the arcade staff to find out the days and times for its happy hour to enjoy half-priced games and have twice the fun.
For a birds-eye view of White Water Bay, head to the fourth floor and walk straight after exiting the elevators to find windows overlooking the water park.
Due to COVID-19, White Water Bay closes for an hour mid-day for safety cleaning. Check the time so you can plan around it and have uninterrupted fun.
Most of the claw machines in the arcade are impossible to win, but there's a candy claw machine that guarantees a win every time.
Save money by bringing breakfast, lunch, and snacks to enjoy in your room.
There's a laundry facility on site for guest use.
There's another side of Johnny Rockets that is a sports bar in case you want to catch a game.
Make sure to bring a robe or other cover-up, as well as flip flops, for traveling between your room and the water park.
Pack a pair of comfy slippers to wear around the lodge.
Getting to Great Escape Lodge
From New York City and the south, take I-87 north to Exit 20 (Fort Ann, Queensbury). Follow U.S. Route 9 about one mile south to the lodge.
Unless noted, photos by the author
Places featured in this article:
---
Six Flags Great Escape Lodge
t Click Here to Sign Up!