Family-Friendly Bed and Breakfasts Near New York City for a Cozy Weekend Getaway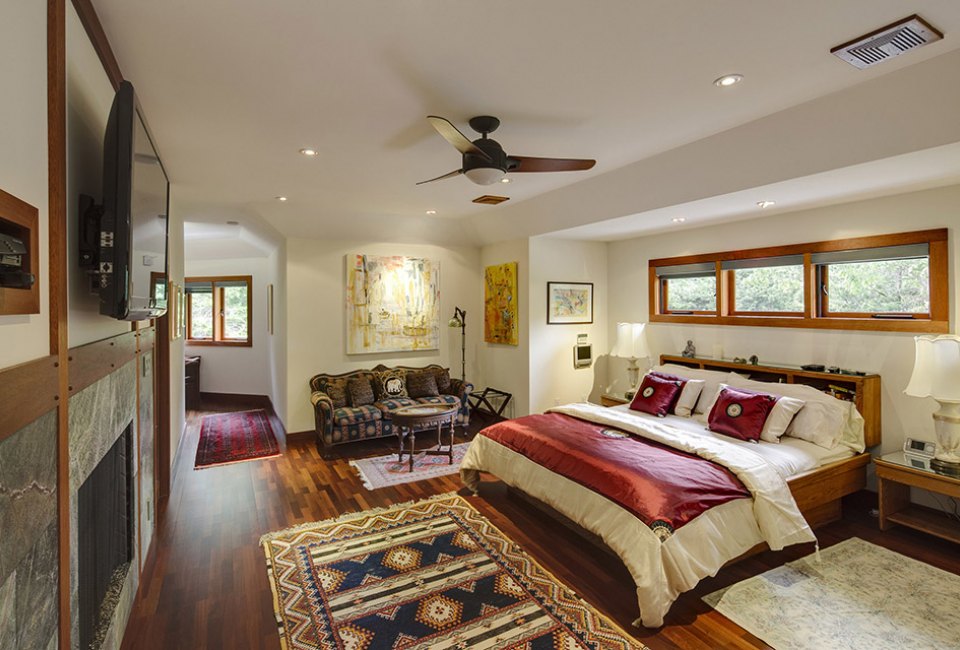 11/7/21
- By
Vanessa Leigh
Snuggle up by a warm fire, enjoy a serene walk along beautiful Lake George, or travel back in time to the 1800s. Sounds like an inviting weekend getaway, right? These are just a few of the adventures families can experience at these resorts, lodges, and bed and breakfasts near New York City.
These family-friendly B&Bs make for a perfect weekend trip. Escape the hustle and bustle of home for a weekend away at one of these charming inns. Find more spots for your next weekend trip in our Guide to Weekend Getaways.
Subscribe to our newsletters to get stories like this delivered directly to your inbox.
2 hours from Midtown Manhattan
The Village Inn awaits families right in the heart of Saugerties. Dating back to the 1800s, this inn was built above a country store and still has old-world charm in abundance. The accommodations are modern and comfortable, with a personal touch. When visiting with kids, check out the other local attractions in Saugerties for a full day's adventure before returning here for a restful night. All rooms are double occupancy and you can book adjoining rooms to create a king-sized suite. Weekends require a two-night stay and there are no age restrictions.
3 hours from Midtown Manhattan
The Art House is a sample of Long Island luxury just outside NYC. This bed and breakfast has two available suites and one guest room, which makes your trip feel private and secluded. No matter which accommodation you book, amenities like complimentary breakfast, seasonal outdoor pool and hot tub, private beach access, and easy access to East Hampton and local beaches are included. Guests are welcome to tour the owners' art studio, located on the villa grounds. A quick tip: Be sure to note the cancellation policy, and inquire about any seasonal updates such as pool availability.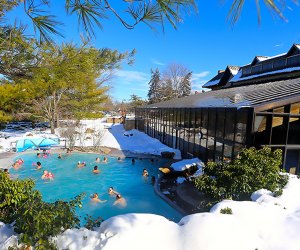 Minerals Hotel, Crystal Springs Resort
1 1/2 hours from Midtown Manhattan
This hotel is not quite in the B&B category, but the Minerals Hotel is a family-friendly accommodation on the Crystal Springs Resort complex. The hotel itself is located in the Appalachian Valley and boasts a vast array of amenities perfect for a family getaway. Outdoor adventures include a heated snow pool, golf courses, and space for the kids to play. If you are there around Christmastime, enjoy the Winter Workshop holiday village. For indoor family fun, the underground aquarium at the Biosphere Pool Complex is a one-of-a-kind highlight.
3 1/2 hours from Midtown Manhattan
Coined "The Best Kept Secret in Lake George," Dunham's Bay Resort has a little something for everyone. Literally steps from Lake George's waters, you can find serenity here no matter the season. One place not to miss, especially on a family vacation, is The View restaurant. Named for the sweeping views of the lake itself, hit up the family-style Sunday brunch for some delectable treats: pancakes, French toast, blintzes, and more. Afterward, you'll want to head back to your Adirondack cabin or spacious room for an afternoon nap.
RELATED: 100 Things To Do in New York State With Kids Before They Grow Up

End your day at Changing Times B&B with a relaxing, kid-pleasing s'mores roast by the fire.
2 hours from Midtown Manhattan
When you think of a bed and breakfast, a stay at this boutique country B&B is probably exactly what you're dreaming of. With comfortable beds and comfort food meals, the whole family can rest and relax at this farmhouse. The kids will love the library with its selection of books and movies, and at night (weather permitting), you can stargaze next to a warm fire in the backyard. Coffee, tea, and cookies are always available for snacking. Every stay includes complimentary wine for the adults. Kids are welcome—consider booking the Garden Suite, which has its own set of bunk beds, a patio, and even an in-room Keurig and George Foreman grill.
3 1/2 hours from Midtown Manhattan
If you're planning a visit to the Baseball Hall of Fame, this inn is a home run for the whole family. Let the kids be a part of the booking experience and choose a room that they like, with choices including The Birch Room, The Carriage Room, The Waiting Room, or rooms named for colors—Red, Brown, Blue, and Green. There is so much to experience in Cooperstown, you might just have to visit more than once.
RELATED: The Sweetest Catskills Weekend Getaway for Families

Enjoy your morning breakfast on Hotel Mountain Brook's beautiful wrap-around porch.
2 hours, 15 minutes from Midtown Manhattan
Looking for that quintessential bed and breakfast experience? Look no further than this Adirondack lodge nestled near the Catskills. Roast a marshmallow fireside at this quaint accommodation. Start your day with breakfast in one of the hotel's common areas or on the wrap-around porch before embarking on a day of fun. The kids will delight in the Choose Your Own Adventure Room full of activities, which provides never-ending indoor options for fun. For outdoor adventures, explore the grounds, including a stone terrace and wildflower field, or journey down the hill to the center of Tannersville to visit local shops and even an apothecary.
4 hours from Midtown Manhattan
At the Sheldon Mansion, you'll truly feel at home snuggled up in one of the five ornate guest rooms. Hospitality is the word that comes to mind at this mansion estate, not only because of the warm welcome you'll receive but also because the house itself has a history of serving others. During WWII, it was converted into a temporary hospital to fulfill local needs. Today, soak in the history and enjoy all that nature has to offer while taking a family stroll on the adjacent walking trails and unwinding on the veranda with a cup of hot cocoa. Children are allowed, but require advance approval by the innkeepers.
RELATED: Family-Friendly Hotels for a New York Staycation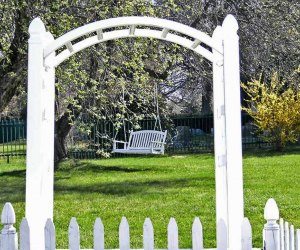 Th 1810 Juliand House—white picket fence and all—is a picturesque spot to spend a weekend.
3 1/2 hours from Midtown Manhattan
The name of this scenic bed and breakfast points to the history that will surround you when you visit The 1810 Juliand House. The buckwheat pancakes with apple and walnut filling are a tasty treat to look forward to come breakfast. When you're not cuddled up in the library or enjoying a serene fireside gaze, head outside for some local biking or golfing. Hike a part of the nearby Finger Lakes Trail and rest assured that you'll rest well at this B&B after a day's outing. Best bets for families include The Vet's Room, with a regular bed and twin-sized bed and can be combined with The Hornby Room for a larger family suite.
1 1/2 hours from Midtown Manhattan
Take note: This quaint bed and breakfast is currently closed, but accepting reservations for the 2022 season, so we're telling you about it now. Located in the Hudson Valley, the Danskammer House is a perfect retreat for those looking for a bit of serenity from big city life. With the Hudson River to the east and the Taconic Mountains to the west, this inn is a retreat worth visiting. There are indoor common areas to relax in after a long day of sightseeing, including the top floor Church Lounge that offers panoramic views of the town. The outdoor patio is a breath of fresh air itself. A highlight for the kids is the daily afternoon tea offered by the innkeepers. Rooms are double occupancy and multiple rooms can be booked to accommodate larger parties. Children ages 12+ are welcome at all times; younger children can visit as part of a larger party that's booked the entire inn.
All photos courtesy of the venues