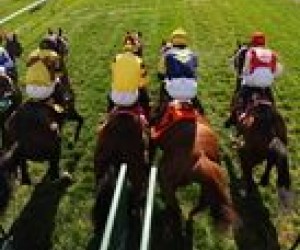 A Day at the Races: A Family Trip to Saratoga Springs
Once upon a time, Saratoga County was a magnet for famous and infamous New Yorkers, from the Vanderbilts, Whitneys and Rockefellers to the bootleggers and gamblers that took up residence during prohibition. Thankfully, Saratoga County's offerings are now more family-friendly than booze and bookies. A three hour drive from Midtown Manhattan will pay off well with a visit to the historic racetrack, hiking and fishing or even a quiet stroll down Saratoga Spring's quaint Main Street. Rainy day activities can be found at the Saratoga Children's museum or the local library, which offers a great children's room. Here are just a few of the things you can do in and around Saratoga Springs:
Saratoga Race Track
267 Union Avenue
Saratoga Springs, NY
(518) 584-6200
The racing season runs through Labor Day weekend every year. Admission is cheap—$3 for adults and children 3-12 years old get in free—and families can easily spend an entire day at the track. Begin with the strawberries and cream at the Clubhouse Breakfast, where kids can watch the horses warm up and friendly jockeys trot by and wave hello. If you think your kids will get antsy in the stands (it may also be hard for them to see there), picnic by the paddocks—another great way to see the horses close up on their way to and from the track. The race track also has a playground for small children by the main gate.
Saratoga National Historic Park
Rt. 4 & 32
Stillwater, NY
(664) 9821 x.224
Outdoorsy families will love to hike along the trails at this Revolutionary War battlefield, where the embankments were designed by Polish General Thaddius Kosciuszko, memorialized on bridges along the BQE and Interstate 87. The wild-flower dotted trails here are short enough for even young kids to hike—or be carried. Artifacts from the Battle of Saratoga are on display in the visitor's center, where kids can dress up in reproduction period uniforms. Ask a park ranger to direct you to the monument to Benedict Arnold. Arnold, best known as a turncoat, is said to have fought valiantly for the Colonies here. Open 9 a.m.-7 p.m. through November 30, with reduced winter hours.


Saratoga Springs, Broadway
This quaint Victorian town was once home to Vassar College and is a great spot to visit for a stroll along Broadway and visit to Congress Park. On Broadway, you'll find a collection of shops with enough appeal for parents and kids. While Mom and Dad might enjoy window shopping at any of the street's jewelry shops, boutiques and art galleries, kids will love a turn in toy shop G. Willikers, five and dime Soave Affair or the Army-Navy store closer to the end of the street. On weekends, expect to see musicians dot the sidewalks, playing for the pleasure of generous shoppers.
Saratoga Springs, Congress Park: No trip to Saratoga Springs is complete without a walk through Congress Park, right off Broadway, where small children love to take a turn on the Carousel. At $1 per person, each kid can take several turns without great expense. The carousel is open from 11 a.m. until dusk every day but Monday. A booth in the park provides information on various outdoor activities including hiking, fishing and (eek!) skydiving.
The Children's Museum of Saratoga
69 Caroline St.
Saratoga Springs, NY
(518) 584-5540
Perfect for a rainy day visit, or just a couple of hours out of the summer sun, this museum offers a variety of exhibits for elementary-aged kids, including a fire engine, bank, grocery store and school room. The museum is open Monday through Saturday 9:30 a.m.-4:30 p.m. and on Sundays from noon-4:30 p.m. Admission is $6 per person. Babies under 1 are admitted free.


Saratoga Automobile Museum
110 Avenue of the Pines
Saratoga Springs, New York
(518) 587-1935.
Car-crazy kids might enjoy visiting the 30 antique automobiles on display here, including a current exhibit on Woodies. Admission is $8.50 for adults, $3.50 for kids 6-16. Children under six get in free. Open daily 10 a.m.-5 p.m. through October.


Saratoga Springs Public Library
49 Henry Street,
Saratoga Springs, NY
(518) 584-7860
This library, built in 1995, is well cared for has all the appeal of a spanking new library. The children's room on the basement level has a fantastic selection and a nice playroom for toddlers, perfect for parents looking for a quiet play and some low-key fun. The library is open from 9 a.m.- 5 p.m. on Saturday, noon-4 p.m. on Sunday and longer hours during the week.