SPONSORED
Best Family Snowboarding and Skiing an Hour from New York City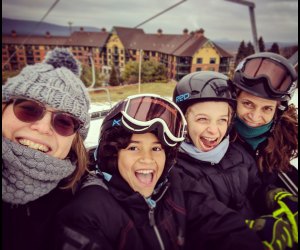 Skiing and snowboarding near New York City always feels like a trade-off. The further you are willing to drive, the better the skiing. The less you drive, the less you get in terms of runs, altitude and amenities. Or so I thought until our recent visit to Mountain Creek Resort in New Jersey. Mountain Creek is the closest ski area near New York City, but we found it offers a superior experience even to some further away ski mountains. I don't know how I had missed this great ski spot so close to the city.
Just 47 miles from the George Washington Bridge, we arrived at Mountain Creek in just over an hour. Dealing with the logistics of skiing with kids can be stressful, so taking hours of travel out of the equation made the day much more relaxed. We didn't have to wake up at the crack of dawn or feel rushed to get on the slopes. We knew we could take our time and still get a full day of skiing and boarding in. No worries.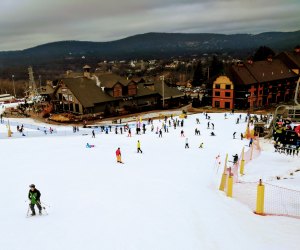 Thanks to great snow making capability, the snow conditions were surprisingly good despite warm weather and rain over the weekend.
Mountain Creek Resort has 46 runs, a terrain park, and a vertical drop of about 1000 feet, comparable to most Poconos or Berkshire mountains. While it's not as big as the larger resorts in upstate New York, the mountain offers plenty for beginner and intermediate skiers and boarders in a relaxed atmosphere. I love a long ski-to-lift-time ratio and found Mountain Creek's lifts are fast. A two mile long green trail is as long as almost any run you'll find in the area.
We arrived right behind a large bus group and were a bit put off by the long line for the ski rental area, but it wasn't as bad as it looked. Mountain Creek uses technology and clever planning to move lots of people through the resort as efficiently as possible. To get your rentals you enter your info in computer kiosks. While this takes a few minutes, on repeat visits you would be able to skip this step since you'll be in the system. The longest line we waited in was for picking up our skis and boards, but, considering it was a holiday weekend, the ten or fifteen minutes on line didn't seem too bad.
One surprise we discovered is that Mountain Creek only rents snowboard boots down to a kids' size four. This info is not on their website, so you should call ahead to confirm rental availability if you are concerned.
Mountain Creek is a great place for families to hit the slopes. Ski and snowboarding lessons for kids and adults start every two hours in a huge ski school area. After the kids finished their hour and a half long lesson, we took them to the bunny hill where we practiced using the chair lift and all the skills they had learned. Skiers and boarders ready to graduate from the wide bunny hill will find multiple green trails from the summit for longer runs. Mountain Creek offers a high ratio of intermediate runs so there are plenty of slopes for more advanced skiers and boarders to explore too.
Despite the holiday crowds, once we were on the slopes we hardly noticed it was a busy weekend at all. The lifts were fast and lift lines were almost non-existent. The only place where the crowded day really was a problem was in the lodge at lunch time. We circled the cafeteria area for several minutes to find a place to sit to eat. I didn't realize there were other dining options, including a sit-down restaurant, so maybe next time we'll do better.
RELATED: Mommy Poppins Ski and Snow Sports Guide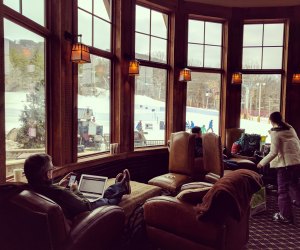 The newly renovated lodge is light and airy with a lovely fireside area featuring leather club chairs, perfect for non-skiers to lounge.
In addition to skiing and snowboarding, Mountain Creek has snow tubing in the winter. In the summer the resort has a water park, zip lining, and mountain biking. Our lift companions raved about the water park and we definitely would love to check it out this summer.
If you want to spend a weekend, Mountain Creek offers condo style slopeside accommodations, but for a day trip it's great to be able to get in a full day of skiing and then zip home in an hour or so. Once we were tired out, we dropped our skis at the outdoor return kiosk, jumped in the car and were out. When you're handling gear for a family that's super convenient.
I wasn't expecting a great experience from a ski area so close to NYC. Mountain Creek Resort offered a lot more than I hoped for. It was much more relaxed than the larger New York area resorts, but offered a better ski experience than other small resorts close to the city. It's the perfect easy destination for a ski day from NYC. I'm looking forward to returning.
This post is sponsored by Mountain Creek Resort, but, like all Mommy Poppins reviews, is guaranteed to represent the honest opinions of an actual parent sharing their family's real experiences.