Sea Life Aquarium, Legoland Discovery Center Open at American Dream
7/6/21
- By
Jody Mercier
The larger-than-life American Dream Mall has added two new kid-friendly destinations to its ever-expanding lineup: Sea Life Aquarium and Legoland Discovery Center are now open and welcoming visitors in the mall's A Court, adjacent to the indoor ski slope Big Snow.
The new attractions join Nickelodeon Universe, DreamWorks Water Park, and a 22,000-square-foot candy store to add to the wonderland atmosphere of the mall, which is an easy day trip destination from much of the metro area.
Subscribe to our newsletters to get stories like this delivered directly to your inbox.
The long-planned (and oft-delayed) attractions officially opened to the public last month and are owned by Merlin Entertainment—the same team behind the brand new Legoland New York Resort, which means an annual Gold Pass can net you admission to all three attractions.
Visiting Sea Life Aquarium at American Dream
Embracing its location, the Sea Life Aquarium takes on a "City Under the Sea" theme, paying homage to its across-the-Hudson neighbors in a big way. Most notably, the main tank, a 186,000-gallon enclosure housing more than 1,000 fish, sharks, and even an octopus, is styled after the New York City skyline, with fun word plays on recognizable attractions. When was the last time you had a chance to visit the Whaleworth Building or see an advertisement for "The Codfather" in Times Square?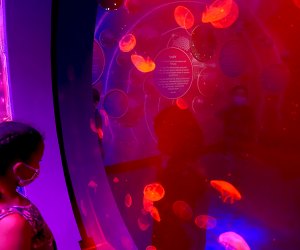 See moon jellies in a different light at the color-changing tank.
Sticking with the city theme, the Jellies 54 tank was a fun, eye-catching attraction, letting kids control the lighting in the tank and transforming the moon jellies' look with the press of a button to lend a different hue to the tank each time.
A small touch-tank experience lets kids get hands-on. Sea stars and anemones were on display when we visited.
RELATED: The Best NJ Zoos and Aquariums for Animal Encounters With Kids

The large picture window has a set of rock-like bleachers across from it so you can take in the fishy scene while taking a break.
All told, there are 10 exhibits on your journey through the City Under the Sea, and it's likely you can cover the aquarium in less than 2 hours. My girls loved the water-enclosed tunnels throughout and the fact that several small enclosures allowed you to get up close to the sea creatures at Sea Life.
The black-lit Reef at Night and the Stingray Bay, with its round-sided enclosure at the just-right level for kids to get a good look were also standouts. We loved the theater-style seating overlooking the main tank and the funky soundtrack that encouraged guests to linger and enjoy the mesmerizing underwater view.
Once you've covered the exhibits, beware: There's an on-site playground (not yet open) and a retail store at the exit.
Tickets to visit Sea Life only are $28.99 for adults and $23.99 for children ages 2 and older. Tickets are time-specific and should be booked online in advance to guarantee entry. Once inside, you can spend as much time as you like exploring.
RELATED: Legoland New York Announces Opening Day

All aboard the Imagination Express at Legoland Discovery Center.
What You'll See at American Dream's Legoland Discovery Center
American Dream's Legoland Discovery Center is the attraction's second location in the tristate area, following the Ridge Hill location in Westchester. Once inside, you'll encounter a Lego-lovers wonderland.
Our first stop was the Imagination Express, a mini-ride that led us on a video-game-like adventure where we used our magic wands to help Mini-Figures assemble a map necessary to escape certain danger—collecting points along the way for every target we hit.
RELATED: Angry Birds-Themed Mini Golf Opens at American Dream Mall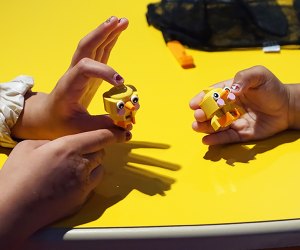 Take a hands-on class from a Master Builder in the Creative Workshop. Free sessions are held several times daily.
Little builders can get hands-on in a variety of attractions. We hit the Lego Friends tables for a bit before hightailing it to the Creative Workshop, where my girls took a class from a Master Builder and learned how to build an adorable baby chick. New models are introduced each month, but temper your hopes: If you fall in love with your character, you'll have to purchase one from the gift shop to take it home.
A 4-D theater plays a variety of Lego-themed short flicks all day long, and little kids will love the Duplo Park, where they can play with chunky Lego bricks, explore touchable models, whoosh down a mini-slide, and more.
There's also a build-and-test track where you can try your hand at building the speediest model and an earthquake shake table to test your engineering skills. A Ninjago-themed soft-play area offers a safe space for romping with two stories of equipment to explore. Lego characters make occasional appearances, too.
RELATED: Guide to Indoor Play Spaces and Fun Zones

Miniland re-creates popular landmarks from both sides of the Hudson, including the city skyline.
The eye-catching centerpiece to it all is, of course, Miniland where models of popular Garden State attractions plus the New York City skyline await. We especially loved seeing the lighting transform the display into a nightscape and were thrilled with the animated fireworks display above Central Park.
Like its Sea Life counterpart, the exit takes you through a gift shop, where, yes, we bought the $5 mini-chick kit and some Lego Dots, which felt like a bargain compared to all the complex models dotting the shelves.
RELATED: 100+ Fun Things To Do with Legos

Lego Friends take up plenty of real estate in the Legoland Discovery Center.
Legoland Discovery Center admission is $28.99 for all visitors ages 3+, and visitors should allow about 2 hours for a visit.
While I attended with my daughters, ages 7 and 11, the attractions definitely skew toward a younger audience. My 7-year-old was enamored and constantly entertained, while my older daughter was ready to move on sooner. Indeed, I would say the sweet spot for these attractions is the 2-10-year-old range. Their proximity to one another will easily fill a half-day outing.
Consider booking a combo pass for the best deal, which starts at $43.99 for adults and $38.99 for children and allows access to both Legoland Discovery Center and Sea Life Aquarium. Annual passes can be purchased for either attraction alone or both attractions together; a Gold Pass runs $229.99 per person ages 3+ and grants access to all Legoland Discovery Centers, Legoland parks, plus Madame Tussauds for a full year. See all annual pass options for further details.
Photos by the author
Places featured in this article:
t Click Here to Sign Up!