Angry Birds-Themed Mini Golf Opens at American Dream Mall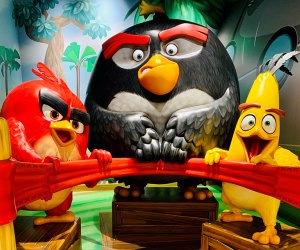 Grab your putter and get ready to launch a larger-than-life adventure: The Angry Birds have landed at American Dream with an interactive, immersive mini-golf world set to debut Thursday, October 1, when the megamall reopens.
You'll come toe-to-toe with Red, Chuck, Bomb, and the Pigs, and embark on an 18-hole quest to help save Bird Island and Pig Island at the Angry Birds Not So Mini Golf Club.

You'll see all your favorite Angry Birds characters along the way.
Guests enter the experience via the cockpit of a 67-foot-high Bird Aviation plane and select their putter and ball, which are on-theme, modeled after the well-known game's slingshots and birds, respectively. Once you're armed with your gear, you'll stakeout on the course.
Guests, who are limited to groups of four, traverse through six different themed sections, conquering three holes in each spot. Backdrops include an oversized, 20-foot-tall model of Bird Island plus Pig Island, the Pig Lab, the Submarine, Eagle Island, and the Avian Academy.
RELATED: Best Mini Golf Spots For Kids and Families in New Jersey

Fans of the Angry Birds apps feel like they've stepped right into the game with a visit to the putt-putt course.
Aside from the fun of a traditional putt-putt course, Angry Birds Not So Mini Golf Club also provides some fun backdrops for selfie-taking and group shots, which are sure to be appreciated by the fans of these stars of the very small screen.
Once you've finished your quest to save the Angry Birds and their piggy friends, you'll turn in your scorecard to get it certified by a stamp shaped like Red's footprint and exit through the pro shop. Be warned: You'll find exclusive Angry Birds-themed merchandise ranging from character golf balls to Angry Birds apparel, all exclusive to American Dream.
Angry Birds No So Mini Golf opens Thursday, October 1. Tickets must be booked online in advance and are available now. Tickets are $20 per person. Plans are in the works for Angry Birds-themed party rooms, so keep this in mind when you're plotting your next birthday party.
All photos courtesy of the venue