Indoor Attractions Reopen for Family-Friendly Fun in New Jersey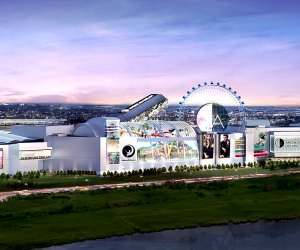 Indoor attractions are making a comeback in New Jersey, with loosening restrictions making way for more ways to play inside, from our favorite restaurants to a few play spaces, movie theaters, and our famous mega mall, American Dream.
Read on for more details on the indoor attractions now open or opening soon in New Jersey.
Visitors are invited to "dream again" when this mega-mall and entertainment complex reopens Thursday, October 1. Almost immediately following Governor Phil Murphy's announcements that indoor attractions could reopen, the on-site Big Snow announced its reopening. Still, more reopenings are in the works, including Nickelodeon Universe and the DreamWorks Water Park, whose March debut was put on hold by the pandemic. Aside from these over-the-top attractions, the first retail stores in the complex are also set to debut, bringing Zara, H&M, and Primark into the fold. Out of this World Blacklight Mini Golf is also scheduled to open October 1.
New safety protocols have been instituted, including a limited capacity and advance tickets required for the theme parks and other attractions. Masks are required to be worn throughout your visit, and signage promoting physical distancing has been installed. For full safety guidelines, visit the Dream Safe website and book your tickets in advance. More debuts are expected soon.
RELATED: What's Open in New Jersey Now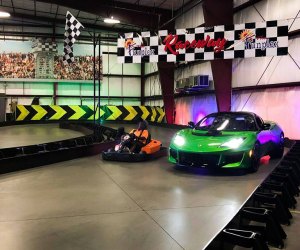 Ready to race? The track is open! Photo courtesy of the Funplex
More Indoor Amusements Reopen
While outdoor attractions and some indoor spots, like museums, have been reopened for some time, other venues are just now opening their doors. The Funplex has now fully reopened its indoor attractions at its East Hanover location, including go-karts and laser tag. Indoor amusement park iPlay, in Freehold, has reopened its indoor attractions and is offering Moonlight Movies in its parking lot, too.
Movie Theaters & Performance Venues Reopen
New Jersey movie theaters and performance venues were allowed to open Friday, September 4. Rules for safe operations include limiting capacity to the lesser of 25 percent or 150 people. Groups purchasing tickets together may sit together, but all groups must be spaced six feet apart. In theaters with multiple screening rooms, capacity limits apply to each room.
Indoor Dining Resumes in New Jersey
What's movie night without a little pre-show dinner? Like theaters, indoor dining reopened Labor Day weekend. Restaurant capacity is limited to 25 percent, and a maximum of eight people can be seated at an individual table unless the group is a family from the same household. Seating arrangments must allow a minimum of six feet between tables. Customers must wear masks indoors unless they are seated, eating, and drinking at their tables. Restaurants are encouraged to keep windows and doors open to increase ventilation.