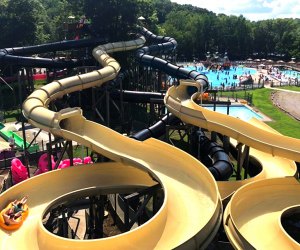 What's Open in NJ Now for Families: Theme Parks, Museums, Zoos, and More
New Jersey remains stalled in Phase 2 of its reopening plan, but much of the state's top family attractions are in fact open for the summer. However, even as the governor allowed a category of entertainment to reopen, such as theme parks or zoos, not every individual business in that category has opened its doors for summer 2020. Some towns chose to keep local playgrounds shuttered even as the state gave the green light for reopening, and some individual aquariums or museums kept the gates locked out of an abundance of caution given the ongoing public health crisis.
To help families plan a little NJ day trip, we've rounded up what exactly is open now in New Jersey for fun things to do with the kids. The beaches of the Jersey Shore have been open a while now (and with the crowds to prove it), as well as other outdoor entertainment, including most parks and playgrounds, swimming lakes, campgrounds, and some splash pads. Most of the Garden State's farms reopened for pick-your-own fruit and flowers, too. Indoor entertainment started reopening in early July at reduced capacity, including museums, aquariums, and arcades.
Read on for what's open now, or reopening in NJ very soon, for kids and families to do this summer.
Please keep in mind that masks are required in New Jersey when social distancing cannot be maintained for anyone over the age of 2. Most businesses, including outdoor venues, have made masks a requirement for entry. Also, things are changing quickly, so businesses might close suddenly or temporarily close portions of their attraction. Please always call ahead before setting out.