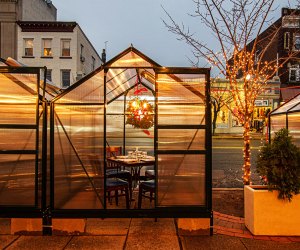 Outdoor Dining in New Jersey: Igloos, Tents, and More Alfresco Restaurant Setups
You might feel like you've been living in a bubble during the pandemic, but now you can actually dine in one. New Jersey restaurant owners have been thinking outside the box to keep businesses afloat during the winter months, which have been especially hard on outdoor dining.
Creative outdoor dining structures—from igloos to tents, greenhouses, and fire pits—are popping up at eateries throughout the state, providing customers with warm, safe alfresco dining opportunities. These outdoor seating options are heated, private, or socially distanced and disinfected between parties. Some ultra-cool spots even feature Bluetooth speakers and outdoor TVs, so you can enjoy your favorite restaurants and plenty of creature comforts, no matter the weather, all while supporting local New Jersey restaurant.
We've found more great ways to get outside this season and plenty of seasonal, family-approved fun in our Winter Fun Guide.
Be sure to click through to the individual websites for reservation requirements and current COVID precautions. Many restaurants require reservations for their outdoor dining tables. Waitstaff and restaurant employees must wear masks at all times, while patrons ages 2 and up must wear masks whenever they are not seated at the table. You may be given single-use menus or be asked to use your phone to peruse the menu. Credit card payments may be required to minimize contact.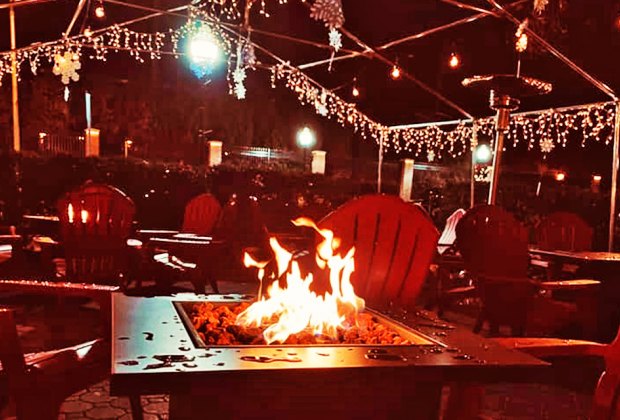 Sit in front of a toasty fireplace while munching on tacos or other delicious Mexican food at the River and Rail Cantina in Cranford.
Creative Outdoor Dining Setups in Northern New Jersey
Dining outdoors at this Mexican eatery is always a blast, and the fun doesn't stop in the cold weather. Warm up with tacos, fajitas, and more on the toasty patio, which houses fire pits and heaters. Outdoor dinner reservations span from 4pm-11:30pm. Tables are for 4-8 guests, and reservations last for 90-minute intervals. Walk-ins are accepted for lunch.
The Stirling Hotel offers a unique variety of outdoor seating options. Order burgers, steaks, and more on the patio with fire pits, or make a reservation to chill in a heated igloo. Igloos may be reserved for up to 2 hours and seat up to eight guests. The rental fee is $25 Tuesday through Thursday and $50 Friday through Sunday.
The village of Ridgewood is home to a dining village outside this popular Greek establishment. A row of heated plexiglass tents, each with room for four diners, lines the front sidewalk, allowing diners to enjoy their souvlaki and Greek salad in the warmth.
Feast on burgers, pizza, and sandwiches while watching the game from a covered heated patio at Just Jake's. The spacious heated tent is open until 11:30pm and features flat-screen HDTVs. The family-friendly establishment even welcomes leashed pups.
RELATED: NJ Winter Fun List: 30+ Things To Do With Kids

Step into a Soul Shack to enjoy some all-American classics at Northern Soul Kitchen & Bar.
This lively downtown Hoboken establishment has created Soul Shacks for cozy winter dining. Each greenhouse structure has its own infrared heating, LED lights, and Bluetooth speakers; sanitizing is performed between parties. Check out the extensive selection of burgers, sandwiches, and a dedicated children's menu.
Dine on steaks, seafood, and other American cuisine while seated in your own private igloo with a flap opening. Reservations for igloos can be made by calling the restaurant directly. A children's menu is available, so bring the whole family.
Ani Ramen – Multiple Locations
Get your fill of delicious noodle dishes in a heated greenhouse outside Ani Ramen's locations in Maplewood, Jersey City, Summit, and Cranford. Individual pods are available with reservations, and each one seats four guests. Reservations last for 1 hour.
RELATED: 20 Winter Day Trips For NJ Families

Stay cozy and sip a brew and at Harvest Moon Brewery.
Creative Outdoor Dining Setups in Central New Jersey
This downtown New Brunswick favorite houses a large, outdoor, heated tent Thursdays through Saturdays. Chow down on pizza, sandwiches, steaks, plus a children's menu when you reserve a socially-distant table. Bonus: Catch the game on the outdoor TVs.
Brick-oven pizza, burgers, sandwiches, and a winter specials menu are on tap at Strawberry's, where you can dine outdoors in a spacious heated tent. Tent seating is first come, first served, and available Friday through Sunday. Tables are set for six diners but can accommodate up to eight.
Warm up with homemade Italian fare under a roomy heated tent at Focacceria. Adorned with fire pits and heaters, the tent welcomes diners to enjoy dishes like sweet and spicy calamari, eggplant lasagna, and family meal packages for four no matter the weather.
RELATED: Outdoor Dining Igloos, Cabins, Yurts, and More Creative Setups at NYC Restaurants

Heated igloos at Ruocco's on 9 makes dining with kids easy and exciting.
Creative Outdoor Dining Setups in Southern New Jersey & the Jersey Shore
Fresh Italian and Sicilian dishes await at this Monmouth County family-owned eatery, now featuring heated igloos. A variety of pasta, Italian entrees, and a children's menu can be enjoyed in these pods. Reservations for outdoor dining must be booked by phone.
Jersey shore dining is heating up this winter with all kinds of warm seating options at The Shore House. Fill up on pizza, tacos, burgers, and more from the comfort of its heated tent, fire pits, or your own private snow globe. Reservations are not required but are encouraged for parties of six or more. Seating is first come, first served for smaller groups.
RELATED: Where to Play Outside in NJ This Winter: Snow Sports, Hiking Trails, Animal Visits, and More

Enjoy traditional Irish fare in a private SunBubble at Josie Kelly Public House.
Pop into one of Josie Kelly's heated SunBubbles for traditional Irish fare, including shepherd's pie and bangers & mash, as well as burgers and a children's menu. Its enclosures seat 2-8 diners and should be reserved by phone. There is a 1 hour, 45-minute time limit. Keep an eye out for special events like its upcoming White Winter Brunch hosted by Anna of Arendelle.
LBI locals frequent this convenient market, which features gourmet prepared foods, grab-and-go items, baked goods, and coffee. Shoppers can enjoy their treats on location under the outdoor heated tent with its eight tables. Another toasty option is the seats encircling the fire pit.
Photos courtesy of the restaurants