Explore the Past and the Great Outdoors at Allaire State Park
8/22/19
- By
Laurie Rein
Growing up in Monmouth County, I visited Allaire State Park frequently with my family as a child. Those day trips were filled with playground time, train rides, and old-fashioned candy purchased at the village's general store. Now I take my own kids there, just like my parents took me.

Allaire is easily accessible from the Garden State Parkway, close to the Jersey Shore, and bursting with outdoor fun like family-friendly hiking, bike riding, picnicking, and camping. But what sets this New Jersey state park apart from other bucolic green spaces are its historic village and working steam train.
With 3,000 acres of nature, a rich history, and lots of fun activities and seasonal events, Allaire continues to be a popular destination for NJ families. Read on for the highlights.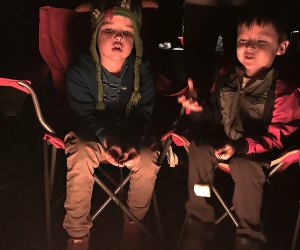 Camp out after a day of adventure and roast marshmallows with friends. Photo by Dorothy Robinson
Outdoor Adventure
Allaire State Park encompasses 20 miles of multi-use trails for hiking, biking, horseback riding, and dog-walking. The simplest walking path for families is the 2.5-mile green loop. There are several other paths, color-coded for various levels of difficulty. The Manasquan River flows through the park, providing canoeing and fishing opportunities. If you're a camping family, check out the tent and trailer sites ($20/night for NJ residents), as well as the rental cabins ($48/night for NJ residents).
Unfortunately, the old Kid's Kingdom playground was taken down in 2016 and has not yet been replaced.
RELATED: Historic NJ Villages That Are Fun for Kids and Families

Watch demonstrations or take part in hands-on activities. Photo courtesy of the Historic Village at Allaire.
Historic Village
Take a trip back in time to 19th-century New Jersey with a visit to the Historic Village at Allaire, situated within the park. Established as an iron-making town in the early 1800s, the restored village features a working bakery with delicious goodies, a carriage house, chapel, carpenter shop, blacksmith shop, and more—all with tours and re-enactments by costumed docents.
In addition, visitors can participate in historic games, chores, and crafts. My kids were particularly intrigued by the old-fashioned toy and game demonstrations at the carriage house. And no trip to the village is complete without a stop at the general store, where you'll find candy, books, vintage-style toys, handmade souvenirs, and all sorts of other collectibles.
RELATED: Great Day Trips to New Jersey State Parks and Forests

Take a ride with on the Pine Creek Railroad. Photo courtesy of flickr4jazz/cc by nc nd 2.0
Train
All aboard the Pine Creek Railroad, an antique steam train that loops around the park and is operated by the NJ Museum of Transportation. Established in 1952, it holds the distinction of being the oldest continuously-operated steam preservation railroad in the country. The train operates daily in the summer, and on weekends in the spring and fall, for a nominal fee. Don't miss special holiday rides, including the Easter Express, the Haunted Express, and the Christmas Express. You can even host a birthday party on the train.

Food
The lush grounds of Allaire are a perfect spot for a picnic. Picnic tables and barbeque facilities are scattered throughout the park. A food truck with treats like hotdogs and pretzels is located near the parking lot. And don't forget to check out the village bakery for dessert.
RELATED: Favorite NJ Reservations with Fun Outdoor Kids' Activities and Hikes

Get fresh apple cider straight from the press. Photo courtesy of the Historic Village at Allaire.
Events
Allaire Village hosts a variety of family-friendly events throughout the year, including workshops in weaving, blacksmithing, and more. Events take place almost every weekend in the spring, including an Easter Egg Hunt, Spring Craft Market, Spirit of the Jerseys History Fair, and Civil War Encampment. Stop by in the summer for the Ducky Derby and Summer Flea Market. Fall festivities include the Fall Apple Festival; the Witches, Wizards, and Wands Festival; and Haunted Allaire. In the winter, swing by for the Stocking Stuffer Sale, Christmas Lantern Tours, and Christmas at Allaire. See the online calendar for event dates.

The carpenter shop is one of several historical buildings in Allaire Village. Photo by Meagan Newhart
Hours and Admission
The park is open daily year-round, while the Village's hours vary by season. From Memorial Day through Labor Day, there is a fee per car at the park, plus a separate admission to the historical buildings. Special events at the Village may require an additional fee. See the website for more details.

Nearby Attractions
Turn your Allaire day trip into a weekend excursion with stopovers at neighboring Point Pleasant Beach or Asbury Park. Other nearby attractions include Delicious Orchards and Jersey Shore Pirates.
This post was originally published in 2015 and has been updated since.