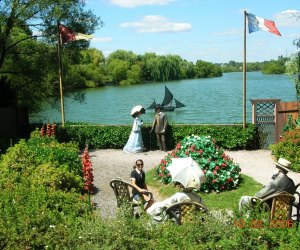 Great NJ Gardens and Lush Arboretums To Explore with Kids
New Jersey is teeming with amazing outdoor places to take active kids—everything from nature centers to Jersey Shore lighthouses offer a multitude of fun events for little ones. But our beautiful state arboretums and gardens are often overlooked. These fabulous green spaces offer a great opportunity for children to see nature up close. Many locations also host educational and engaging programs, featuring activities such as gardening, hiking, and scavenger hunts.
As spring shifts into high gear, gather the kids and head to these beautiful local gardens. We're not known as the Garden State for nothing!
Arboretums
Cora Hartshorn Arboretum – Short Hills
This gorgeous arboretum is home to a wide variety of flora and fauna—take a stroll and discover more than 150 species of wildflowers, 45 species of trees, and 100 species of birds. The Stone House education center contains animal exhibits and a small collection of live animals. The Arboretum offers many wonderful events for children, including toddler and preschool classes, after-school programs, weekend family outings, and summer camps. Upcoming events include an Arbor Day celebration and a family camp-out. Trails and grounds are open year-round during daylight hours.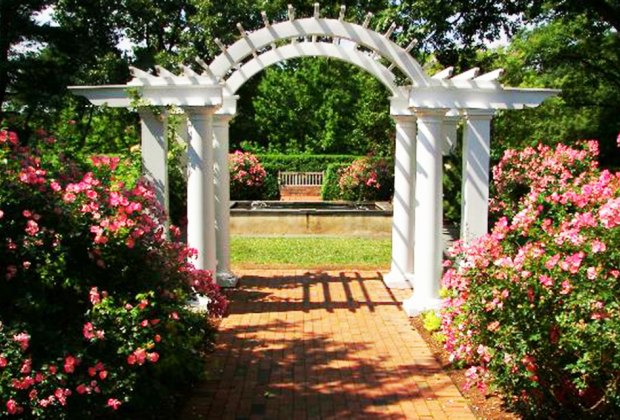 Take a leisurely stroll through the beautiful gardens at The Frelinghuysen Arboretum.
The Frelinghuysen Arboretum – Morris Township
Originally designed as the summer estate for a wealthy New York family, the Frelinghuysen property was opened as a public arboretum in 1971. First-time visitors are invited to take a leisurely "Get-to-Know-Us" walk at anytime—a map with notes can be obtained online. Families can also borrow Discovery Backpacks from the Haggerty Education Center, containing materials, games, and suggestions for exploring the gardens. Frelinghuysen hosts many educational activities for kids, such as gardening programs, classes, and seasonal scavenger hunts. And don't miss their famous Fairy Day in June! The grounds are open from 8am to dusk daily.
New Jersey Botanical Garden – Ringwood
The state's official botanical garden, Skylands is a beautiful place to visit any time of year. Explore 96 acres of specialty gardens, including the Peony Garden and Wildflower Garden, or hike the marked trails through the woods. Garden tours and family hikes are available on select Sundays. Special children's programs, such as gardening workshops and scavenger hunts, are also scheduled periodically. The Botanical Garden is open daily from 8am to 8pm.
RELATED: Grounds for Sculpture: A Hidden Gem in New Jersey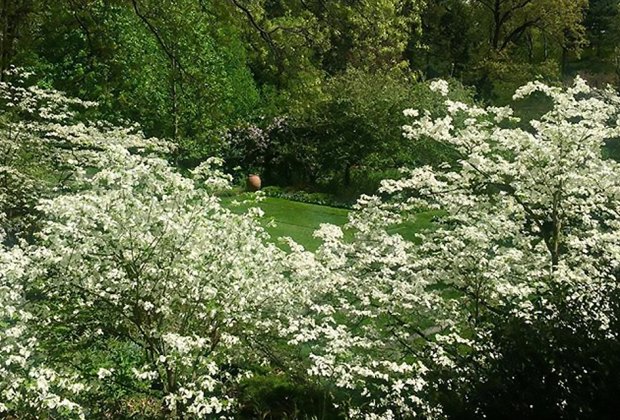 Visit Reeves-Reed Arboretum for nature exploration or family-friendly festivities.
Reeves-Reed Arboretum – Summit
Enjoy a relaxing family hike or borrow a backpack from the Education Center on Discovery Saturdays and embark on an interactive nature exploration using binoculars, field guides, and a magnifying glass. The Arboretum offers lots of family-friendly events throughout the year, such as Maple Sugaring Fest and Daffodil Day, as well as kids' classes and summer camps. The Arboretum grounds are open daily from 7am to 7pm.
The Thielke Arboretum – Glen Rock
A natural habitat for birds, butterflies, frogs, and other creatures, the Thielke Arboretum is a fun and educational place to explore with children. Stroll along the garden path, check out the duck pond, or take a guided nature tour of this hidden gem. Scheduled programs for children include StoryWalk, summer environmental workshops, seasonal festivals, and more. A brand-new, 1,700-square-foot Environmental Education Center opens to the public on April 28. The Arboretum is open daily from dawn to dusk.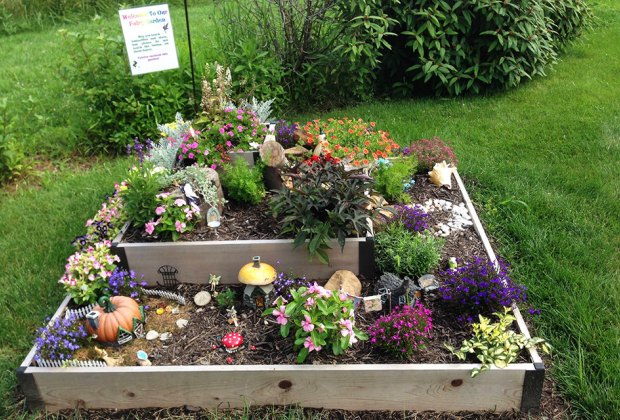 Don't miss the fairy garden at Wagner Farm Arboretum.
Wagner Farm Arboretum – Warren
In 2001, Warren Township purchased the former Wagner Dairy Farm to create an arboretum for the community's benefit. Today the Arboretum fosters environmental awareness through its many fabulous activities, such as kids' art classes, a seasonal farmers' market, and garden maintenance. The Children's Garden, home to bird boxes and a blueberry patch, is a wonderful place to bring young visitors for a peaceful experience of nature. And mark your calendar now for the Arboretum's annual Brite Nites event—every October more than 1,000 carved and illuminated pumpkins are on display for visitors to enjoy. The Children's Garden is open to the public during daylight hours.
Gardens
Deep Cut Gardens – Middletown
Visit this Monmouth County park in every season, home to 54 acres of gardens and greenhouses. The renovated Parterre features 55 varieties of roses with more than 170 bushes. Thinking of planting a home garden with your little farmer? Grab a safari backpack from the Horticultural Center and explore the grounds first. As you stroll, feel free to ask the staff questions or visit the reference library for ideas. Don't miss the kid-friendly drop-in activities during the garden's National Public Gardens Day open house, held around Mother's Day each year when the gardens are in full bloom. For now, the garden is open only on weekends from 8am to dusk while the property is under renovation. Open daily from 8am – dusk.
RELATED: Best Nature Centers in New Jersey To Visit with Kids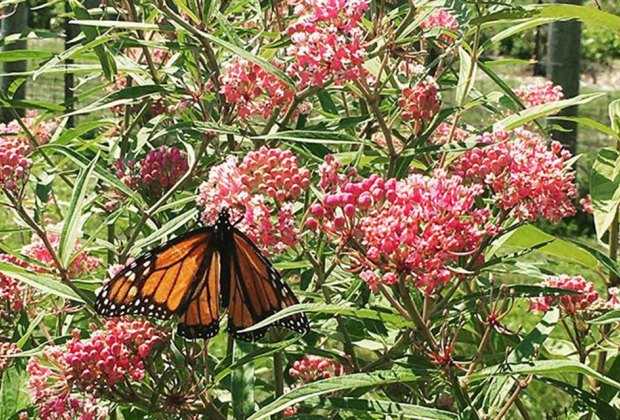 At Duke Farms, more than 1,000 acres of land is devoted to the ongoing exploration of native species, preservation, and sustainability.
Duke Farms – Hillsborough
Open to the public since 2012, this 2,740-acre ecological treasure located in Hillsborough offers diverse wildlife, hiking trails, and interesting educational programs. Hike or bike the 18 miles of trails that take you through woods and grassy meadows and past statues and lakes. Once you've worked up an appetite, grab a bite at the Farm Barn Café, which serves meals made with organic and locally sourced ingredients. Junior Naturalist and Ornithologist classes, a Junior Orchid Club, and once-a-month storytimes offer young horticulturalists multiple learning opportunities. The amazing natural "fireworks" display at the annual Firefly Festival at sunset in July is not to be missed. The farm is open Thursday through Tuesday from 8:30am to 6pm.
Greenwood Gardens – Short Hills
This charming, 28-acre garden is filled with little nature trails, water features, sculptures, and even a few barnyard animals. The garden was part of a private estate until 2003, and many of the original touches remain, including iron gates, gargoyles, and old stone structures. The garden often remains open on school holidays, including Memorial Day, Labor Day, and Columbus Day, making it a no-brainer for fun with the kids. A Barnyard Tour will give kids a closer look at the animals, including the goats, geese, and chickens. Consider the History and Harvest Festival for fall fun such as pumpkin painting, face painting, and pony rides. Free for kids under 12, the garden re-opens for the season on May 3.
Grounds for Sculpture – Hamilton
With 42 acres of gardens and sculptures, the Grounds for Sculpture in Hamilton is not your typical garden. Built on a portion of the former site of the New Jersey State Fairgrounds, Grounds for Sculpture offers fun surprises around every corner: a spray of mist, a lotus pond, little bridges, peacocks, and more. The giant, 25-foot-tall sculptures provide plenty of Instagram-worthy photo ops. There's a lovely French restaurant on the grounds, plus two smaller cafes serving sandwiches, wine, and beer; or you can bring your own brown-bag lunch for a picnic. The museum offers a multitude of programs, including a Mother's Day picnic, regular Tots on Tour programs for little ones, outdoor movies in the summer, festivals in the spring and fall, and drop-in family art programs. The grounds are open year-round from Tuesday through Sunday.
Morven Museum & Garden – Princeton
Just a short walk from the Princeton University campus, this former New Jersey governor's mansion occupies five pristine acres. Morven's historic garden includes a formal, grand lawn dotted with majestic trees, beds of heirloom annuals from the 18th and 19th centuries, and a re-creation of the Colonial Revival–style garden that was planted at Morven in the early 20th century. Spring bulbs appear in April, followed by peonies and irises in May. Stoytime at Morven is held on select Thursdays and is followed by a hands-on activity like seed planting, painting, and digging for earthworms. A festive display of decorated Christmas trees during Morven's annual Festival of Trees gets kids of all ages into the holiday spirit. The museum and garden are open Wednesday through Sunday.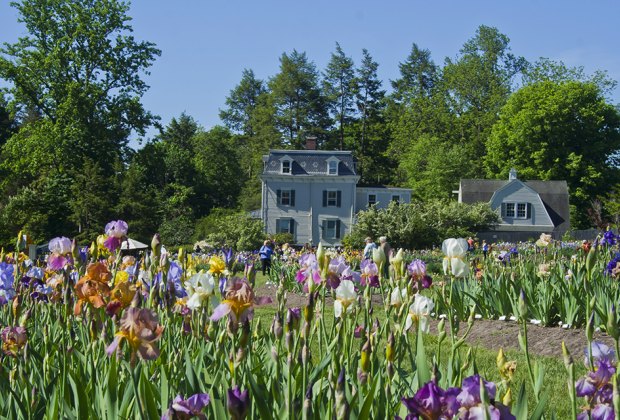 Presby Memorial Iris Gardens is a volunteer run living museum specializing in iris flowers.
Presby Memorial Iris Gardens – Montclair
Don't miss the chance to stroll this gently sloping garden where 10,000 iris plants in 1,500 varieties produce more than 100,000 blooms each year, typically from mid-May through the first week in June. Located at the base of Upper Montclair's Mountainside Park, itself a fun adventure with the kids, the area was conceived as a memorial to Frank H. Presby, one of the founders of the American Iris Society and a Montclair resident. Family-fun programming includes a spring Garden Party on May 19, free outdoor movies in the summer, and artfully carved Jack-O-Lanterns at Gardens Aglow in the fall. The park is open from dawn to dusk.
RELATED: A Dozen Fun Things To Do with Kids at Duke Farms in Hillsborough, NJ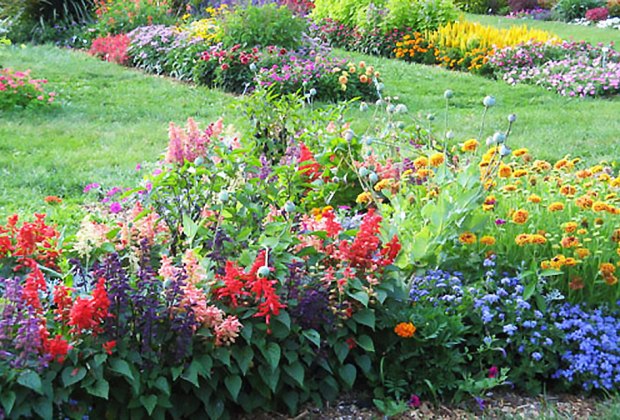 A place of learning and beauty, Rutgers Gardens strives to provide a fun, educational and engaging place for students, faculty and the community to enjoy the natural world.
Rutgers Gardens – New Brunswick
The 180-acre arboretum and botanical gardens, located just down the road from Rutgers University's New Brunswick campus, started out a century ago as a learning space for local farmers. Over the years, it has transitioned into a green getaway where families can wander among the beautiful perennials that bloom at their best in our home soil. With its connection to Rutgers, it's no wonder that education is tops here. Bring your preschooler to Little Sprouts, a weekly drop-in nature playgroup for kids ages 3-5; check out the group exploration tours for school-aged kids; or try the Take a Plant Home program, where kiddos can pot a seedling or plant cutting to grow to at home. Plant sales and seasonal festivals round out the fun. The gardens are open 8:30am to dusk.
Van Vleck House and Gardens – Montclair
Lush, green, and picturesque, the Van Vleck House and Gardens is a great way to swap screen time for green time. The once-private 12-acre estate originated more than 140 years ago, in 1863, when businessman Joseph Van Vleck Sr. moved his family to Montclair from Brooklyn (sound familiar?). The gardens are filled with plant collections from around the globe, surrounding the historical Italian-style villa the Van Vleck's once called home. Saturday morning Outdoor Adventures start at the Education Center, where kids ages 4 and up learn about the gardens, make a simple craft, and get supplies for a self-guided activity on the property. Preschool Garden Discoveries classes focus on a single nature theme though stories, outdoor exploration, and hands-on activities. Junior Gardeners, under the watchful eye of Van Vleck's Master Gardener Denise Barth, get down and dirty planting flowers and plants on the grounds. The gardens are free to the public and open 365 days a year.
All photos courtesy of the gardens/arboretums