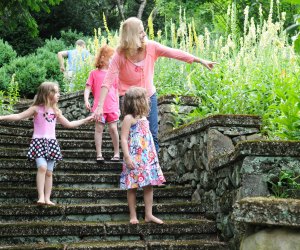 Greenwood Gardens: A Sweet (and Cheap) Day Trip to Short Hills, NJ
Short Hills, New Jersey, might be most famous for its luxury brand–filled mall, or as one of the country's most affluent towns. But tucked among its winding backroads, you'll find one of New Jersey's most charming public gardens, Greenwood Gardens.
The seasonal 28-acre garden is filled with little nature trails, water features, sculptures, and even a few barnyard animals.
If you're looking for a sweet, low-key, non-commercial day trip with Jersey kids of any age, Greenwood Gardens is a great bet. Bonus: It's free for kids under age 12. Read on for our full review, and find more zoos and gardens in our local New Jersey guide for families.
The garden was part of a private estate until 2003, when the owners turned it over to a conservancy to open the land and gardens for the public to enjoy. The property was originally purchased by Joseph P. Day, a NYC real estate auctioneer in 1906; he built the gardens and houses in 1911, and many of the original touches remain. You'll see iron gates, gargolyes, and old stone structures. As you drive through the main gates and head toward the parking lot, you'll feel as if you're entering the long driveway of a great family of years ago.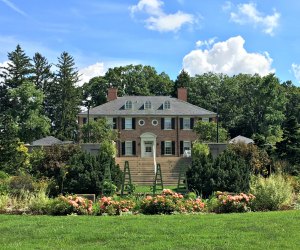 OUR LATEST VIDEOS
Pay your admission fee and pick up a map at the main house before setting out onto the garden path. You'll immediately see the reflecting pool terrace, once the scene of 1920s and '30s lawn parties. The kids leaped down the wide staircase and peered into the former pool, taking in the scene of neatly organized hedges, plants, and grand stone columns. Further down, a bronze sculpture of a little boy holding two geese caught the adults' attention.
RELATED: Grounds for Sculpture: A Must-See Outdoor NJ Art Museum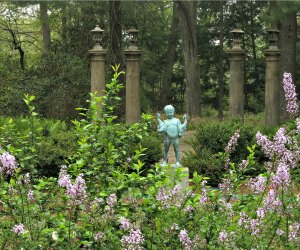 Lilacs and Goose Boy statue in Garden of the Gods. Photo by Vicki Johnson.
We encountered winding steps, open-air stone houses that the kids could enter, a pond, numerous meadows, and more as we wandered around the grounds. A 1920s-era stone teahouse was popular with all, with its attractive mosaic flooring, winding staircase, and granite "Foo Dog" statues that guard the pathway.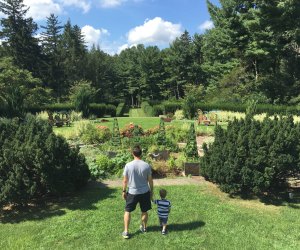 Once the scene of 1920s lawn parties, the grounds offer nature paths and art to observe.
There is moss and even rust covering some railings and other structures throughout the gardens, while some walls showed cracks and other signs of wear-and-tear. We found a seemingly abandoned and dry water feature, known as the Cascade, that looked like it might have been quite spectacular in its heyday; you can see how the water would have cascaded down its seven flights. The kids peered over the low walls, examining the contents and the colorful design features.
The garden is slowly being updated and restored with support from the Garden Conservacy. Many projects remain, but honestly, the overgrown and aging sections added to its charm and the feeling of mystery and seclusion.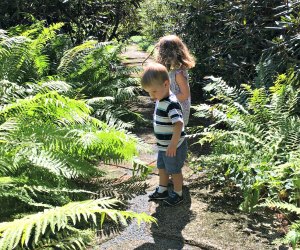 The leafy vegetation and hidden pathways gave it a Secret Garden feel.
We visited on a summer weekend morning and nearly had the place to ourselves, so it was peaceful, too. The kids (both under age 5) raced along the walkways, which were a mix of paved, gravel, stone, and sometimes grass or dirt. It seemed we discovered a new splash of colorful flowers or structure around each bend, so the kids looked forward to the surprises and never complained. Nor did we have to worry about them stepping in the wrong spot, or knocking things over! There was plenty for them to climb on and around, so that they were fully engaged. A wishing well toward the entrance that we initially missed captivated them for a solid 10 minutes.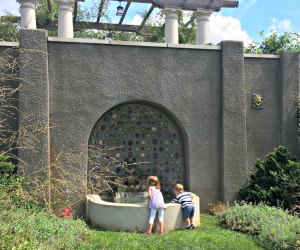 Water featues abound, but the kids favored this colorful wishing well.
On our way out, we also glimpsed a pair of goats on the property. Though we couldn't reach them, the kids enjoyed watching them, as well as the geese and other small wildlife we encountered, including butterflies.
The garden often remains open on school holidays, including Memorial Day, Labor Day, and Columbus Day, making it a no-brainer for fun with the kids. It hosts weekly classes for adults, including photography and art classes, but also regular seasonal events for families. You'll save on admission during its fall Garden Conservancy Open Day (September 16), and the Barnyard Tour for families will give kids a closer look at the animals, including the goats, geese, and chickens. Consider the History and Harvest Festival for fall fun such as pumpkin painting, face painting, and pony rides, or Haunted Greenwood for an early-evening Halloween and ghost-themed tour!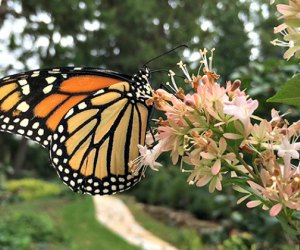 Photo courtesy of Greenwood Gardens
Good to Know Before You Go
Strollers aren't allowed beyond the main house/entrance, so put baby in a carrier and let toddlers walk. Similarly, the nature paths are not handicap-accessible.

The onsite, indoor bathrooms are frankly gorgeous (can you say that about bathrooms?) and include a changing table for babies.

You won't find a cafe or food for sale here. You can eat at the handful of tables near the main entrance, but picnicking on the grounds is not allowed.
Greenwood Gardens is located at 274 Old Short Hills Road in Short Hills in a residential section that borders Millburn, New Jersey. It's open Thursday through Sunday. Admission for adults is $10, while seniors and students pay $5.
Top photo shows a family on the Cascade. Photo by Joy Yagid. All others by author unless otherwise noted.