A Dozen Fun Things to Do with Kids at Duke Farms in Hillsborough, NJ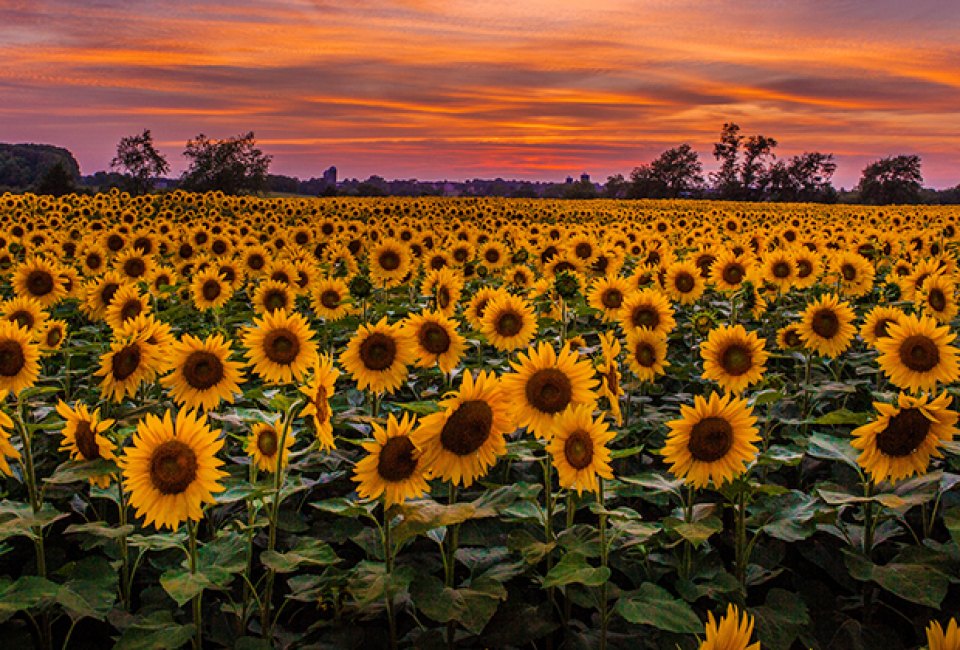 5/17/17
- By
Kaylynn Chiarello Ebner
If biking, hiking, and learning about nature sounds like great fun for your family, plan a trip to Duke Farms. Open to the public since 2012, this 2,740-acre ecological treasure located in Hillsborough offers diverse wildlife, hiking trails, and interesting educational programs. This park is perfect for exploring the outdoors in all seasons. Here are a dozen ways to take it all in at Duke Farms.
1. Start your visit at Duke Farms' beautiful Farm Barn Orientation Center, where you can grab a map, see a short film, check out some interactive displays, sign up for educational events, and plan your visit.
2. Grab a bite at the Farm Barn Café, which specializes in serving breakfast, lunch, and snacks made with organic and locally sourced ingredients. Open Thursdays through Tuesdays in the Orientation Center.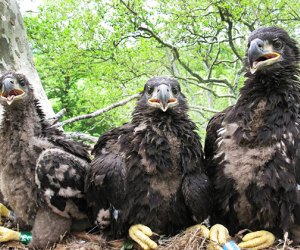 Baby bald eagles.
3. Watch bald eagles nesting (and hopefully hatch and raise chicks) every late winter/spring (April through June) on the farm's live Eagle Cam.
4. Visit the Farm to Table market. Open Sundays from noon to 5 p.m., mid-May to early November.
5. Hike or bike along Duke Farms' 18 miles of trails, which will take you through woods and grassy meadows and past statues and lakes. The park is a refuge to several endangered or threatened wildlife species, 200+ bird species, and much more. (Keep your eyes peeled for turtles, bald eagles, river otters, and much more.) Twelve miles are great for biking, and much of that is stroller-friendly pavement.
6. Enjoy Great Falls, the largest of the waterfalls at Duke Farms, which feeds water into Vista Lake.
RELATED: Guide to NJ Parks and Playgrounds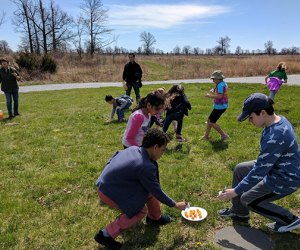 Kids learn about pollen distribution by using cheese balls in a Junior Naturalist class.
7. Help your child (grades K–6) become a Junior Naturalist, Ornithologist, Gardener, or Entomologist in these series of monthly Sunday classes that teach kids about nature. Parents must accompany their child, but adults' tuition is free.
8. Follow a GeoTrail at Duke Farms, where you'll use GPS to find 11 hidden targets with clues that form a code word.
9. Older kids may appreciate the Orchid Range, a stunning greenhouse filled with beautiful orchids. Kids ages 11–15 can also take classes as part of the Kids Orchid Club.
RELATED: NJ Day Trips Guide for Families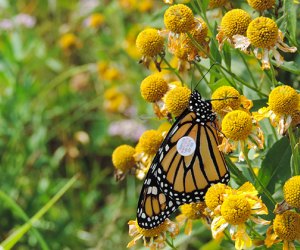 Tag butterflies at the Monarch and Meadow Fest.
10. Check out an amazing natural "fireworks" display at the annual Firefly Festival at sunset in July, when you'll see millions of fireflies light up the evening along a 1.5-mile trail. In August, check out the Monarch and Meadow Fest, where you'll plant seedlings in the meadow, take guided walks, and participate in the live tagging of monarch butterflies. FREE
11. Enjoy the Nature Storytime for Sprouts Series for kids ages 3–6. These 90-minute sessions combine nature stories, short hikes, songs, and crafts.
12. In mid-March, don't miss the annual Maple Sugaring Celebration, where you can tap a tree and learn about the maple sugaring process.
Know Before You Go:
The park is closed on Wednesdays
Hours are 8:30 a.m. to 6 p.m. from mid-March to early November; 8:30 a.m. to 4:30 p.m. the rest of the year.
Admission is free.
A tram service is available to help people with physical challenges get around the park.
The park closes once the parking lot is full, which can happen during peak hours.
Top photo: Sunflowers blanket the meadows in late summer. Photos courtesy of the farm.


Places featured in this article:
Sign up for the Mommy Poppins Newsletter today!