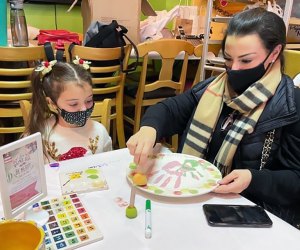 20+ NJ Art Studios Offering Drop-in Classes, Virtual Workshops, and Take-Home Crafts
Like the idea of crafting with your kid but cringe at the thought of paint and glitter all over your house? New Jersey is home to various drop-in art studios offering your spontaneous painter, potter, glassmaker, and jeweler the chance to get their craft on. The perfect destinations for a cold winter day, these creative spaces let you skip the mess at home while catering to your budding artist's creative impulses.
Read on for our roundup of 20+ arts and crafts studios in New Jersey. The pandemic has forced some studios to limit capacity, implement safety precautions, and offer take-home kit alternatives. Please click through to individual websites for up-to-date safety protocols, as well as current prices.
Looking for more fun things to do this winter? Don't miss our Winter Fun Guide for NJ Families, and be sure to check out our Events Calendar for even more great ideas.
Editor's note: Please click through to each venue's website for current safety protocols. Even if the venue doesn't mandate masks, please keep your family and others safe by always wearing a mask and maintaining an appropriate distance. If a venue is too crowded, try using the "see all locations" option in this article or the "nearby" search feature on our Event Calendar to find something else to do.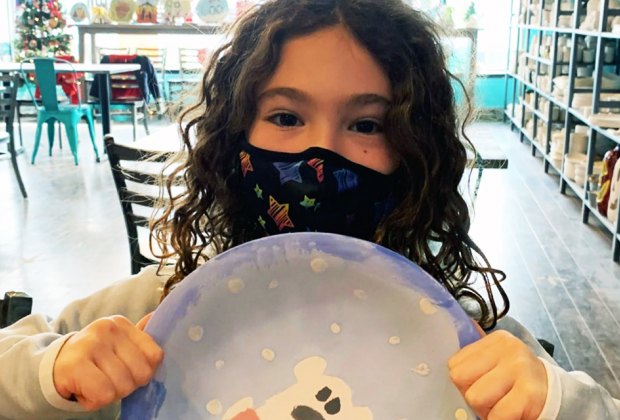 Paint a plate or anything you want at Fire Me Up! in Cranford.
Drop-in Art Studios in North Jersey
2021 update: Reservations are required.
Young Picassos fall in love with this spacious studio that offers oodles of bisque pottery pieces to choose from. Walk-in, choose a piece and start painting. Older kids can try glass fusing. Prices start at $8, but the average item is $20–$30 and includes all materials, studio time, and kiln firing.
2021 update: In-person classes are on hiatus; plans are in the works to stream the classes.
Twice-monthly Saturday Art School classes allow kids ages 5-14 to create drawings, paintings, collages, and sculptures as they learn about master artists and fine art from the world. Each class is followed by an open critique where students are encouraged to speak positively about each other's work in front of parents and siblings.
2020 update: Open daily, and reservations are required.
Walk-in painters are welcome seven days a week at this inviting art studio. Pay the $5 flat studio sitting fee and choose from 500 ready-to-paint pottery pieces. Opt for traditional glaze and fire, or acrylic paint so your tiny artist can take home their creation the same day. Canvas, mosaic, and sand art projects are also available.
2021 update: Open to the public, but call to confirm it's hours before stopping by.
As seen on Bravo's Real Housewives of New Jersey, this beautiful, well-stocked store allows you to make your own wearable art. Shop the sea of loose beads in all shapes and sizes sorted by color, and string them to create a one-of-a-kind design. Crimp the ends and add a clasp to wear your necklace, bracelet, or earrings right out of the store.
2021 update: Both locations are open with reservations, masks are required, and tables are socially distant. Take-home kits and virtual sessions are also available.
Work off some creative energy and make a gift for Grandma at this popular pottery painting place. Select from a wide variety of pre-made ceramic items, then add your artistic flair. Pieces will be glazed, fired, and ready to pick up in seven days. Pay per piece, plus a studio fee. Additional locations include Toms River, Voorhees, Denville, Edison, Freehold, and Hamilton.
2021 update: Open Friday, Saturday, and Sundays. Reservations are encouraged, and masks are required. Outdoor seating will return in the warmer weather.
This paint-your-own-pottery place offers a wide variety (as in 150!) of DIY-painting options, starting at $8. An hour of paint time is an extra $8 and includes all paints, glazing, and firing of your piece. Swing by Wednesday afternoons for a Mommy & Me special—while you paint your piece, little ones 5 and under stay busy painting a small tile for free. After-school specials for older kids include a select pottery piece plus one hour of paint time for $20.
2021 update: Only virtual sessions are currently offered.
This cute and cozy space plays host to Studio Saturdays and Family Art workshops every weekend, plus weekday Crafty Kids workshops, too. There are different guided activities offered for toddlers (2–5), and kids ages 5-10 can choose to re-create a painting by a famous artist using a mix of media ($20 per child) or take a slab of clay and hand-shape their own piece of pottery (rates vary depending on activity). School break camps, birthday parties, and paint-and-sips are also offered.
2021 update: Reservations are required, but the studio is open with 25 percent capacity limits.
Fire up your little one's creative passion at this make-your-own glass fusing studio. Kids as young as 3 can learn how to combine various glass forms to make a unique and colorful piece to call their own. Projects start at $23 and average around $40.
RELATED: Crafts for Kids: 100 Awesome Art Projects for Creative At-Home Fun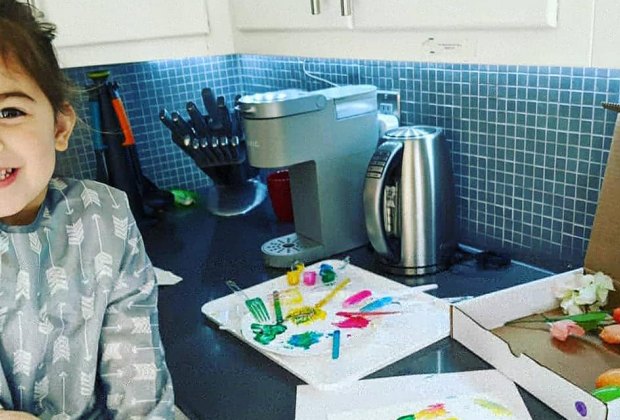 Have fun with finger paint during a virtual class at The Messy Artist.
2021 update: The studio is temporarily closed but offers online classes and take-home kits.
Open Play is offered Wednesday and Thursday at this hands-on art studio. Pay $20 at the door—and stay as long as you like. Little ones 18 months-6 years rotate through five stations, including easel work, a giant walk-in sensory box, homemade play dough, and finger-painting with goop, slime, or shaving cream. Everyone can make a one-of-a-kind project to take home.
2021 update: Open for classes with safety precautions. Curbside Clay kits are also available for pick up.
Play with clay any day at this modern studio space. For $30 per project, you'll get two pounds of clay to create a handmade sculpture Monday-Saturday from noon-6pm (on Sunday, noon-5pm). School's-out workshops and clay camps for kids and teens teach both hand-building and wheel work.
2021 update: The studio is open for small groups. Take-home kits are also available.
Stop by this beautiful art studio for a creative drop-in playgroup on school holidays. Artists 18 months to 5 years can paint, sculpt with play dough or clay, make a take-home project, and get their tiny hands dirty in the sensory sandbox during each 1-hour Open Play & Make session.
2021 update: Open with social distancing and other safety protocols. Private spaces are available for families. Finished projects can be picked up curbside.
Drop-in any day of the week to paint pottery, create mosaics, or learn how to mold and fire your own clay. Spice up your kids' after-school routine with Tuesday and Friday afternoon art classes. The 3,000-square-foot studio includes three private rooms perfect for birthday parties.
2021 update: The studio is open by appointment, and painting kits are available for pick up.
Make a gift from the heart at this quaint art studio. Pick it, paint it, fire it, and voilà: you'll have a one-of-a-kind masterpiece any one will love. After your piece gets a professional glazing treatment, it goes into the kiln for a day. Once it cools, the locally owned and operated family studio hand polishes your item and bags it up for you to take home (usually within a week).
2021 update: Studio temporarily closed. Painting kits are available for contactless delivery.
Relax, enjoy some music, and paint it up at this bright, sunlit studio. There's no sitting fee, so you pay per piece. The popular plaster painting technique allows kids to top off their work with a shiny, sparkly, or matte finish that's ready to go home within minutes.
2021 update: In-studio reservations are available for small groups, families, and pods. Pottery to-go can be picked up.
Express yourself at this unique studio that offers mosaics, canvas painting, clay building, sand art, spin art, board art, jewelry beading, and acrylic pouring, in addition to more than 600 pieces of pottery to paint. Prices range from $6-$60 and includes painting, glazing, and firing. There's no sitting fee, so you're welcome to stay and create as long as you like. Ever tried painting in the dark? Sunshine's black light canvas painting parties are sure to wow your birthday boy or girl.
Drop-in Art Studios in Central Jersey
2021 update: Walk-ins are welcome late nights on Fridays and Saturdays. Take-home kits are available.
No patience to wait seven days? In addition to pottery painting, this charming studio provides projects to make and take home on the same day. Choose from acrylic painting on canvas or wood, or make a mosaic. Little ones can stuff a cuddly critter, dress it up in an outfit or T-shirt, and leave with a new friend.
2021 update: Open for walk-in painting. Masks are required. Take-home kits are available.
Plates, mugs, and vases, oh my! This studio offers plenty of pottery pieces to choose from. Prices range from $4-$35, plus a $6 paint and firing fee. If your little one would rather create a masterpiece to hang on the wall, pick a 16-by-20 canvas traced with the picture of your choice for $21.95, which includes supplies and unlimited studio time.
2021 update: The studio is open Wednesdays through Saturdays, but call to schedule your studio time in advance. Parties are on hiatus.
At this professional pottery studio, you only pay per piece (from $10); there's no additional charge for studio time or firing. All of the pottery is handmade on one of the store's nine potter's wheels. Stop by a week or two before a holiday to paint a limited-edition seasonal piece for someone special.
19. Hot Sand – Asbury Park
2021 update: Studio is open with safety measures that include masks and social distancing.
This cool glassblowing space offers activities for kids of all ages. Children 9 and up can blow their own glass pieces, such as an ornament or drinking glass. Younger artists can create a quick cast imprint of a hand or shell into which hot glass is poured or a sun tile arrangement of colored glass heated and fused together in a clear square.
2021 update: The studio is open with limited capacity, and masks are required. Reservations must be made by phone. Take-home kits are available.
Eat or drink from your very own hand-painted mugs, glasses, or dinnerware painted by your favorite mini artist. All the ceramics, paint, and glazes are food-safe, non-toxic, and lead-free. You pay for the pottery plus a one-time studio fee that covers glazing and firing; the studio fee is 50% of the price of the pottery. Closed Wednesdays. (On weekends, the studio may close early if there are no walk-ins, so call ahead if you're planning to come toward the end of the day.)
Drop-in Art Studios in South Jersey
2021 update: Studio is open for indoor and outdoor painting. To-go kits are available, and kids' workshops are on the schedule.
With more than 400 pieces to choose from, this cozy space includes a vast selection of everything from piggy banks to animal figurines. Little painters can tap into their creative minds as they decorate their ceramic pieces with paint, stencils, or stamps. After they design it, the studio will glaze and fire for free! Storytime is held on Wednesdays and Saturdays at 10am, and once a month, Sensory Sundays include a clay activity plus use of a quiet room if needed for $20 per child.
2021 update: Open with reservations required. Take-home kits are available.
Why wait when you can take your painted pottery piece home the same day? Paint-A-Treasure's no-fire, fast-drying acrylic paints go on like glaze, and kids can finish off their piece with glitter for even more bling. Walk-ins are also welcome to paint a canvas template.
This post, originally published in January 2012, has since been updated.
Photos courtesy of the studios