New Jersey Art Studios that Encourage Kids To Play with Glass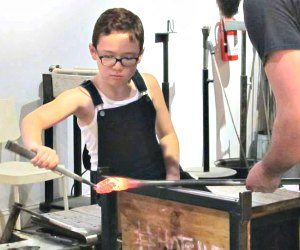 Broken glass at home often leads to warnings of keep back and be careful, but at a number of art studios across the state, kids are encouraged to play with the stuff. Don't worry, cuts and scratches are not involved. In these studios, kids (and adults) can cut, glue, blow, and fuse colorful bits and pieces of glass to make sun catchers, jewelry, picture frames, and other unique designs—often with the help of trained studio artists. We've searched out some spots with open studio times and classes where kids and adults can express their inner Chihuly.
Projects are based on a child's age. For instance, younger kids can glue pre-cut pieces into a design, and the creation is then fused in a kiln by studio artists. Older kids have the option of cutting their own glass, or even trying their hand at glassblowing.
Most projects start with flat glass and spaghetti-shaped tubes of varying thickness. The colored pieces are glued onto a clear base and then baked at very high temperatures in order to fuse them together. Creations can be baked flat or heated over a mold, a technique called "slumping," to make a specific shape like a plate or bowl.
Here are some of our favorite spots across the state.
Fire Me Up Studio – Cranford
Visitors here can use abstract or figurative designs to make jewelry, night lights, or other decorative pieces. Glass fusing projects can be made on a walk-in basis during open studio hours. Projects include platters, picture frames, jewelry, coasters, sun catchers, and more. The studio suggests that participants be 9 years or older, and it offers birthday parties as well as mini-camps during school breaks. Check the calendar to find classes focused on specific projects.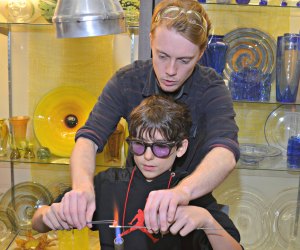 Hands-on instruction at Glass Roots in Newark.
Glass Roots – Newark
This non-profit group was founded in 2001 to use glass art as a way to teach science, math, business, and entrepreneurship to underserved teens in the Newark community. Its programs are funded through the glass-working classes offered for all kids. Workshops take place weekends, school breaks, and during summer camps. The studio has three areas: a Flame Shop for making small sculptural items, a Flat Shop for fusing glass and making mosaics, and a Hot Shop for glass blowing. Kids must be 10 years old to work in the first two and 12 or older for the Hot Shop. In fall 2018, the studio will move from its current, 5,700 square foot facility to a new, 18,000-square-foot studio, where Glass Roots will offer open studio times as well as curated displays of glass art from the nearby Newark Museum.
Glassworks Studio – Morristown
Artists as young as 3 can stop by to play with colorful bits and pieces and make a picture frame, plaque, or small sculptural piece. Glassworks offers open studio times, structured classes, and home school programs each Thursday. Check the website for special seasonal and holiday-themed workshops for both preschool and elementary school–age children. Parents can check out the adults-only, BYOB nights.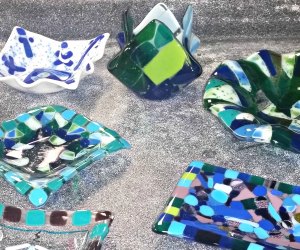 Colorful crafts at Gone Paintin.
​Gone Paintin – Flemington​
Despite its name, this studio offers glass fusing as either a walk-in activity or scheduled class. It also offers after-school workshops on Wednesdays. Kids ages 6–11 can make a variety of projects using pre-cut pieces of glass, while those 12 and older can cut their own colors with help from owner Lisa Ayotte. Projects include sun catchers, coasters / tiles, dishes, tic tac toe boards, pendants, bowls, and more.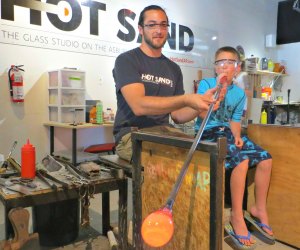 At Hot Sand, kids 9+ can blow a variety of glass creations over an open flame.
Hot Sand – Asbury Park
No one—and we mean no one—is too young to participate here. Little ones can press their hand or foot (or have their hand or foot pressed for them) into a sandbox. Staff will then pour molten glass into the mold and make a colorful creation for parents to cherish. Artists old enough to work on their own can use pre-cut pieces of colorful glass to make sun tiles. And creative spirits 9 years and older can work with a professional artist to blow a bright bubble, egg, candy dish, paperweight, drinking glass, or other item over an open flame.
Make It Glass – Lakewood
Visitors here can cut, glue, and melt pieces of glass to make their own designs. Make It Glass offers three types of fused glass projects, each determined by the temperature in which a project is fired. Full fuse completely merges pieces of glass; tack fuse leaves a dimensional bond; and slump bakes pieces over a mold to shape them into something like a dish or bowl. Artists as young as 4 can pick and cut colors to make simple projects like a magnet, tile, picture frame, ponytail holder, or night light cover. The studio specializes in Judaic art and is closed on Saturdays as well as all Jewish holidays.
Pink Elephant Pottery Studio – Asbury Park
Artists 6 and up can cut and glue pieces to make fused projects including necklaces, night lights, ornaments, coasters / tiles, picture frames, door hangers, napkin holders, and more. The studio offers both open studio time and classes.
Top photo: Glassworking at Hot Sand in Asbury Park. All photos courtesy of the studios.