Day Trip to Olana State Historic Site to See Frederic Church's Living Masterpiece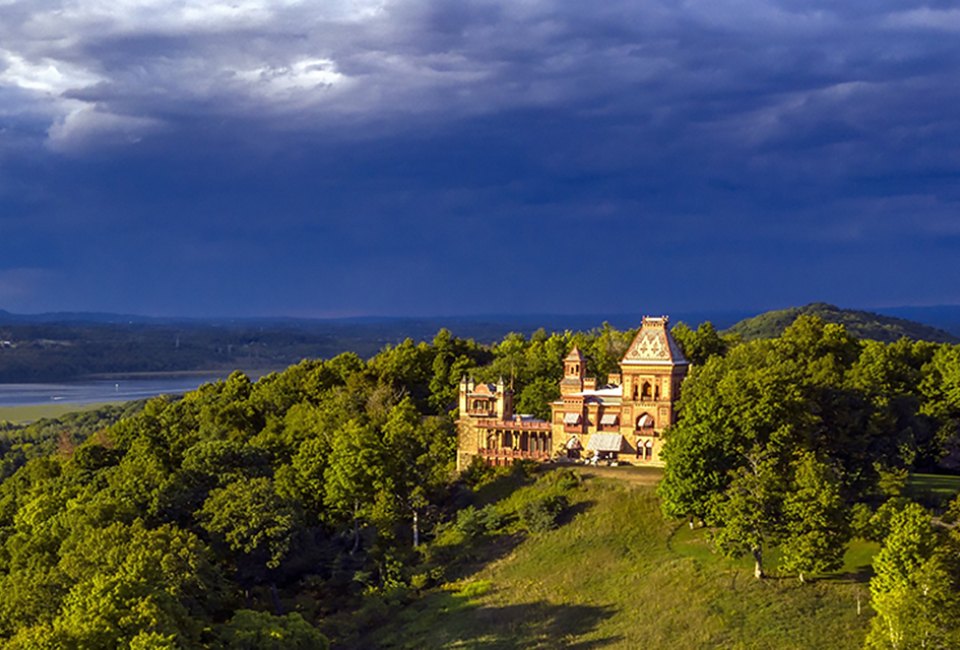 1/20/21
- By
Diana Kim
One of my favorite places to visit with my family in the Hudson Valley is the Olana State Historic Site. It encapsulates what's so great about the area—natural beauty, history, and amazing art, design, and architecture. With breathtaking views of the Hudson River, it's a great destination for the whole family, offering sights and activities for kids as well as their parents.
We've visited Olana in the summer and winter and enjoyed ourselves equally on each visit. Whether you're taking a day trip or spending a long weekend upstate, make sure to have Olana on your list. You can find plenty more getaway inspiration in our Day Trips and Getaways Guide.
Editor's note: While we are trying to promote safer activities that occur outdoors or with social distancing guidelines in place, please keep your family and others safe by always wearing a mask and maintaining an appropriate distance.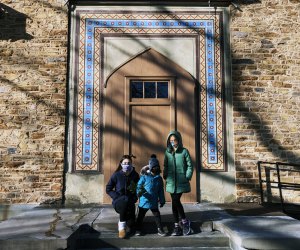 On the exterior, Middle Eastern motifs are carried out in colored brick, wood, slate, ceramic tile, and stenciling.
A Brief History of Olana
The Olana State Historic Site is located a few miles outside the town of Hudson, New York. It was the estate of Frederic Church, a central figure in the Hudson River School of landscape painting. Church was born in 1826 in Hartford, Connecticut, and was a man of many talents. He was an artist-explorer, a self-taught architect, farmer, and landscape designer who loved traveling the world. He studied landscape painting with Thomas Cole in Catskill, and his works depict the splendor of nature in great detail. After his marriage to Isabel Carnes, they purchased 126 acres of lush farmland and built a small house, now known as the "Cosy Cottage" on the Olana site. He set about improving the land, carving out a lake, planting crops and thousands of trees, all the while capturing the natural wonders of the area in his paintings.
RELATED: 35 Things To Do With Kids in the Hudson Valley

Olana's main house sits impressively at the top of a long slope and is a unique mixture of Victorian architectural elements and Middle-Eastern decorative motifs.
Olana: The House
After returning from an 18-month trip to Europe and the Middle East, Church decided to build another, larger house atop a long slope of newly acquired land overlooking the Hudson River. He and Isabel were inspired by the art, culture, and architecture of the Middle East and wanted to incorporate its elements into the new house's design. Church commissioned architect Calvert Vaux (who, along with Frederick Law Olmstead, designed Central Park) to help realize his vision.
The house has many Middle Eastern architectural elements and decorative motifs, including an open courtyard, arched windows, intricate balconies, and colorful tile and stencil work. Isabel coined the name "Olana," and while its precise meaning and origin are unclear, it's likely a reference to a Middle Eastern stone fortress. The house's interior is furnished with many Middle Eastern artworks and tapestries collected by the Churches during their travels. While the interior is currently closed to the public, on our most recent trip, our tour guide implored us to return to check it out, promising we wouldn't be disappointed.
RELATED: Easy New York State Park Hikes for Families

The landscape includes a working and ornamental farm, meadows, outbuildings, a man-made lake, native woodlands, and more than 5 miles of carriage roads.
Olana's Sprawling Landscape
The entire estate covers about 250 acres, and Church was intricately involved in its landscape design and execution. It includes a farm consisting of the Cosy Cottage and several other buildings, orchards, gardens, meadows, Church's art studio, a man-made lake that took 18 years to construct, and walking paths around the lake and through woodlands. There are 5 miles of carriage roads thoughtfully designed by Church to give visitors the full experience of the house and landscape. My kids loved seeing the huge house and farm, running through the woods, and playing near the lake. There are beautiful trees and plants, plus tons of space to roam or enjoy a picnic during warmer months.
RELATED: Exploring Teatown Lake Reservation With Kids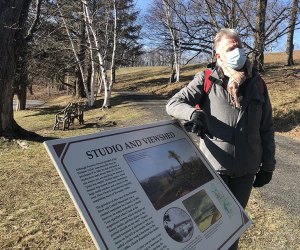 Take an outdoor walking tour of Frederic Church's Olana on Saturdays and Sundays.
What To Do on a Visit to Olana
Olana is a New York State Historic Site, and you can enjoy the grounds for FREE from 8am to sunset daily, though I highly recommend signing up for a tour. There are two; one that runs about 30 minutes and another that is an hour. My family and I signed up for the 30-minute "Landscape and Architecture" tour, and it was informative and enjoyable. Our tour guide (whose father-in-law was one of Church's children) was so knowledgeable and friendly that all three of my kids listened attentively and asked questions.
If you don't register for a tour, or attend on a day when they're not offered, consider downloading an audio tour before you go. The estate is also home to a New York State Parks Geocache Challenge, so you can turn your visit into a modern-day treasure hunt.
In non-COVID times, you can go inside the house for guided tours, as well as take in art exhibitions in the Evelyn and Maurice Sharp Gallery. It's currently set to reopen in late spring with a new exhibition exploring the cross-pollination of art and the environment while highlighting the work of Church, Cole, their daughters, and other artists influenced by the two masters.
For a completely different outlook on Olana, pair your visit with a trek across the Hudson River Skywalk, which connects Olana to the Thomas Cole National Historic Site and the town of Catskill, New York. Like Olana, only the grounds of the Thomas Cole site are currently open.
Know Before You Go to Olana:
Olana is open every day from 8am to sunset.
The main house is currently closed.
All visitors must adhere to social distancing guidelines and wear masks.
Walking tours are held on Saturdays and Sundays and cost $15. Children under 12 are FREE. Reservations are required and can be booked online.
FREE 1-hour walking tours are held the first weekend of each month. Visitors must register in advance.
The Museum Store is open Saturdays and Sundays, 11am-4pm.
There are bathrooms located near the Museum Store.
Strollers are allowed, and though there are a few steep inclines, they're manageable.
Unless noted, photos by the author
Places featured in this article:
---
Olana State Historic Site