The Very Hungry Caterpillar Show
DR2 Theatre

NYC Easter Brunch Cruise 2023
Event Cruises NYC

Easter Fun Cruise with Egg Hunt 2023
Event Cruises NYC
Sign up for our free newsletters.
Staten Island Museum Opens Second Location at Snug Harbor
10/5/15
- By
Nataki Hewling
The Staten Island Museum recently opened a second location, adding to its existing space in St. George, and it's just minutes from the Staten Island Ferry terminal, making it a great destination for NYC families from other boroughs.
The new museum nestled in the island's beautiful Snug Harbor Cultural Center isn't a kids' museum per se, but we found plenty there to engage the four boys, ranging in age from 3 to 14, who tagged along with mom. Plus, kids under 12 are admitted for FREE!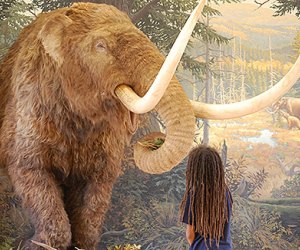 A life-sized replica of a mastodon is sure to awe kids.
The St. George location has long been a community fixture for island residents and visitors with collections and programming that explore art and natural science, as well as local and global history, and the Snug Harbor outpost, which opened in September, expands on these themes.
Our kids were especially delighted with Remembering the Mastodon, an exhibit that features a life-sized replica of a mastodon, the huge, prehistoric distant relative of the modern elephant, emerging from a wall. This is a must-see for all ages, though my 3-year-old preferred to view from a distance.
RELATED: Mommy Poppins' Staten Island Kids Guide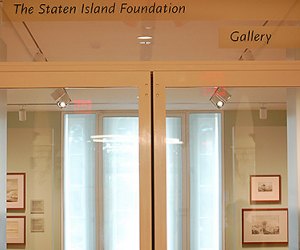 An exhibit in Gallery One shows off local landscapes.
Staten Island SEEN and Staten Island SEEN: Witnessing Change is a beautiful collection of art showcasing Staten Island's landscape and illustrating how it has changed over time, from the 17th century to present day. Works include ink drawings, oil paintings and even an anaglyph 3D movie about the island, titled SI3D, which the kids in my group couldn't wait to check out.
One of my favorite exhibitions, Opening the Treasure Box: Bringing the World Home, contained collections from all over the world, including Africa, Asia, Europe and North and South America. My 3-year-old was particularly wowed by the Buddha statues. The name is fitting as I definitely felt like we opened a treasure box upon entering this cozy global gallery.
Another highlight at the new museum space is From Farm to City, which gives a glimpse into Staten Island's agricultural history and its contributions to the rest of the nation using digital media, historic documents and audio interviews. The room is also an auditorium where different events are expected to be held.
RELATED: NYC's Best Fall Museum Exhibits for Kids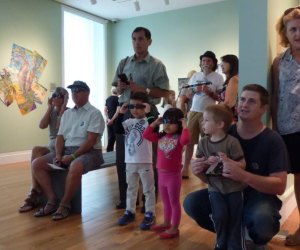 Visitors watch a 3D movie. (Photo courtesy of the museum.)

Overall, we were pleased with our visit and look forward to visiting again. My preschooler did alright, though this museum is definitely aimed at adults, teens and school-aged kids. The museum offers plenty of workshops and family-friendly events at both locations throughout the year, so be sure to check its calendar for a full list of programming. A couple of highlights coming up is a Super Science Saturday event for 8-10-year-olds on October 17 and an open house on Sunday, October 18 when admission is waived for all.
You can also explore their online exhibitions from the comfort of your couch. We are here: Superstorm Sandy and her aftermath on Staten Island is a moving collection of photos detailing the aftermath of the storm and Staten Island in Photographs further explores the island's history.
Know Before You Go
Strollers must be checked at the door.

A small display just beyond the entrance offers small gifts and souvenirs for purchase, including plush little Mastodon creatures.

There's no cafe.

Bathrooms are located on every floor, but the only changing tables are found on the bottom floor.

There is ample parking on and around Snug Harbor.

Flash photography is not permitted.
The Staten Island Museum at Snug Harbor is located at 1000 Richmond Terrace and is open seven days a week. Admission is $5 for adults and $3 for seniors and students. Kids 12 and under are FREE. The museum also offers Sneak Peak Tuesdays with free admission from 12-2pm. (Rates may change in 2016.) The museum is wheelchair accessible and offers group rates.