The Adventures of Tortoise & Hare The Next Generation
The Sheen Center

The Very Hungry Caterpillar Show
DR2 Theatre

NYC Easter Brunch Cruise 2023
Event Cruises NYC
Sign up for our free newsletters.
Astoria Park's Charybdis Playground Reopens Following Massive Renovation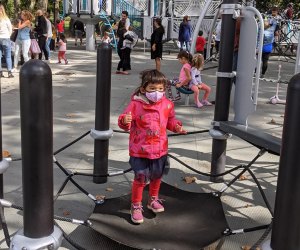 10/15/21
- By
Judith Aquino
Summer may be over but playground season never ends in New York City—and the newly redesigned Charybdis Playground in Queens' Astoria Park is finally open to neighborhood kids. Located on the western edge of Astoria Park, Charybdis Playground was first built in 1936 along with the nearby Astoria Pool under Parks Commissioner Robert Moses. The longtime hot spot has gotten new life, thanks to a $30 million reconstruction project.
Read on to learn about the new features that make this Charybdis Playground destination-worthy for a new generation, and find more great local places to play in our Guide to Parks and Playgrounds.
Subscribe to our newsletters to get stories like this delivered directly to your inbox.
Closed for two years during construction, the revamped playground―named after a Greek mythological whirlpool monster―was worth the wait. The 85-year-old playground has been revitalized with modern play equipment and a nod toward its history.
The most eye-catching part of the space is the sprayground area. Upgraded from a small ring of water, the splash pad was relocated behind Astoria Pool where the fountains can be seen from 100 feet away. Tucked into the mango and tangerine-colored splash zone are jets designed to simulate a miniature whirlpool reminiscent of the playground's namesake.
RELATED: NYC's Best Playgrounds: 20 Parks Worthy of a Subway Schlep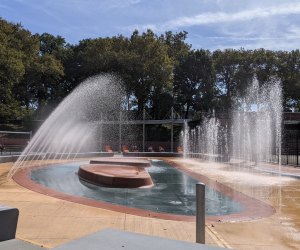 The sprayground at Charybdis Playground is the centerpiece of the park's recent renovation.
Even when it's too cold to play in the water, there's plenty to do. In a half-circle next to the splash area are 15 swings (five bucket swings and 10 with flat seats) with a wall of amphitheater-style stone seats, perfect for sunbathing or keeping an eye on the kids.
A few feet away from the swings and splash zone, in a separate gated area are the slides and other play structures. Older kids are drawn to the enormous star-shaped jungle gym that looks like the work of a creative spider. The arrangement of the fortified ropes makes it accessible for preschoolers, like my daughter, yet challenging enough for 12-year-olds racing to the top. To the right of the jungle gym is a network of bridges, slides, poles, and monkey bars, as well as metal hammocks for kids to explore. Toddlers can enjoy a similar setup on the other side of the playground with ladders and slides that are just the right size for little ones.
RELATED: The Best Playgrounds in Queens

Charybdis Playground's renovation cost $30 million and closed the popular spot for two years. ​
And what kid doesn't enjoy jumping on a trampoline? Two trampolines resembling spider webs are bookends for a mini-chain metal bridge where kids can test their balance. Arguably the biggest hit here on a crowded day, though, was the saddle spinner next to the bridge. It's a shame there was only one! Note to playground designers: The saddle spinner was very popular with several children waiting their turn.
Parents can appreciate the numerous benches and picnic tables around the perimeter, making this an excellent option for an outdoor birthday party. One temporary drawback: The comfort station is not yet finished, but is slated for a winter completion. And finally, anyone who enjoys waterfront views can take in a stunning panorama that includes both the Robert F. Kennedy Triborough and Hell Gate Bridges, making this playground a memorable spot along the East River.
RELATED: 10 Waterfront Playgrounds in NYC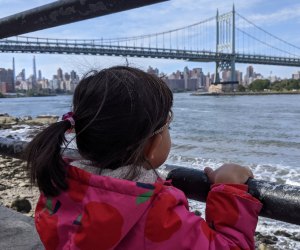 The views from the playground are stunning thanks to Charybdis' location in the waterfront Astoria Park.
Charybdis Playground is located near Shore Boulevard in Astoria Park. While you're in the area, be sure to check out family-friendly restaurants nearby.
Photos by author