Destination Playground: Astoria's Ravenswood Playground Gets Major Facelift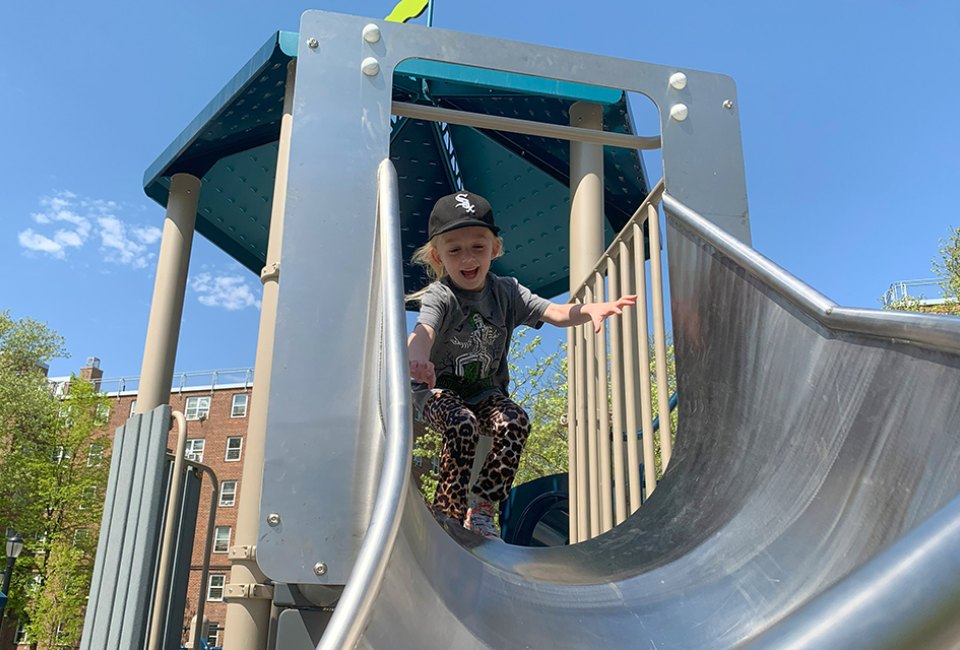 5/15/23
- By
Hans Howe-Freiwald
Sometimes the best NYC playgrounds are hidden in plain sight and at Ravenswood Playground in Astoria, Queens this is certainly the case.
If you are looking for a new playground that doesn't disappoint, look no further than this NYC playground. While Astoria has always had a great history of parks and playgrounds, with the most well-known being its namesake Astoria Park, Ravenswood Playground is the new park on the block, and it's not messing around. Read on for the highlights of this new romping spot, which made our list of the new NYC playground we couldn't wait to visit, and find all our top NYC playground picks in our Parks and Playgrounds Guide for NYC Kids.
Subscribe to our newsletters to get stories like this delivered directly to your inbox.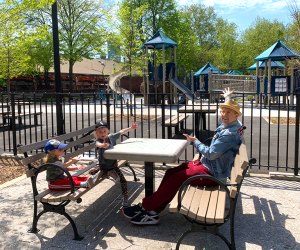 A new playground is always a sight to behold for city families, and Astoria's Ravenswood Playground is no exception.
Originally constructed in 1951, Ravenswood Playground has served the neighborhood well for more than 70 years. Now, fresh off a $7.1 million renovation, this playground is ready to serve plenty of fun and recreation for another generation of Queens kids.
Ravenswood Playground is on 21st Avenue between 34th and 35th Avenues near the East River Waterfront in the ever-growing Astoria neighborhood. However, despite the playground being nearly three acres, it can be easy to miss. With newly landscaped greenery on two sides, the Ravenswood Houses on another, and the unfortunate placement of a sanitation department garage on the fourth, the potential to walk or drive right by is a real possibility. Don't let that happen because this playground is amazing!
I took my kiddos to the playground on a sunny Saturday afternoon not sure what I was going to find. After all, as a resident of Astoria myself, I had driven through this neighborhood countless times on my weekly Costco run and didn't remember seeing any NYC playgrounds worthy of a stop. Boy was I wrong.
RELATED: Astoria Park's Charybdis Playground Undergoes Massive Renovation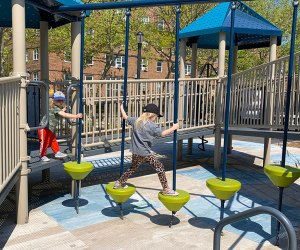 Balance your way across the jungle gym at Ravenswood Playground.
Entering on the 21st Avenue side of the park (there is also an entrance off of 13th Street), I quickly took note of a newly minted ball field encircled by a blue running track on my right. On the left were a couple of basketball and handball courts that had yet to be broken in. But, it was my little ones who found the real treasure waiting right in front of us.
The knight-themed Ravenswood Playground stood there like a shining kid beacon beckoning them to explore. This playground has more bells and whistles than I can write up here. My girls spent two hours (two hours!) running around the play areas, and I swear there is still plenty more for them to do when we return. They have already requested a visit more than once.
RELATED: The Best Playgrounds in Queens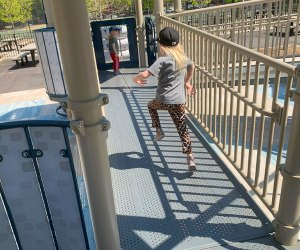 Kids can explore a pair of knight-themed jungle gyms at Ravenswood Playground.
There are two main Medieval-themed play areas separated by a water feature. The larger play area caters to kids ages 5-12 with rock features to climb, rope ladders to navigate, straight slides, spiral slides, a fun wobbly walkway, and plenty of hidden knight-themed games and activities like dragon tic-tac-toe.
On the 13th Street side is the play area designated for 2 to 5-year-olds, but that doesn't mean it has any less going on. With lots of tactile features for kids to touch, visual features to spin, and music-making features to bang and clang, little ones are engaged with every go-round.
RELATED: See the Mega Splash Pad in Flushing Meadows Corona Park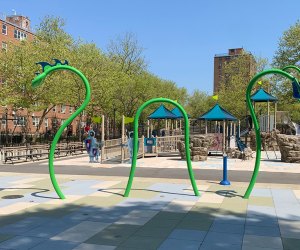 Slay the serpent, or frolic in its mist. Either way, the kids will have fun!
Smack dab in the middle of these play spaces is a serpentine water feature that looks to be a great way to cool down in summer's heat, though our springtime visit means it wasn't yet turned on for the season.
The entire playground is surrounded by benches and gaming tables for parents and caretakers to relax while still having a good sight line to watch kids romping. There are also two large sections of swings and an adult exercise area on the 34th Avenue side of the park.
There are a couple of downsides to Ravenswood Playground. One, as previously mentioned, there is a sanitation garage on the west side of the park, which can make that side of the playground a little unsightly. However, the good news is the neighborhood passed new zoning laws in 2021 that are going to move that garage elsewhere soon. Two, for those interested in grabbing a bite to eat, they'll most likely have to head southeast further into Astoria or to Long Island City for family-friendly eateries.
But don't let these little hiccups stop you from spending an afternoon here. If your play spots are feeling played out, then let Ravenswood Playground be your knight in shining armor.
Photos by the author
Places featured in this article:
t Click Here to Sign Up!