New NYC Playgrounds We Can't Wait to Visit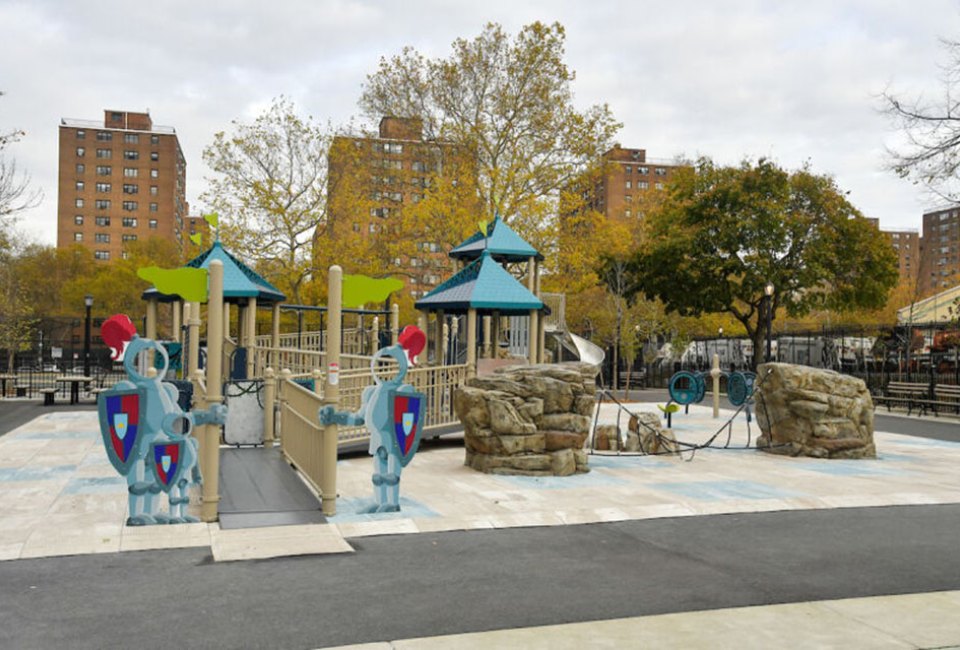 2/28/23
- By
Vanessa Leigh
These newly remodeled NYC playgrounds are ready for their close up. The changing of seasons has us anticipating the arrival of spring and sunny afternoons to enjoy these new romping spots. Located in parks from Manhattan to Brooklyn, Queens, the Bronx, and Staten Island, the NYC Parks Department has been on a tear remodeling and rebuilding NYC playgrounds.
So, if you've already visited all of these NYC playgrounds worthy of a subway schlep, we've got you covered with some newly opened or renovated playgrounds in NYC for you and the kids to enjoy. From tot lots to expansive climbing structures and top-notch sandboxes, here are six new NYC playgrounds we can't wait to romp in. Find more places to play outdoors in our Guide to NYC Playgrounds.
Subscribe to our newsletters to get stories like this delivered directly to your inbox.



Gerard P. Dugan Playground received upgrades to its play area, green space, and sport courts.
Renovated NYC Playgrounds to Visit Soon
A $3.72 million renovation has brought new life to the Gerard P. Dugan playground on Staten Island. New play equipment includes a tunnel slide and colorful play structures. This Staten Island playground was last renovated in 1997, so this was a welcome update for the local community.
More than just a playground, the $7.1 million update includes renovations to basketball courts and a softball field. The local community can now enjoy bleacher seating for tournaments at the college-sized basketball court. Updates also included new equipment for children, a water play feature, and a walking track surrounding the softball field. This Astoria playground has something for community members of all ages.
RELATED: Best Things To Do in Central Park with Kids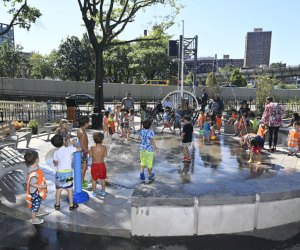 La Guardia Playground includes a spectacular splash pad, making it a great destination on a steamy summer day.
This NYC playground received a full reconstruction; its first in almost 40 years. The renovations cost $6.74 million and were split into two phases. One section of the park now includes basketball and handball courts, an exercise area for adults, a brand new seating area complete with tables and chairs, and a rain garden. The other renovation phase included adding new play structures for different age groups. Kids ages 2-5 and 5-12 can now enjoy new play equipment. There's also a tot lot for the youngest children. In the summer, add this NYC playground to your list of must-visits for the water and splash pad features.
RELATED: 10 Best Hudson River Park Piers and Playgrounds for Kids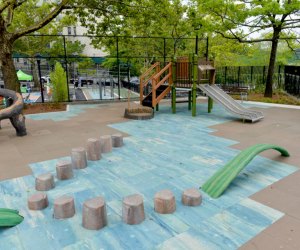 Bridge Playground caters to little kids and their caregivers with a charming forest structure, plus adult fitness equipment.
Named after the nearby George Washington and Alexander Hamilton Bridges, this NYC playground received a brand new play area for the littlest climbers, ages 2-5. For adults, fitness structures, benches, and basketball courts have all been added or refurbished to make this playground one worth visiting with the whole family. There are new water fountains when the kids need to take a break on a hot summer day, too.
Morton Playground underwent a multi-million dollar renovation that brought new play equipment, a new basketball court, new spray water features, and new benches and seating areas. Inclusive play elements here include tactile and sensory structures for those with sensory impairments.
RELATED: The Battery Playscape Brings Nature-Inspired Playground to Lower Manhattan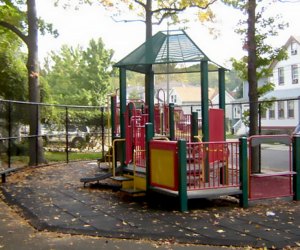 The John E. White Playground got a brand-new climbing structure for little explorers.
This playground and park are named after a World War I veteran from the area who dedicated his life to service. John E. White playground received multiple updates during an extensive renovation, including a brand-new play space for children ages 2-5, a playhouse for toddlers, swings, water features, and more. Other areas of the park also received a facelift thanks to this $1 million renovation.
Bonus: Gansevoort Peninsula
Currently under construction, the Gansevoort Peninsula on the west side of Manhattan is set to open later this spring, bringing the first public beach to the island of Manhattan. New Yorkers can enjoy lounge areas and river access for kayaks and small boats. Expect play structures for kids and plenty of sand for digging! This new update to Hudson River Park is sure to be a high-traffic spot during the hot summer months.
Photos courtesy of NYC Parks