Best Tot Lots and Toddler Playgrounds in Manhattan
4/17/22
- By
Yuliya Marks
Finding a playground in New York City is not a difficult task. My toddler is always yelling, "keep your eyes peeled for a playground," when we are out running errands, and she finds one in every neighborhood. But, finding a just-right playground or tot lot where she can play safely is another story. These 15+ toddler playgrounds in Manhattan are all made for little ones to explore.
These toddler playgrounds are almost guaranteed to leave little ones speechless and provide hours of entertainment. These tot lots are destination-worthy, so build an outing around them! Find more fun places to play in our Guide to Parks and Playgrounds in New York City and plan a Brooklyn daycation with your tot in tow to check out one of these top toddler playgrounds in the borough.
Subscribe to our newsletters to get stories like this delivered directly to your inbox.
This popular Central Park playground was given a facelift in 2015. The focal point is a climbing pyramid surrounded by a maze-like concrete structure that little ones love to explore. A sizable climbing wall is connected to the slides, which are pitched just right for even timid toddlers. We love the sandbox here, which is multi-leveled to accommodate kids of all abilities, and there's a fun water feature in the summer, plus a tunnel to explore.
While the tot lot in Corlears Hook Park is just a basic neighborhood play spot, it's the surrounding green space that makes it worth a visit. The location makes this playground great for sporty kids. They can play ball on the fields and explore the snaking trails by the water, including crossing a wooden bridge. It's a large space to explore, fling a Frisbee, or check out the frequent FREE programs in the park.
RELATED: NYC's Best Playgrounds: 21 Parks Worthy of a Subway Schlep

Ancient Playground offers plenty of shade, sand, and room to roam. Photo by Jody Mercier
This Central Park romping spot takes its design inspiration from the nearby Metropolitan Museum of Art. The "adventure-style playground" offers myriad places for kids to climb and explore. A fun water feature—streaming from the playground structure itself—plus a sand area, and lots of slides of varied sizes make this playground a can't-miss with little ones in tow.
True to its name, this Riverside Park playground features two dinosaur sculptures. But, the playground is much more than that and includes swings, a spray shower, and two toddler-pleasing sandboxes, which are fantastic if your little one loves to dig.
RELATED: Central Park's Top Playgrounds Ranked for NYC Kids and Visitors

Little ones might need an assist to tackle the big slide at Billy Johnson, but fear not: There is a little-kid version now, too. Photo by Jody Mercier
Billy Johnson is well-known for the mammoth, 45-foot-long granite slide built right into the park's landscape, but a recent overhaul made this action-packed park more friendly to the toddler crowd. For starters, a second, more tame granite slide was added, that's not only little-kid friendly but also handicapped accessible. There is a wooden shelter, plenty of swings, and a huge rope-climbing structure stretched over an equally large sandbox. With a more natural feel and trails to explore, this is a great spot for nature-loving toddlers to escape the concrete jungle.
This large playground is nestled into the bustling Union Square Park. The playground is divided into play areas for big kids and little kids alike, though both sides offer toddler-friendly fun. The large sphere draws kids of all ages who pose in its reflection and attempt to climb to its top. Numerous slides line the perimeter, and a water feature is refreshing in the summertime. There are also several bucket swings.
RELATED: Van Cortlandt Park With Kids: 14 Fun All-Season Activities in the Bronx Oasis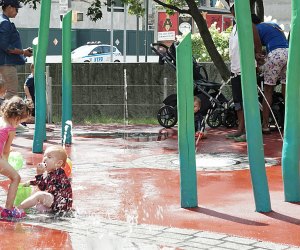 Toddler-friendly sprinklers are a summertime draw at Chelsea Waterside Playground. Photo by Jody Mercier
This multi-leveled playground with waterfront views is one of our favorites in all of the city. While it's not your typical tot lot, there is plenty to please little ones and their parents. It's well-divided into big and little kid sections, and we are particularly fond of the separate, gentle water section for little ones on hot days. Its shade-covered sandbox is also a toddler-friendly attraction, and the giant rainbow pipefish that's the park's centerpiece is plenty accessible to toddlers who want to climb it.
This popular Washington Heights playground, nestled in Fort Tryon Park, got an overhaul just before the pandemic, and it's an all-ages crowd-pleaser. The tot lot here includes a nature discovery area. There are spray showers, slides, and climbers that are just the right size for toddlers. A playhouse structure nurtures a need for creative play. There are two sets of swings and plenty of beautiful parkland to explore in Fort Tryon Park.
RELATED: Riverside Park's Best Playgrounds Ranked for Kids and Families to Enjoy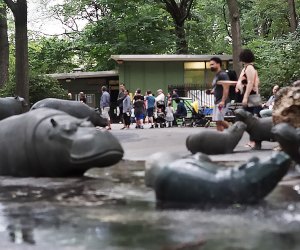 A visit to the Hippo Playground tot lot is practically a rite of passage for little New Yorkers. Photo by Jody Mercier
As its name implies, this playground is all about the hippos who do everything from spraying water to providing a hiding spot and acting as de facto climbing structures. There's also a sandbox, playhouses, and plenty of water. Come winter, it's home to one of our favorite sledding hills. We love the on-site picnic tables, the bathrooms in the playground, and the community-minded Hippo Playground Project group which puts on popular family-friendly events and keeps the park in tip-top shape for all to enjoy.
Bring your water toys to this toddler playground dedicated to all things water. Follow the river built as a trail through the playground to splash in. There is also an elevated sand table to play with, among other standard features. So, bring your water shoes and digging toys, and let your little ones get busy next to the statuesque turtles living in the sandpit.
RELATED: The Battery Playscape Brings Nature-Inspired Playground to Lower Manhattan

Little ones can let their imaginations run wild at the Imagination Playground near the South Street Seaport. Photo by the author
One of our personal favorites, this Lower Manhattan toddler playground is worth a visit in any season, though it's a real standout come summertime. The sand pit here is huge—covering about half the playground—and there are multiple structures to inspire imaginative play, ramps to run around, and plenty of room to play chase. Little ones love the sound walls made of pipes and a tower climb where you can pretend you are a captain on a pirate ship. In the summertime, there are large foam blocks to build with and a small pool of water to play in. When you get hungry, head to the nearby Industry Kitchen for a waterfront meal.
While Central Park has many playgrounds, most cater to all-ages, but the Tarr-Coyne Tots Playground is an exception. Rebuilt in 2013, this toddler playground is just the right size for toddlers. The landscape includes a sandbox, toddler-friendly swings, a sandbox, and low-to-the-ground climbing structures that give parents easy sightlines all across the playscape. For more adventurous kids or those with big sibs, it's adjacent to Adventure Playground, which caters to the school-age crowd.
RELATED: Fort Washington Park: Sprinklers, a Rope Pyramid & More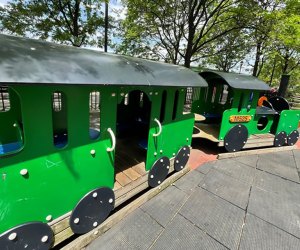 All aboard for adventure at Little Engine Playground in Riverside Park. Photo by Vanessa Leigh
Trains and toddlers go hand in hand, and playground designers took note at this fantastic toddler playground for little locomotive enthusiasts. This shade-drenched tot lot offers beautiful views of the water for parents, while little ones can explore the various sections of the well-padded park.
We love that this playground is connected to the pool of the same name—and one of our picks for the best FREE swimming pools in NYC. Its seafaring theme fits right in with the water vibes and it's always hopping in the summertime. In addition to the large climbing structure, there are thrilling slides for little ones and plenty of shade for parents. If the pool is too crowded for your taste, head to the water feature here to cool off.
RELATED: NYC's High Line: The Best Sights and Events for Families

The bicycle merry-go-round is but one of the unique, toddler-friendly features at Rockefeller Park and Playground. Photo by the author
This playground is my No. 1 choice for fun. There's so much to do and so many great features to cater to toddlers and preschoolers. A standout feature is a bicycle-powered merry-go-round. While there's a towering jungle gym, there are also smaller places for toddlers to claim and a huge sandbox to play in. Parents appreciate the shaded seating in the summer months, while kids go gaga for the sprinkler area, that's got different levels of wet-and-wild fun to cater to anyone's comfort level.
This little green space packs a ton of fun into its small footprint and is another playground with a community-minded group offering plenty of all-seasons fun in the playground. When there are no special events happening, there's still plenty of fun to be had on the large climbing structure that resembles a ship. Bring the sand toys for hours of digging, or take a break in the gazebo and see what's growing in the surrounding greenery-filled oasis.
RELATED: Bryant Park and More Midtown West Parks and Playgrounds to Visit

The whimsical play structures at Tom Otterness Playground draw in kids and kids at heart. Photo courtesy of the studio
This incredible, adorable work of art doubles as a playground. The centerpiece is a large, human-like metal sculpture with arms and legs as slides and a body as a climbing tower. The surrounding area is peppered with more of Otterness' works as whimsical characters posed to be playing hide and seek and representing friendship. This one is worth a visit to appreciate the creative ingenuity.
Click Here to Sign Up!
i