Interactive Mickey Mouse Pop-Up Museum Lands in NYC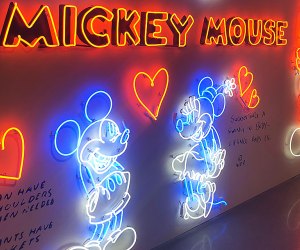 Attention, Disney fans: Celebrate Mickey's 90th birthday at at the latest family pop-up to hit New York City. From his humble beginnings in "Steamboat Willie" to the cultural icon that we all know and love today, Mickey Mouse gets the full biographical treatment in a museum experience that offers a little something for everyone.
Located near NYC's High Line, Mickey: The True Original Exhibition celebrates 90 years of Mickey Mouse's influence on art and pop culture. The 16,000 square-foot exhibition features classic memorabilia for all the nostalgic feels, plus contemporary work from popular artists. We were lucky enough to get a sneak peek of the pop-up, immersive museum celebrating Disney's most beloved character.
Open now through February 10, 2019, the exhibit features paintings, sculptures, more than 100 cartoon shorts, interactive games...and even ice cream! Depending on your pace, allow for about 90 minutes to take it all in.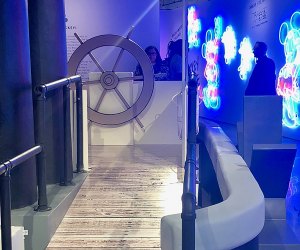 Kids can climb aboard the giant steamboat just like Steamboat Willie.
The experience begins with a quick welcome video, highlighting key Mickey moments from past and present. Next up is the "Hello Mickey!" room, featuring Walt Disney's Academy Award and an impressive wall of neon art. Kids will love climbing aboard the giant steamboat, just like Steamboat Willie. (Parents, keep your cameras at the ready for photo ops.)
RELATED: Trolls Pop-Up in Midtown Is Irresistibly Silly Fun for Kids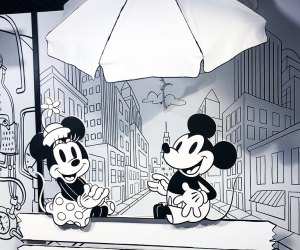 Check out the original artwork of the original black and white Mickey and Minnie.
Room after themed room offers artwork and more interactive elements to explore: The "It's Black & White" room features throwback comic strips, optical art and more photo ops with a pre-color Mickey and Minnie. Kids will love running through the bright, colorful "Ink & Paint" room. The "Burst Into Color" room celebrates a more modern version of Mickey and friends with a vibrant crochet wall.
Seeing the classic Mickey Mouse Club set recreated is a true treat. Speaking of treats, Ample Hills Creamery is on hand with Mickey-inspired ice cream (the "Confetti Celebration" is delish). Dessert is included with admission, and you can dine in the retro cafe.
RELATED: Iconic Toy Store FAO Schwarz Returns to NYC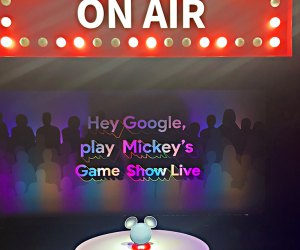 Kids can play the interactive game "Mickey's Live Game Show."
One attraction kids are sure to love is the Google-Home-powered "Mickey's Live Game Show," an interactive Disney trivia game. The questions are fun, and easy enough for even those of us who don't have a Ph.D. in Mouse. For a special surprise, duck into the "Cosmic Cavern," a glowing party room created by artist Kenny Scharf.
Feeling like picking up some swag? Mickey's Maker Shop offers custom merch including Mickey ears and sweatshirts—no admission required for entry to the shop.
Mickey: The True Original Exhibition is located at 60 Tenth Avenue in Manhattan and is open Tuesday through Sunday from 10am to 8pm. Tickets are $38 and must be purchased in advance online. Children 3 and under are FREE. Heads up: Strollers are not allowed inside.

Photos by the author