Indoor Roller Rink Opens at Brooklyn's City Point with Family Skating Events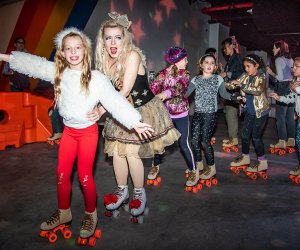 If you were disappointed to hear that the roller rink at Industry City in Brooklyn's Sunset Park closed this fall, take heart: Lola Starr's Dreamland Roller Disco is popping up once again at City Point in Downtown Brooklyn from October 31 until February 15, 2020. Read on to learn more about the new location for this much-loved dance party on wheels.
Gliding to the tunes at Lola Starr's Dreamland Roller Rink was one of our favorite things to do with kids in Industry City, so we were excited to see its latest incarnation at City Point in Downtown Brooklyn. With loads of kid-friendly events like toddler skate parties, learn-to-skate classes, family disco parties, and even a festive Santa Skate, this is the perfect spot for families looking to skate out those cold weather wiggles. See the full roster of family events here.
Tickets to skate are $12 to $26, which includes skate rentals. Everyone entering Dreamland (including non-skating guardians) must pay admission to enter. For every 4 kids under the age of 18 years old, there must be one guardian present.