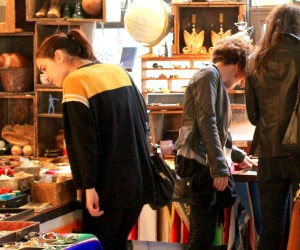 Vintage Shopping with Tweens in New York City
Dressing with style in one of the most fashionable cities in the world is a tough thing to do especially when you are a tween. I have allowed my daughter some freedom when it comes to clothing, letting her choose her clothes and then put them together into outfits good or bad. What we have discovered is that she consistently wants all new trendy clothing to impress her friends.
There is no need to spend a fortune on trendy items that are going to be ruined or out of style in less than a year. Kicks, rocker tees, patterned scarves, funky bags. All of these items are in high demand and easily found in multiple at many secondhand vintage stores. Tweens will also have a blast rooting through racks for that perfect t shirt so take some cash and go on a vintage shopping spree. Here are some tips on how and where to buy Vintage and Secondhand with your tween:
Get inspired before you go
Give your tween a stack of magazines and let them tear out adds and photos of things they like. This will give them a good idea of what looks they are shopping for.
Vintage stores are good for some things and not for others
Shoes, accessories, and tops are all great but try to stay away from pants because they will probably be too big.
Get organized
Give your kid an opportunity to try everything on at home. Max and I routinely pile clothes in the middle of her room and pair outfits together. It gives her a sense of what looks good and ultimately saves me time getting out of the house in the morning.
Great Stores with Great Finds:
Buffalo Exchange
- This cool vintage shop is now a chain with little stores all over the city. Find a location near you.
Beacons Closet
– This Brooklyn mecca of secondhand clothing houses everything from cool kicks to fur jackets. They also have a changing room with a couch which is nice after an hour of shopping.
Brooklyn Flea
- This weekend market which is held on Saturdays in Greenpoint and Sundays in Dumbo is a great place to take kids. They not only have clothing stands but a really impressive selection of local street food. We had the brick oven pizza which is made in front of you in a portable oven.
Domseys Express- 1609 Palmetto St, Flushing, NY Domsey's is the upgrade to your usual Salvation Army thrift store.
Leni's blog
QueensMamas.com
has a post about "kids and baby gear on a budget"
Top photo courtesy Brooklyn Flea.
This article was first published in November 2009.