Cool Math Board Games: 6 Fun Ways for Kids to Learn Math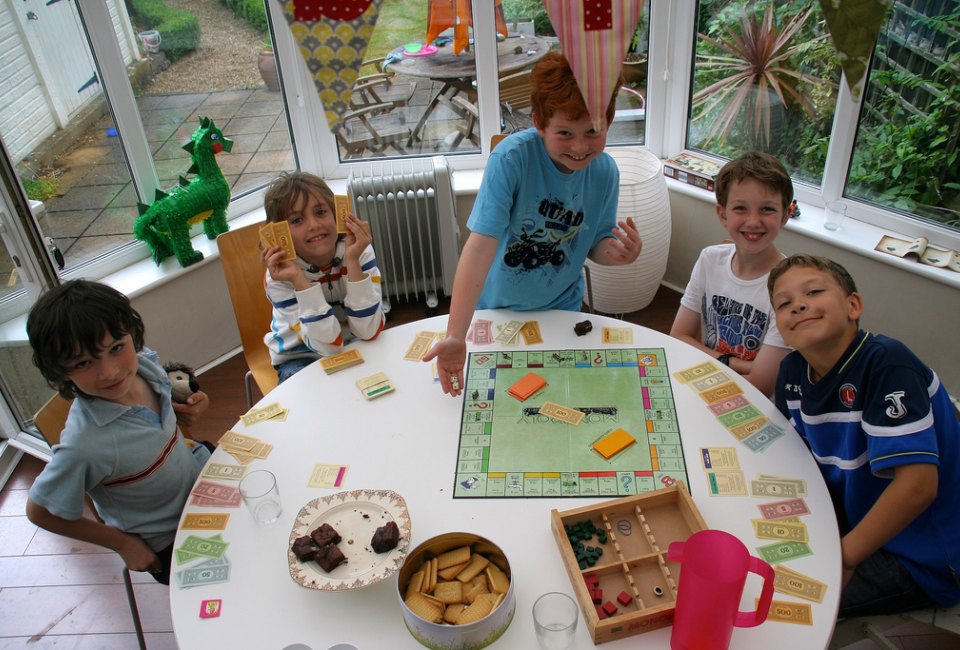 8/13/13
- By
Stephanie Ogozalek
I remember when my son was first learning to add numbers. He was so proud of himself. His face lit up as he proclaimed proudly, "2 + 2 is 4!" But soon the equations and concepts became more complicated. He was forced to do daily flashcard drills and endless worksheets, and I saw his initial enthusiasm start to fade. That's when I decided to turn math time into playtime with fun and engaging board games.

While there are plenty of math apps he can play alone and hands-on activities at the Museum of Mathematics, board games help him learn new mathematical concepts or master old ones in a supportive and entertaining environment. Family game night is a great bonding experience, too, and it certainly doesn't feel like work. Here are six board games, all under $20 and aimed at a variety of ages, that my family and I often play together. They're so much fun your kids won't even realize they're doing math.
Rat-a-Tat Cat
Ages 6-12
The lowest score wins in this fun game of cats and rats that has kids boning up on their subtraction skills, and tackling more complicated concepts like estimating and probability. Bonus: The compact size of this card game makes it easy to bring on the road.

The Big Fat Tomato Game
Ages 10-15
Players need to keep track of the tomatoes they harvest (or snatch from others) as they load up their buckets. Since you can't dump them out for a quick tally, all the adding and subtracting happens in your head. Plus vermin and disease cards introduce the concept of strategy.

Rush Hour & Rush Hour Jr.
Rush Hour Jr.: ages 6-8; Rush Hour: ages 8 and up
No numbers here. Instead, kids work on spacial logistics and problem-solving skills. Choose a challenge card and arrange the cars and trucks on the board as illustrated, and then try to navigate the ice-cream truck to the exit. It's harder than it looks and perfect for kids like mine who love puzzles and mazes.

Math Dice & Math Dice Jr.
Math Dice Jr.: ages 6-10; Math Dice: ages 8-12
Roll a 12-sided die and then find two regular dice that equal the value shown. Santa brought Math Dice Jr. for my son when he was in kindergarten and it helped him memorize simple addition and subtraction equations. Now a rising third grader, he's ready for the full version which includes multiplication and division.

Zingo! 1-2-3
Ages 4-10
Zingo! was my go-to gift for all the fourth birthday parties my son attended. It's a great way for tots to learn word recognition. ThinkFun recently released a numbers version where kids have to identify digits quickly and match them to a bingo board.

Monopoly
Ages 8 and up
This granddaddy of all board games is my son's current favorite. We usually have a board in play somewhere in our apartment. While we use the NYC version of this classic, the premise is the same regardless of which style you choose as players move around the board buying and selling real estate. Kids have to count, add, subtract and deal with money. If your child doesn't have the patience for hours of playing, try Monopoly Millionaire, a retooled edition that ends when a player reaches a million bucks.

You can buy all of these games from our affiliate partner amazon.com.
Photo courtesy of fotologic/Flickr

Sign up for our free
newsletters.
Mommy Poppins is a family activity website that helps people find things to do with kids.
©
2023
MommyPoppins. All Rights Reserved.
mp-prod4-v4.32.99
We use cookies and other data collection technologies to provide the best experience for our customers.
Learn More