Top Travel Games for Kids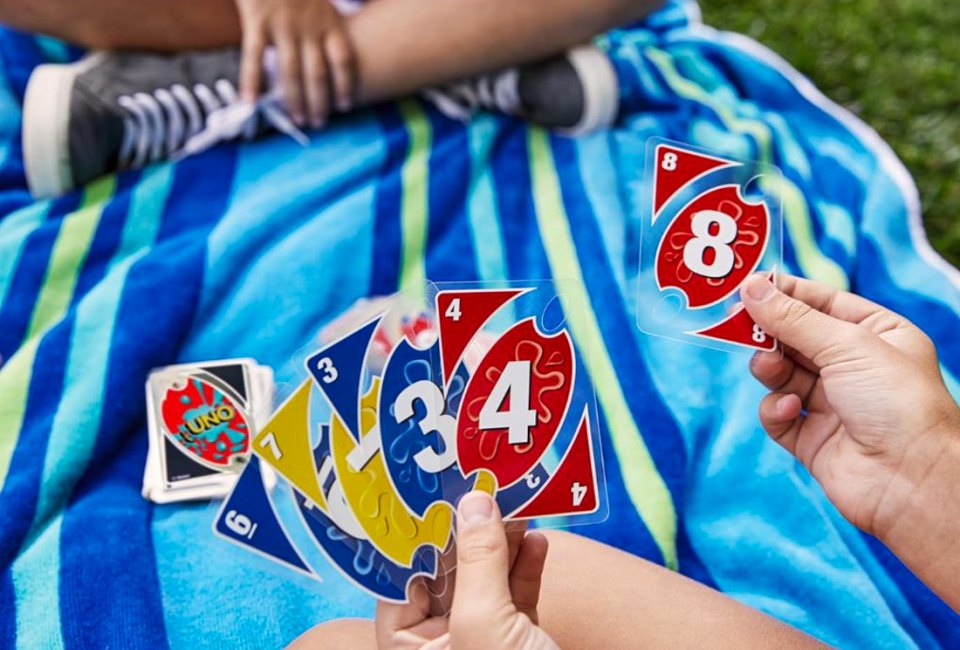 11/9/23
- By
Amelia Eigerman
Family vacations are all about having fun and making memories together, and travel games are a great way to do just that. Whether it's car games to keep kids busy on a road trip, games for the family to play together at the hotel or rental home, or fun games to play at the pool or beach, the best travel games are compact, lightweight, and easy to toss into a carry-on bag.
Here are some of our favorite travel games for kids and families that are sure to bring the fun to your next family vacation, from card and puzzle games to more active pursuits.
If you've got some extra room in the car, you can add in some of the games on our list of the 100 best board games for family game night—some of them come in travel size! And if you're planning a road trip and could use a little extra help, our Ultimate Road Trip Guide for Families has you covered.

Kanoodle is perfect for solo play on the go. Photo courtesy of the Educational Insights Store on Amazon
Best Travel Games for Kids to Play in the Car
Ages 7+; 1 player
Kanoodle is a 2D and 3D puzzle game you can play over and over. Not only does it help develop spatial reasoning and geometry skills (hello, educational value!), it's also a single-player game, making it perfect for an only child or for kids with a big age gap who might not always want to play together. Just pick a design from the puzzle book, place some of the colored beads into position as shown, and solve the puzzle with the remaining beads.
RELATED: Fun Car Games for Kids for Road Trips & Other Boring Backseat Moments

Auto or License Plate Bingo will keep kids entertained on long car rides. Photo courtesy of the Regal Games Store on Amazon
Ages 5+; 4 players
The license plate game is a road-trip classic. Kids can truly spend hours staring out the window and searching for license plates from different states as cars zoom by. These easy-to-use boards turn this activity into a game of bingo. You can also try Auto Bingo, which requires players to look for objects like schools and fire trucks, or Interstate Highway Bingo, where players hunt for motor homes, rest stops, and more. Each set comes with four cards, so buy a second set if you have more players.
Ages 6+; 2-4 players
These story cubes are a great way to inspire kids' imaginations while they're cooped up in the backseat. Kids roll the picture dice and invent a story that incorporates the images they see. Added bonus: With only a handful of dice to worry about, this game couldn't be more portable.
RELATED: Fun Ways to Keep Kids Busy on Road Trips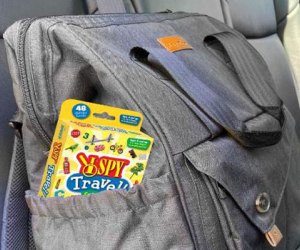 Tuck the I Spy Travel Card Game into your diaper bag or backpack before every trip. Photo courtesy of the Briarpatch store on Amazon
Ages 4+; 1+ players
While you don't need a deck of cards to play I Spy, this card game really adds to the entertainment value. Draw a card, then find that object in the world around you. It's one of the best travel games for road trips, and simple enough that kids of all ages can play together.
Ages 8+; 1+ players
Simon is the classic pattern-recognition game. Memorize the sequence of flashing lights and repeat it back until you can't possibly remember one more color. This game is perfect for backseat pass-and-play competitions or solo memorization marathons.
RELATED: 25 Card Games Every Kid Should Know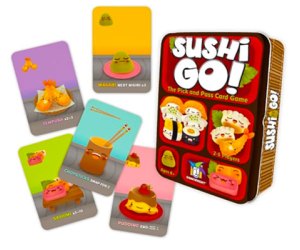 Both kids and grown-ups will love Sushi Go! Photo courtesy of the Gameright Store on Amazon
Best Travel Games for Kids to Play at the Hotel, Airbnb, or Rental Home
Ages 8+; 2-5 players
Sushi Go! is so easy to learn, but the gameplay is entertaining enough for both the kids and adults in your group. Pick and pass your cards to put together the perfect plate of sushi to score big and become the sushi master.
RELATED: Gift Guide to the Best Toys & Gifts for Kids, 5-Year-Olds to 9-Year-Olds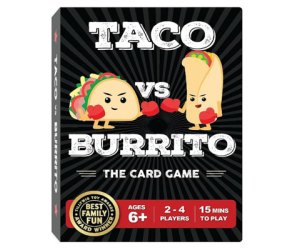 Get ready for an epic family competition with Taco vs Burrito. Photo courtesy of the Taco vs Burrito Store on Amazon
Ages 6+; 2-4 players
Taco vs Burrito is new to the game world, but it has already made a big splash. Build the highest-scoring taco or burrito by collecting cards, but watch out—there are tons of tricky ways to boost your own score or sabotage other players. This game is perfect for families that love to get a little competitive, and the tiny box makes it easy to stow in a carry-on bag.
Ages 7+; 2-8 players
Yes, we know this game involves letters and spelling, but it's just as fun as it is educational. Players compete to build a crossword puzzle-style network of words. Whoever does it fastest, wins! Bonus: The letter tiles come in a handy banana-shaped pouch, making the game extremely portable.
RELATED: Gift Guide to the Best Gifts for Teens & Tweens

Love Letter is an engaging card game for families with tweens and teens. Photo courtesy of the Z Man Games Store on Amazon
Ages 10+; 2-6 players
This strategic card game is so small it can fit in your coat pocket, making it the perfect travel companion. Compete to win over the princess by having the best hand at the end of the round or by knocking out other players. The complex strategy will keep families with tweens and teens coming back for more all through vacation.
Ages 14+; 3-8 players
This party game packs a whole lot of fun into a little box. If you're traveling with another family or like making friends on the road, we highly recommend The Chameleon. Players all give clues to a secret word, but watch out! One player (the chameleon, of course) doesn't know the word at all. Laughter is sure to ensue while you guess, bluff, and accuse.
RELATED: Best Classic Board Games for Family Game Night

The Flip to Win Memory Game is one of the best travel games for younger kids. Photo courtesy of the Melissa & Doug Store on Amazon
Ages 5+; 2 players
Kids can go head-to-head with a sibling or parent in this wooden travel memory game. It comes with seven double-sided, laminated game cards to keep things exciting, and everything is stored in the board for easy travel. It's the perfect way to keep younger kids occupied in the hotel room while the rest of the family gets ready, as well as in the car, on the plane, or even poolside.
Ages 7+; 2-5 players
Kids love the silly pictures and themes in Exploding Kittens, while adults will find themselves caught up in the surprisingly rich gameplay. Quickly play cards with wild and crazy effects to beat other players and proclaim yourself the victor.
RELATED: 100 Classic Toys for Kids

The convenient carrying clip makea UNO Splash cards easy to tote around. Photo courtesy of the UNO Store on Amazon
Best Travel Games for Kids to Play at the Pool or Beach
Ages 7+, 2-10 players
No vacation is complete without a couple of games of UNO (and some arguments caused by said games of UNO). This awesome UNO deck is waterproof, meaning you can play it at the beach or by the pool—or in the pool, if you're brave enough.
Any age; 2-8 players
While corn hole is loads of fun to play on the beach, those giant wooden boards are not easy to transport. This fabric corn hole set solves that problem by folding up into a compact carrying case. The frame is made of lightweight PVC so it's not too heavy to carry. This is a game the entire family can enjoy together.
RELATED: Favorite Swimming Pool Games for Kids

Kids can make up their own pool travel games with Banzai Dive Rings. Photo courtesy of the Regal Games Store on Amazon
Ages 6+, 1+ players
If your kids just can't get enough pool time, these dive rings are the perfect thing! Kids can flex their swimming skills while retrieving the colorful rings. Plus, these toys are open-ended, which means you can invent your own games or use them as props for imaginative play.
Any age; 1+ players
There's nothing more versatile than a deck of cards. From solitaire to poker, there are a million ways to play with them. This waterproof deck is the way to go for games by the water. You can even use these cards when you get back to your room—we won't tell!
RELATED: 40 Classic Outdoor Games for Kids

Have some raucous family fun with Ultimate Skip Ball. Photo courtesy of the Activ Life Store on Amazon
Age 7+; any number of players
Skip Balls skip across the water for the ultimate game of catch at the pool or the beach. The set comes with two balls, a Skip Disc, and a mesh carrying bag that's easy to toss into the pool or beach bag. If you miss the ball, don't worry—it'll bob right back up to the surface of the water.
This article contains some affiliate links, which means we might earn a small commission if you make a purchase. There is no extra cost to the reader. We only recommend products and services that we have personally used or have thoroughly researched.