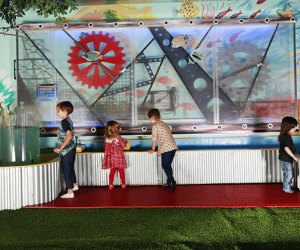 50 Things to Do in Brooklyn with Kids This Winter
When the frigid cold sweeps in and the black snow and slush puddles begin to pile up, it can be hard to motivate for a trip into Manhattan with the kids, especially with all that winter outwear. Luckily, Brooklyn is loaded with fun children's events, museums, theater, and indoor play spaces, so you can stay local.
We've rounded up more than 50 events and activities happening in Brooklyn from January through March 2017. You'll be so busy, spring will likely be here before you know it.
Find more seasonal fun in our Guide to Winter Events and Activities in NYC, and if you have little ones, check out these Top Winter Events for Preschool-Age Kids. Remember, you can always find more daily events in our Event Calendar. Just search via "Brooklyn" if you want to stay in the borough.
1. Lace up your skates and glide on the ice at LeFrak Center at Lakeside in Prospect Park, or if you prefer an indoor rink, check out Abe Stark Rink near the boardwalk on Coney Island.
2. Hit Brooklyn's six best sledding hills in Prospect Park, Hillside Park, Fort Greene Park, Lincoln Terrace Park, Owl's Head Park, and McKinley Park. FREE
3. Let little makers get creative at Beam Center's Inventgenuity Festival, but register now! Slots go fast. FREE, but materials fees do apply.
4. Knock down some pins during family bowl time on Sundays at Brooklyn Bowl, or check out its family concert series, including Rock and Roll Playhouse: STEVENSTEVEN, a cool new kindie band.
5. Pretend to make pizzas or shop for groceries in the kid-sized store exhibits at the Brooklyn Children's Museum, or check out the brand-new exhibit: Wilderness Camp.
RELATED: Best Winter Shows for NYC Kids: Dinos, Circus Acts, Peter Pan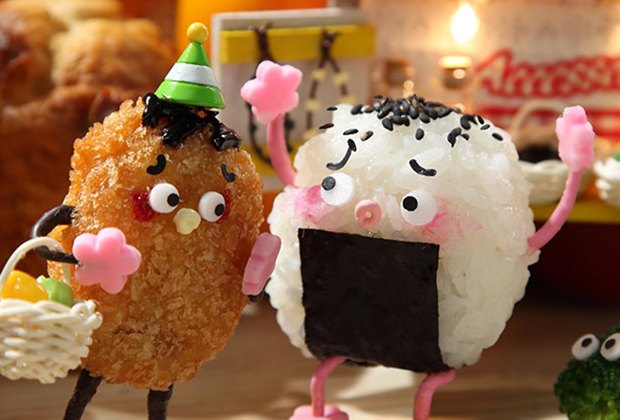 The imaginative Shine On is one of the films at BAMkids Film Festival. Photo courtesy of the festival.
6. Check out a few of the 56 films screening at BAMkids Film Festival the last weekend in January. Enjoy face painters, balloon artists, and other entertainment while waiting for your movie to start.
7. See the final NYC showing of the Ringling Bros. and Barnum & Bailey circus act at Barclays. The troupe said it will cease operations in May 2017.
8. Let little legs walk off extra energy in the 1927-era 10,000-square-foot Beaux-Arts Court on the third floor of the Brooklyn Museum. Kids and adults will delight in the shimmering glass-tile floor.
9. Cozy up to animals at the indoor exhibits at the Prospect Park Zoo or The New York Aquarium.
10. Splash and play in a warm indoor pool during open hours on the weekends at Eastern Athletic in Brooklyn Heights or Prospect Park. (Guest fee applies.)
11. Sing and clap along with the puppets from the Yellow Sneaker show at Blue Marble Ice Cream in Prospect Heights or Sir D's Lounge in Park Slope.
12. Hit one of Brooklyn's nearly two dozen indoor play spaces to break up the winter routine, bounce around, or activate that pretend play.
13. Enjoy a new story or relive a favorite during storytimes around Brooklyn. Mostly FREE.
14. Play mini-golf amid special effects and theatrical lighting at Shipwrecked Miniature Golf in Red Hook.
15. Choose from 200 board games during walk-in play times at Brooklyn Strategist.

African folk tales come to life this winter at Shadow Box Theatre. Photo courtesy of the theater.
16. See the story of the African Drum, How the Turtle Got Its Shell, and other African folktales as performed by the Shadow Box Theatre.
17. Check out the family-friendly pool hall, Ocean's 8 @Brownstone Billiards in Park Slope, where you can teach your kids the finer points of playing pool, or just go for the Ping Pong and video games.
18. Bounce your winter blues away at BounceU in Dyker Heights, which has open hours as well as preschool hours for the littlest bouncers.
19. Head out with the Brooklyn Bird Club for an introductory bird-watching tour in Prospect Park or pick up a discovery pack and enjoy nature play activities every weekend at the Prospect Park Audubon Center. The park will also host mid-winter February break activities. Mostly FREE.
20. Catch the Our City art exhibit pop-up at Industry City; nosh at its food court afterward.
21. Satisfy a pet craving with time at the Brooklyn Cat Cafe where kids can play with kittens for just $5!
22. Get your mouth watering with a visit to the Museum of Food and Drink, which just opened an exhibit all about Chinese American restaurants, Chow.
23. Pretend to drive an MTA bus and play on real subway trains at the New York Transit Museum, which is also offering Train Operators workshops and its ongoing Transit Tots program.
24. Spend the February school break at one of the many winter camps in the city; check our Camp Guide or Classes Directory for more ideas.
25. Celebrate the Year of the Rooster with a Lunar New Year dance performance at the Brooklyn Center for the Performing Arts.
RELATED: Winter Fun List: 50 Things to Do Indoors Across NYC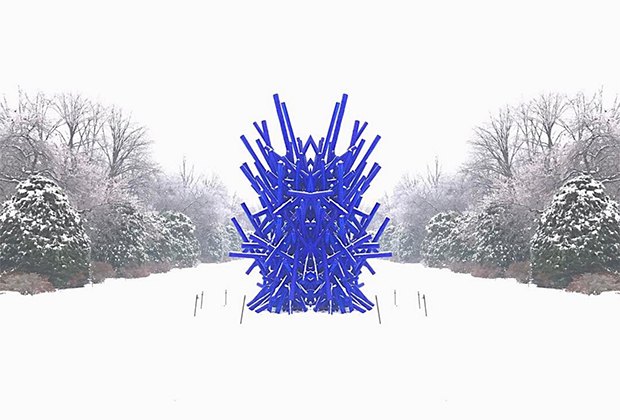 Find winter solitude and pretty seasonal scenes at the Brooklyn Botanic Garden. Photo by Oliver Valle via Instagram.
26. Visit the Brooklyn Botanic Garden after a snowfall and marvel at the quiet surroundings and acres of undisturbed snow (FREE admission on winter weekdays), or catch the indoor family programming on Frosty First Sundays with a faux petting zoo and craft workshops.
27. Afterward, warm up and enjoy a nosh at one of these nearby family-friendly eateries.
28. Take in top children's theater with one of these BAMKids' shows: Do Not Disturb, a wordless comedy, or The Peter Pan Experience, a Dutch play about rediscovering childhood. Coyote's Dance, a Native-American-influenced tale from dance-theater troupe Treehouse Shakers, will also play nearby at Kumble Theater.
29. Stage a winter scavenger hunt in your favorite Brooklyn park, like Prospect Park, Brooklyn Bridge Park, or one of these underrated gems.
30. Pore over the collection of NYC history, including vintage street signs and a real subway turnstile, at the City Reliquary in Williamsburg.
31. Paint a pot, design a tote bag, or learn to sew at one of Brooklyn's many craft studios for kids, or try a drop-in art class geared toward toddlers.
32. Help your kids find their center with a yoga class at kid-focused Monkey Do Yoga studio, or one of these yoga classes for kids.
33. Get lost in the stacks of the children's book section at one of Brooklyn's indie bookstores, including the just opened Stories Bookshop and Storytelling Lab, Greenlight Bookstore (a second location just opened in Lefferts Gardens), and the recently relocated PowerHouse Arena. FREE
34. Catch a family-friendly performance at Bargemusic in Brooklyn Bridge Park. FREE
35. Take your toddler to Stomp, Clap and Sing at the Brooklyn Public Library, which features children's bands and performers every other Tuesday, such as Louie Miranda; or take school-age kids to do an art project at its Kids Create session every Thursday. FREE
36. Enjoy open hours of FREE play and discovery at the hands-on Environmental Education Center in Brooklyn Bridge Park. FREE
37. Save up your quarters to play a few games of pinball with your kids at Berg'n, or enjoy another of our kid-friendly beer halls in Brooklyn like Franklin Park, which boasts a photo booth, air hockey and arcade-style games. Enjoy lunch or dessert at one of the food vendors.
38. Check out a two-floor, immersive digital art exhibit when it arrives at BAM for a limited three-week run: Teknopolis. It's one of our top event picks for NYC kids in 2017!
39. Explore the tree fort, "beauty salon," fire truck and more at Twinkle play space in Williamsburg.
40. Catch Puss 'N Boots at Puppetworks, or shadow puppets at Spellbound Theatre's Ear, Nose, and Tail. Both are Park Slope-based theaters.
41. Rent snowshoes in Park Slope and hit the trails in Prospect Park for a different view of the winter wonderland.
42. Drop by the Lego Club or Chess Club at the Brooklyn Heights library, Poetry and Percussion for teens at the Coney Island branch, or Teen Tech time in Flatbush. FREE
43. Catch a classic kids' movie on a Sunday afternoon as part of BAMkids movie matinees.
RELATED: 50 Things to Do with Kids in Williamsburg, Brooklyn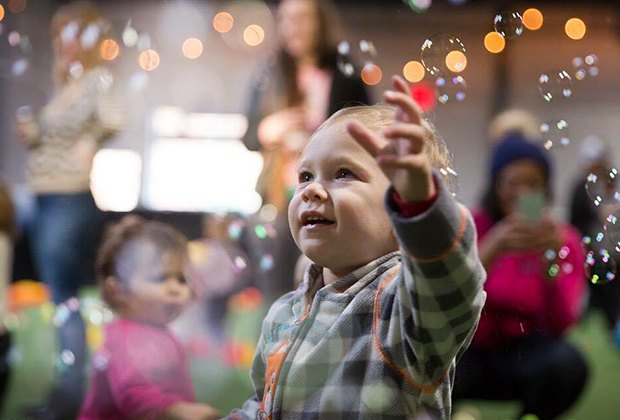 Kids will have a blast at The Little People Party. Photo by Kid Focus Photography/courtesy of the organizers.
44. Play games and run around on the indoor soccer field at The Backyard at Berry Park (formerly the Pitch) during The Little People Party, a twice-weekly daytime playgroup.
45. Sip coffee while the little ones play at one of these Brooklyn cafes with a dedicated play area.
46. Catch a kid-friendly movie and dinner at the brand-new Alamo Drafthouse downtown.
47. Work off some creative energy during open play at Spark by Brooklyn Children's Museum, a new art and play space in Dumbo, which is also offering drop-in art making workshops.
48. Warm up with a cup of hot chocolate—and whipped cream and marshmallows—at one of Brooklyn's best hot chocolate spots, or embrace the cold with an over-the-top sweet treat at Ample Hills, which has several Brooklyn ice cream parlor locations.
49. Jump in the ball pit at the IKEA play area in Red Hook. Parents can even leave kids in the supervised space while they shop.
50. If your kids are climbing the furniture and you're ready to climb the walls, instead head to Brooklyn Boulders, where they are allowed to climb the wall.
Top photo: Water play area at Twinkle. Photo courtesy of the play space.