The Adventures of Tortoise & Hare The Next Generation
The Sheen Center

The Very Hungry Caterpillar Show
DR2 Theatre

NYC Easter Brunch Cruise 2023
Event Cruises NYC
Sign up for our free newsletters.
Brooklyn Boulders: Rock Climbing for the Whole Family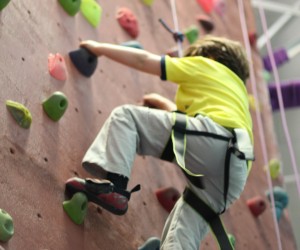 1/8/12
- By
Anna Fader
Rock climbing is becoming an increasingly popular activity. Climbing walls are sprouting up all over New York City the way roller rinks did back in the '70s—no dark, unused corner is safe.

If your kids are post-preschool, they've probably already scaled one of the many climbing walls around town at a birthday party or during a class or event. Maybe you've even given it a try yourself. I've enjoyed rock climbing with my kids at several local spots, but none of them can compare to the experience we had at Brooklyn Boulders Family Hours this past weekend.
Read on to see a photo gallery of our visit and to find out more about this awesome rock climbing spot.
Rock climbing is lots of fun, a great workout for your whole body and almost anyone can do it. Before I tried it for the first time, I was pretty sure I wouldn't be able to haul my butt up the wall. Luckily, climbing walls come in various skill levels, and even a weakling like me can usually manage the easier ones.
Brooklyn Boulders is to rock climbing what Disney World is to theme parks. Located in the Gowanus section of Brooklyn, Brooklyn Boulders boasts 18,000 square feet of climbing walls. The walls are changed every two weeks, so no visit is ever the same. In addition to the common harness climbs (technically called belaying or top rope), there are areas for bouldering (climbing without a harness over thick foam mats) and lead climbing (where you hook into the wall).
Besides the fact that Brooklyn Boulders has a much larger and more varied climbing area than its competitors, the total experience is different than anywhere else. We visited during the weekend Family Hours (Saturday and Sunday 8-10am) and the place was pretty much deserted. Face it, if you didn't have kids you wouldn't be up then either.
During Family Hours, the adults go with an instructor and literally learn the ropes. We took a class on belaying, but if you get there on the early side you'll have time to take a bouldering class, too. We learned how to tie the proper knots, hold the ropes while our partner climbed, rappelled and even practiced falling. This made rock climbing so much more interesting than just going up and down. For the first time, I started to feel the passion for rock climbing that avid climbers must feel.
While we took our lesson, our children climbed with an instructor who also belayed for them. They were able to climb as much as they wanted, and the teacher helped them find courses that fit their skill levels and challenged them as they progressed. My daughter spent the whole hour climbing, while my son got tired after a few attempts and enjoyed jumping around on the thick foam mats for the rest of the time.
Brooklyn Boulders Family Hours are every Saturday and Sunday from 8-10am. Kids' belaying costs $39 per child and adult classes cost $75, but there's a special package that includes the belay safety (learn the ropes) class and bouldering (free climbing and falling, and injury prevention duties) for parents, plus belaying for two children, day passes and equipment rental for $150.
As long as you arrive by 8:45am, you'll have time to take both classes. But don't worry: Even if you only learn to boulder or belay during your first visit, you'll still have plenty of fun! Post-session, you're welcome to stay and climb as long as you'd like—you can even go have lunch and come back. The goal of the Family Hours is to make parents comfortable handling the ropes for their kids and each other so they can come back to climb independently in the future.
Brooklyn Boulders also offers after-school classes, birthday parties and camps. Find out more at brooklynboulders.com.

For more indoor fun, check out our Indoor Fun Guide.