3 Brooklyn Museums You've Never Heard of That Are Fun for Kids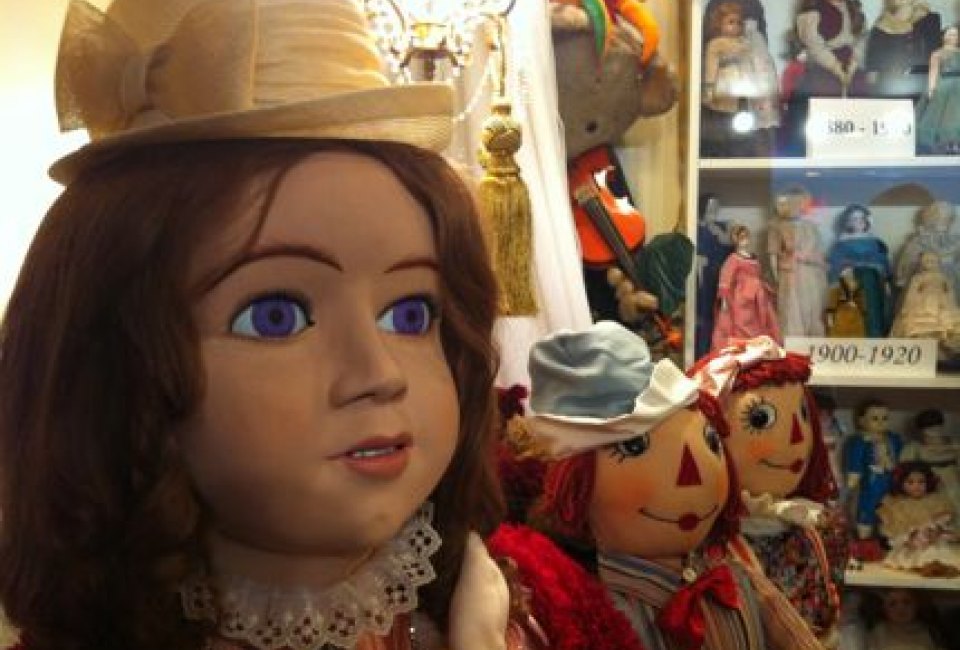 3/19/13
- By
Sarah G
A few years ago we wrote about five under-the-radar museums in downtown Manhattan. But there are a bunch of little known museums in Brooklyn, too, and some of them are particularly fun for kids.

So on a recent afternoon, instead of heading to our usual go-to destinations like the Brooklyn Children's Museum or the Brooklyn Museum, my kindergartner and I set out to see three new-to-us spots in our home borough that sounded cool: one dedicated to toys, another to curiosities and one full of interactive contemporary art. While all of these museums are pretty small and can be seen in under an hour, they make for a great itinerary and are quite inexpensive—two of them are just $2 each.
Sadly, as of November 2014, the Micro Museum is no longer open to the public. First up we visited the Micro Museum at 123 Smith Street in Boerum Hill. Owned and operated by artists Kathleen and William Laziza, this storefront houses a very interactive and kid-friendly collection of contemporary pieces. My son, a huge techie, immediately set out to explore each installation. Since much of the work here is media and tech-based, there are lots of buttons to push, touch-screens to activate, two long rows of motion-activated "Evil Laughing Clowns" and lots of old-school phones with loud rings to play with. Founded in 1986, the nonprofit Micro Museum also exhibits work by visiting artists and hosts occasional performances and readings. It's only open on Saturdays from noon to 7pm and admission is $2.

Next we visited The Toy Museum of New York, which we wrote about back in 2010 before it moved into its new 180 Smith Street home. Originally opened in 1999 by performer and toy collector Marlene Hochman, this museum can only be visited on days when it hosts puppet shows. While the lineup changes monthly, we got to watch The Story of Ferdinand the Bull, Goldie and the Bears, and Mumford the Monster's Magnificent Fairy Tales. The puppeteers were super-fun and my son had a few good laughs, especially during Ferdinand. After the performance, a curtain was pulled back to reveal a wall of dolls, antique toys, trains, assorted tchotchkes and games, all behind plexiglass. (Sorry kids, no touching here.) The current collection is focused on classic toys from 1880 through 1980, so parents and grandparents can go on quite the nostalgia trip. Puppet shows only happen on select weekday mornings and weekends so be sure to check the Toy Museum website for showtimes and reservations before heading over.

We had to take the G train to get to the last stop on our Brooklyn museum tour, Williamsburg's The City Reliquary at 370 Metropolitan Avenue, a true treasure trove of NYC history. Since this isn't a hands-on kind of place, this spot is probably best for older kids who know how to look not touch. My kindergartner had a hard time just moving past the pretty gift shop at the front, which is stocked with cute locally produced knickknacks. After pushing through a vintage subway turnstile in order to enter, we discovered a cozy room packed with all sorts of NYC curios: old street and train signs, seltzer bottles, vintage photos and even a tiny booth dedicated to the history of burlesque. You'll want to linger here, there's just so much to take in. If you need a break, the colorful backyard has picnic tables and a tree house. Or you can do what we did and duck into Saltie next door for a tasty snack. The City Reliquary is open Thursday through Sunday from noon to 6pm and admission is $2.

Find out about other great exhibits to explore with kids in our NYC Museum Guide.
Places featured in this article:
---
Micro Museum
---
The Toy Museum of NY
---
The City Reliquary
Enter to Win!