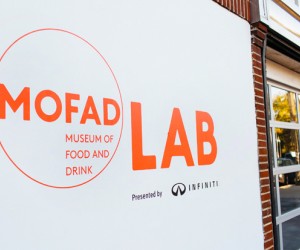 Explore the Flavor of the Kid-Friendly Museum of Food and Drink
School-age kids with an interest in food—its history, culture and the science behind its production—won't want to miss the Museum of Food and Drink at its first (although temporary) brick-and-mortar location in Williamsburg, near McCarren Park, in Brooklyn.
Housed in the brightly lit, wide-open 5,000-square-foot ground floor of a converted warehouse, MOFAD's current digs are inviting, and the exhibit is quite interactive. Be prepared to find a full-size red car parked inside the gallery's front door. It is is the property of one of the exhibit's sponsors, but that's all the commercial sponsorship business you'll see.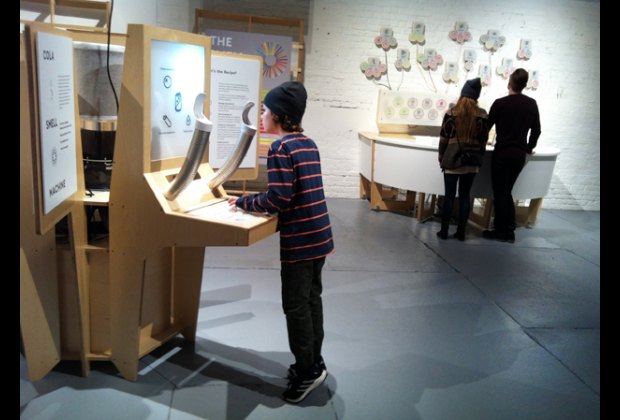 Exhibits are interactive but require reading, making the museum best for school-age kids. Photo courtesy of the author.
MOFAD's main exhibit, Flavor: Making It and Faking It, has been on display since October 2015 and runs through February 28, 2016. It explores the science behind the flavors in foods we eat every day. At stations positioned around the gallery floor, visitors learn about, for instance, how vanilla and seaweed inspired the science of flavor replication; how our senses detect flavor chemicals; and how MSG changed the production of processed foods.
RELATED: How to Get in for FREE to Nearly Every NYC Museum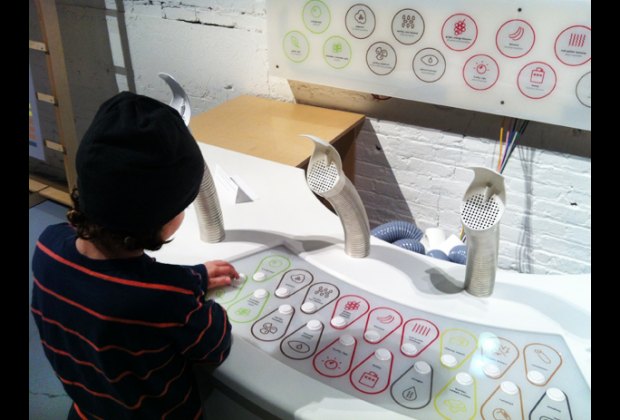 A click of a button releases smells as varied as chocolate to skunk at the scent station. Photo courtesy of the author.
My 9-year-old, not exactly a foodie, got a kick out of the hands-on displays, especially those with buttons that released puffs of various scents (vanilla, chocolate, skunk). He mixed and fiddled around with those scents to make unusual combinations that trick the senses. There's plenty of room to roam, check out displays, read up on the science behind flavor creation and even watch a short film about how our brains interpret flavor. My son's highlight: a blind jelly-bean taste test, of course.
RELATED: Top 10 Benefits to Your Family IDNYC Card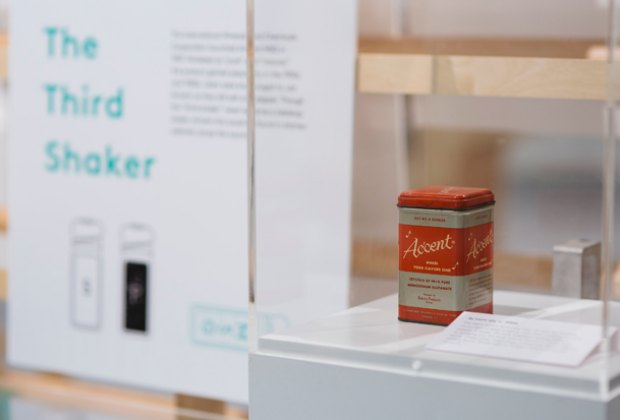 The museum doesn't just explore smells, tastes and food production; it also looks at the culture of food like the role of MSG. Photo courtesy of the museum.
The folks behind MOFAD clearly are excited about food, and their goal is to become a force in food education via a permanent museum. "Imagine a place where you can use an Aztec kitchen, see cereal made before your eyes, decode food marketing, taste West African street food, make Chinese hand-pulled noodles, learn about agriculture and composting, and see how the body digests a sandwich—all in one museum," the organization's website says. The group got its start with a mobile exhibit featuring a 3,200-pound breakfast cereal puffing machine. It hopes to open a permanent museum in 2019.
While we saw a few preschool-age kids roaming the gallery, this exhibit is definitely geared to school-age children as each station involves reading, subtle hands-on activities, the attention span to think about the science of flavor simulation, the difference between natural and artificial flavors and more. Also, while the gallery's restroom is spacious enough for a stroller, there is no changing table.

On your way out, be sure to visit the tiny gift shop display with food-related books, MOFAD T-shirts and totes and salt water taffy. Stop by the helpful front desk for a map of neighborhood restaurants (we received recommendations for two walking-distance kid-friendly spots — Sottocasa and Kings County Imperial); or check out our round-up of family friendly Williamsburg eats.
The museum also has a host of hands-on activities and events specifically for families and kids coming up:
Kids in the Kitchen with Dominique Ansel
January 30
Get a little star-struck, and learn how to whip up a special chocolate sauce with acclaimed chef Dominique Ansel at this workshop for kids ages 7 and older. $15 per child
Flavor Exhibition Tour for Families
February 6
This event for kids ages 7 and older (with an adult companion) provides a guided tour of the Flavor: Making It and Faking It exhibit and ends with a scavenger hunt and hot chocolate. FREE
Kids Food Science: Flavor and the Five Senses
February 27
A workshop for kids ages 5 and older, this event uses hands-on experiments to teach children how our five senses influence flavor. $5 per child.
Kids in the Kitchen: Cool Cooking with Wylie Dufresne
April 2
Let your 7-9 year-old physics-loving child get up close and personal with culinary superstar Wylie Dufresne. Learn about the tremendous cooling properties of liquid nitrogen and how to use it to make, among other things, instant ice cream. $15 per child.
MOFAD is located at 62 Bayard Street, between Leonard and Lorimer Streets. It is closed on Mondays and Tuesdays, and open Wednesdays and Thursdays from noon to 5pm; Fridays from noon to 8pm; Saturdays and Sundays from noon to 6:00pm. Admission is $10 for adults, $8 for seniors and students, $5 for children younger than 18, and free for children younger than 5.
Top photo courtesy of the museum.
Museum of Food and Drink
62 Bayard Street
Brooklyn, NY 11222