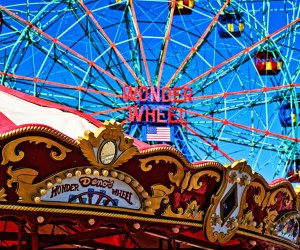 Rides Return to Coney Island With Deno's Wonder Wheel Amusement Park and Luna Park Opening
After a year-long shutdown, two of New York City's favorite amusement parks are ready to roar back to life. Deno's Wonder Wheel Amusement Park and Luna Park, the heart of Coney Island, are set to reopen on Friday, April 9.
To mark the occasion, Deno's Wonder Wheel Amusement Park is holding its annual "Blessing of the Rides," that day, with locals gathering for a ribbon-cutting ceremony in an event honoring the city's essential workers and ushering in a belated birthday celebration for the namesake Wonder Wheel, which celebrated its 100th anniversary in 2020. Look for more centennial celebrations later in the season.
Keeping with time-honored traditions, Luna Park will celebrate with its annual egg cream christening of the Cyclone. It will also honor essential workers by giving 500 frontline heroes free admission for the day and offering local hospital workers the first chance to ride the Cyclone.
The opening of Deno's Wonder Wheel Amusement Park and Luna Park mark a major milestone in a return to normalcy for the neighborhood, which came to a screeching halt during the pandemic. Deno's and Luna Park were both shuttered for the entire 2020 season.
​Deno's Wonder Wheel Amusement Park
For the 2021 season, Deno's is limiting capacity to 33%, and timed reservations must be made. Once inside, guests can stay and play for up to 2 hours. Admission is FREE, and guests pay per ride or attraction. Currently, the park is open on weekends and school holidays from 11am-6pm; during the height of the summer season, from Memorial Day to Labor Day, Deno's operates seven days a week from 11am-11pm.
Once inside, climb aboard your favorite rides—21 in all—including Stop the Zombies, the Sook-A-Rama, and, of course, the namesake Wonder Wheel. Many of the rides will have plexiglass shields and air ventilation systems.
RELATED: New Amusement Park Rides Coming to the Tristate Area for Summer 2021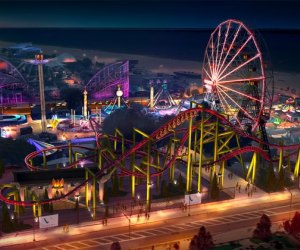 The Phoenix is set to rise at Deno's Wonder Wheel Amusement Park and be passenger-ready by the season's end.
The Phoenix roller coaster is set to debut this season, too, rising up to 68 feet high while running along more than 1,200 feet of track and carrying up to 20 passengers in its 10-car train. Unlike many mega-thrill rides at nearby Luna Park, The Phoenix is described as a family coaster, accessible to kids more than 39 inches tall, though it rotates to a near upside down 115 degrees.
Its name is symbolic, according to Deno Vourderis, whose family operates the park. "Phoenix symbolizes rebirth to a more accepting and loving world," he said. "New York is known for its ability to take a punch and bounce back. I don't think any other place on earth does this better. And Coney Island is its greatest example of resilience, even in the darkest of times. It is a place people have always come to find comfort and to remember what it feels like to smile. We need this now more than ever."
Though construction is underway, an opening day for The Phoenix has yet to be announced, but it should be ready sometime this season.
Luna Park
In addition to the iconic Cyclone, visitors can expect a trio of new rides, a ropes course, and more amenities, including an open-air eatery and entertainment space. Debuting this season is a log flume ride whose tracks intertwine with a new steel coaster, which is even ADA accessible. A new ride, dubbed "Big Wavez," promises to bring King Neptune to life on a video screen equipped with motion-activated sensors. Rider's movements create a different experience each go-round, though the one certainty is you will get wet.
Luna Park will reopen at reduced capacity and visitors will need to buy timed-tickets online. You can choose from three levels of wristbands which will give unlimited admission to the park for two hours. Wristbands cost $35. Luna Park will be open on weekends only for now, 11am-7pm, but will be open daily during peak summertime.
Photo and rendering courtesy of Deno's Wonder Wheel Amusement Park