New Amusement Park Rides Coming to the Tristate Area for Summer 2021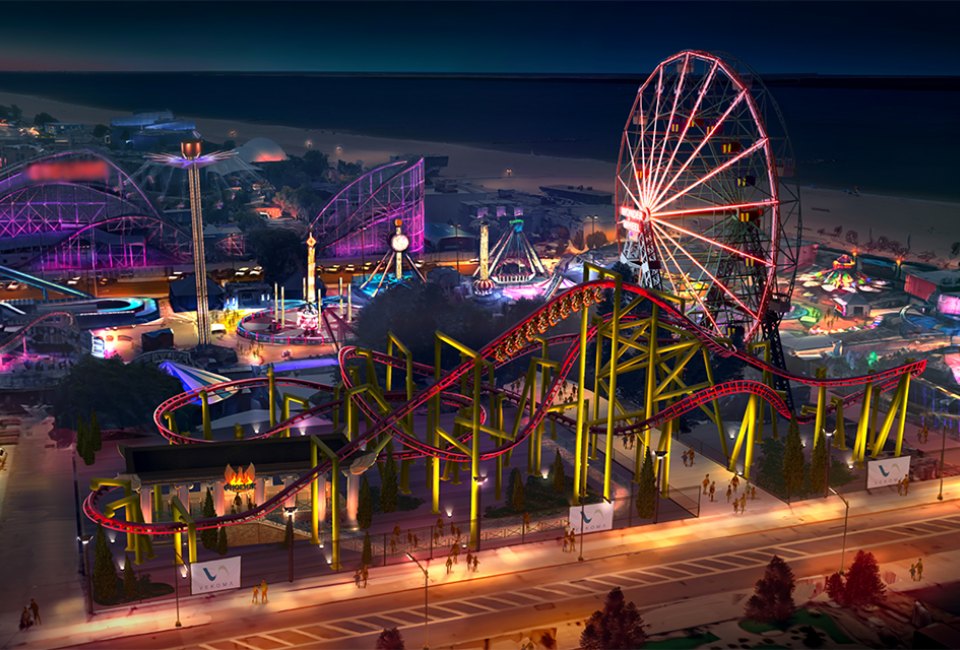 3/18/21
- By
Diana Kim
Following a year of shutdowns and closures, summer is firmly on the horizon, and we're all anticipating the return of cherished summer rituals, like visiting our favorite amusement parks and water parks. Following shortened season or limited runs in 2020, many amusement parks in the tristate area are set to reopen with a bang this summer. After an offseason of busy behind-the-scenes building, thrilling new rides and attractions await at amusement parks in New York, New Jersey, and Pennsylvania.
From the debut world's fastest single-rail roller coaster at New Jersey's Six Flags Great Adventure to the new Legoland Resort opening in upstate New York, we've got a sneak peek at what's in store when it comes to summer thrills.
Editor's note: While we are trying to promote safer activities that occur outdoors or with social distancing guidelines in place, please keep your family and others safe by always wearing a mask and maintaining an appropriate distance. Make sure to check each park's website for exact dates of reopening, ticket availability, and pricing.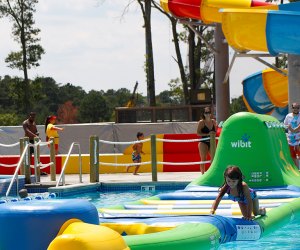 Cool down after a day on the rides at Diggerland's new water park.
New Jersey Amusement Parks Debuting New Rides and Attractions
This construction-themed amusement park has several new rides and attractions debuting this year. Try out the new apple cannons experience, where you can shoot a huge air-driven cannon in a special area. Get behind the wheel of the ROXOR—a heavy-duty steel, off-road beast with room for five and one ride operator—and enjoy cruising around the dedicated course. Diggerland's new water park is ready for its first summer run; there's a splash pad portion with construction-themed features, a wading pool, an Aqua Shot, an obstacle course, a digger river and vortex, and specialty slides.
RELATED: Here's When Amusement Parks Open for the Season in New Jersey and Pennsylvania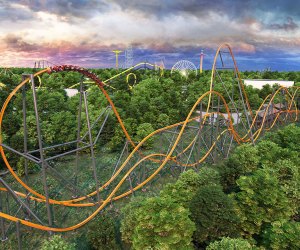 Enjoy the thrill of the Jersey Devil Coaster at Six Flags Great Adventure.
New Jersey's largest theme park is unveiling the world's tallest, fastest, and longest single-rail roller coaster, the Jersey Devil Coaster. Inspired by the mythical Jersey creature, the ride includes an 87-degree drop, two additional dramatic falls, and a 180-degree, zero-gravity roll. Twelve riders sit in single-file trains straddling the monorail track. Six Flags Great Adventure has set a season-opening date of March 27, and tickets are already on sale. However, this thrilling new coaster's exact opening date has yet to be announced. Keep in mind; there's a 48-inch height requirement. The towering new coaster is built on the lakefront near the Safari Kids and Congo Rapids attractions. The park's popular Wild Safari Drive-Thru Adventure returns, too, bringing with it a slew of new babies, including bison calves, baboons, and Asian water buffalo. The Wilde Plains section features a new species—the African bongo, which is the third-largest antelope.
RELATED: Sea Life Aquarium, Legoland Discovery Center Set to Open May 4 at American Dream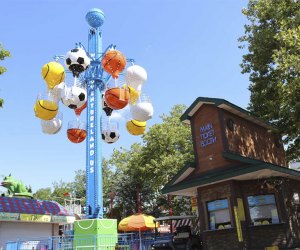 Choose your favorite ball and hop in on Adventureland's new Sports Tower.
New Attractions in New York Amusement Parks
Adventureland is an old Long Island favorite, and the park is set to open Friday, April 9. A brand new Sports Tower is introduced on that day, too. If you can't wait that long, the park's indoor arcade opens two weeks earlier and features a few new games. To meet state social distancing guidelines, the park plans to operate at reduced capacity. Adults age 25 and older, who are accompanying children, can purchase a chauffer pass at a reduced rate.
Luna Park, Coney Island's biggest amusement park, debuts several new rides during the 2021 season. There's an ADA-accessible log flume ride whose tracks intertwine with a new steel coaster. The new "Big Wavez" ride promises to bring King Neptune to life on a video screen equipped with motion-activated sensors, which means visitors' movements produce a different experience each ride, though the one certainty is you will get wet. Consider drying off with some high-flying fun on the new circus-themed ropes course, which debuts varied attractions for all-ages fun.
RELATED: Family Amusement Park and Water Parks Guide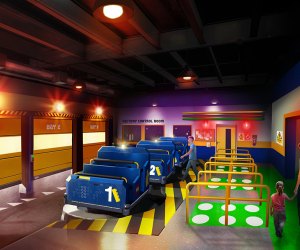 Shrink yourself to mini-figure size on Legoland New York's exclusive ride, the Legoland Factory Adventure.
The Legoland New York Resort has finally gotten the green light to open this year, although the exact date is yet to be announced. Along with more than 50 rides, attractions, and games, the New York resort is debuting a brand-new ride exclusive to its location—the Lego Factory Adventure. Visitors join Professor Brick on a thrilling and unpredictable adventure through the incredible Lego Factory, meeting many whimsical characters along the way. With the use of the world's first on-ride tracking technology, guests see themselves transformed into Lego mini-figures. Tickets are currently on sale on Legoland's website.
Coney Island's beloved, old-school Deno's Wonder Wheel Amusement Park is set to introduce a brand new roller coaster this year. The Phoenix is the newest addition to this enviable plot of beachfront property. Rising to 68 feet tall and running along more than 1,200 feet of track, the coaster carries up to 20 passengers in its 10-car train. Unlike the Cyclone to the south or the mega-thrill rides at Luna Park, this ride is described as a family coaster and is accessible to kids more than 39 inches tall, though it does rotate to a near upside down 115 degrees. Belated celebrations take place season long for the 100th birthday of the Wonder Wheel.
RELATED: 14 Family-Friendly NYC Openings We're Anticipating in 2021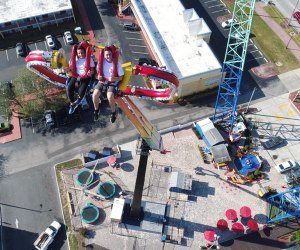 The Adirondack Outlaw at Six Flags Great Escape is not for the faint of heart.
Rising 165 feet in the air, the Adirondack Outlaw is a first-of-its-kind ride combining height, speed, and dual motion. The ride's giant arm launches guests 16-stories into the air, spinning around in a giant vertical circle at speeds up to 52mph, while its unique open-air pods are simultaneously flipping riders head-over-heels. Riders are treated to breathtaking views of the Adirondack mountains...if they can keep their eyes open. As riders soar upward, the circular rotation continues for a thrilling, one-of-a-kind experience. Park opens May 1, 2021.
RELATED: Adirondacks, Catskills, and Hudson Valley Guide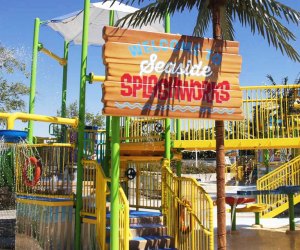 It's a tropical paradise at Splashworks at Dorney Park.
New Rides at Pennsylvania's Amusement Parks
Families can flock to Seaside Splashworks: a multi-level, beach-themed playscape that makes up the water park's largest structure. The new family attraction features more than 75 play elements to entertain the entire family for hours. Splashworks includes six water slides, interactive spray jets, water cannons, a giant 317-gallon tipping bucket, and even a splash zone just for toddlers. With plenty of lounge chairs and shade structures overhead, Seaside Splashworks is designed to let parents relax in the shade while the kids play safely nearby.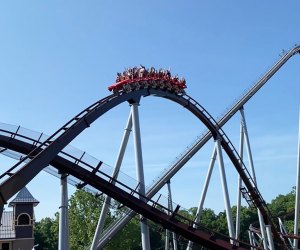 Candymonium is Hesheypark's longest, tallest and fastest coaster.
Hersheypark marks its 115th season this year, and the coasters start rolling Friday, April 2. A brand new hypercoaster dubbed Candymonium becomes the longest, tallest, and fastest coaster in the park. Hersheypark's oldest roller coaster, Comet, turns 75 years old this year, and the park's beloved Chocolatetown has been completely transformed for a sweeter and more thrilling experience. As a special bonus for 2021, tickets purchased now can be used throughout this year's public operating calendar, including on holidays and special themed days.
Sesame Place is a perennial favorite for families with preschoolers, and this year, it debuts Slimey's Square, a brightly-colored, shaded, soft play area for kids 5 years old and younger. Located right next to Oscar's Wacky Taxi Coaster, it's the perfect place for young kids to climb, crawl, and have fun. A new food area, called ABC Eats, also opens.
Photos of the parks