Record-Breaking Roller Coaster Coming to Six Flags New Jersey
2/1/21
- By
Jody Mercier
Summer thrill-seekers take note: Six Flags Great Adventure is adding an epic new ride to its collection for the 2021 season. The record-breaking Jersey Devil Coaster has topped off at the Jackson, New Jersey, park and should be ready for riders during the 2021 season.
The roller coaster is the tallest, longest, and fastest single-rail coaster in the world.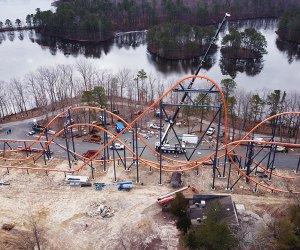 Jersey Devil Coaster riders soar single file across 3,000 feet of track.
The final piece of track was hoisted into place last week on the soaring coaster, which rises 130 feet into the sky—that's as tall as a 13-story building—and reaches speeds of up to 58mph as riders fly along 3,000 feet of track.
Other highlights of the ride, inspired by the mythical Jersey creature, include an 87-degree drop, which is one of its three dramatic falls, and a 180-degree, zero-gravity roll. Twelve riders sit in single-file trains straddling the monorail track.
Six Flags Great Adventure has set a season-opening date of March 27, 2021, and tickets are already on sale, though the thrilling new coaster's exact opening date has yet to be set. A 48-inch height requirement is set for riders. The towering new coaster is set on the lakefront near the Safari Kids and Congo Rapids attractions.
Photos and video courtesy of Six Flags
Places featured in this article:
---
Six Flags Great Adventure

Sign up for our free
newsletters.
Mommy Poppins is a family activity website that helps people find things to do with kids.
©
2023
MommyPoppins. All Rights Reserved.
mp-prod4-v4.32.99
We use cookies and other data collection technologies to provide the best experience for our customers.
Learn More