Diggerland: A New Jersey Theme Park for Construction-Loving Kids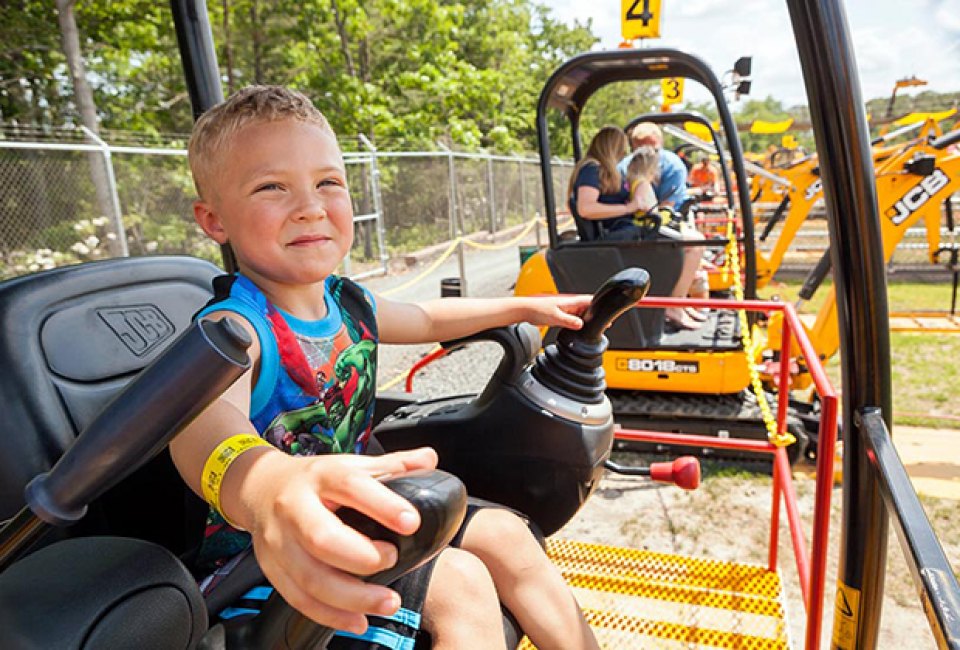 2/5/18
- By
Jaime Wisz
If your kids can't get enough of trucks and dirt, head to Diggerland USA, a construction-themed amusement park in West Berlin. Diggerland is a child's construction-site fantasy, with a setup designed to fulfill the dreams of little builders ages 2 and up.
My 2-year-old son and I recently took the ride to West Berlin to see what it was all about, and we had a blast. However, we'll probably wait another year before returning so as to avoid the temptations of the rides he wasn't big enough to go on just yet. That said, if you're looking for a unique alternative to traditional amusement parks this summer, a trip to Diggerland is definitely in order.
Rides and Attractions
The property is set up like a child-friendly truck yard. As you walk around you are bound to see your favorite truck, and more than likely you can climb right in to see what it's all about.
The rides and attractions are geared toward children of varying ages and sizes, but many can be enjoyed with the assistance of an adult if they don't make the height requirement to ride solo. Note: children under 36" may not go on rides, even with an adult. Their admission is free, but the attractions they can participate in are limited primarily to the playground and arcade. In short, it's probably a good idea to leave the really little ones at home if you can.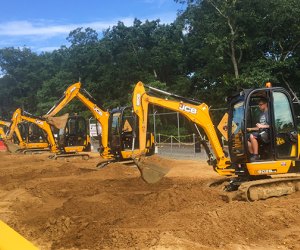 Forget the plastic shovels—kids can scoop up huge piles of dirt with the Mini Diggers. Photo by the author.
Diggerland is laid out perfectly for littles. It's not too big and definitely not too small, the space is easy to navigate, and there isn't much walking between each ride. And if you're up for it, you could easily hit all 17 rides; we did about eight (we visited on a hot day and there wasn't much shade).
RELATED: Great Amusement Parks for Toddlers and Preschoolers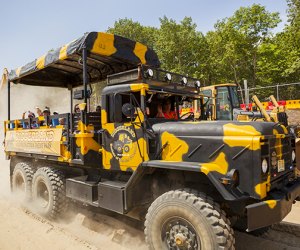 Operation Battle Truck, my son's favorite ride, was the closest thing to a monster truck.
My son loves everything about monster trucks, and while there weren't any actual monster trucks at Diggerland, taking a ride (or three) on Operation Battle Truck was a fun substitute. Passengers ride on the back of an enormous, five-ton military vehicle that takes you for a spin on a large, bumpy, and exciting dirt path. My son and I both thought it was a blast. As I mentioned, we rode Operation Battle Truck three times (despite the growing line). He also loved the Argo Off Road, the Skid Steers, and the Mini Diggers.
Other rides include Dumper Trucks, Ground Shuttle, Excavator Express, and the Turnpike Tractors. All allow for riders to be 36'' if they have an adult with them. To ride alone, some of these rides require a minimum height of 42'' or 52''.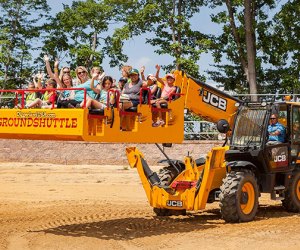 The Groundshuttle scoots its passengers 25 degrees in all directions while 6½ feet off the ground.
Bigger kids 42'' and sometimes 52'' and over can enjoy a whole slew of other attractions, including the Spin Dizzy and the Sky Shuttle, a telehandler that lifts guests more than 50 feet into the air. The Greased Beast, Diggerland's newest attraction, is a ride that takes place in the rear of the hopper section of a steel demolition trailer, lifting passengers more than 34 feet into the air before doing a simulated dump of its cargo. There is also a four-story ropes course and 32-foot rock-climbing wall for those who feel the need for an additional adrenaline rush. In short, there's something for all of the daredevils in your family.
Attractions for kids of all ages (and heights) include the Kid Zone playground, Barrel Train ride (for 30" and up), arcade, Micro Digger, Gold Digger, and Duck Race game.
RELATED: Best Jersey Shore Beaches for Families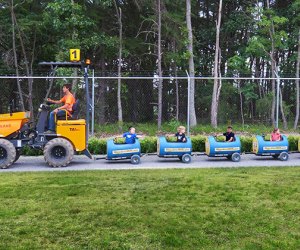 Even the smalls can go for a spin on the Barrel Train ride.
New for the 2018 Season
Diggerland recently completed a seven-acre expansion, the park's largest project since its opening in 2014. As part of the expansion, Diggerland is debuting five new rides this season: Rugged Riders, Soaring Eagle Zip Line, Ventrac, Farm Tractors, and Elevation Station. In addition to the new rides, the park also added a climate-controlled dining and party pavilion for birthday celebrations and expanded parking infrastructure.
Food and More
Diggerland USA does not allow outside food or beverages in the park, but it does offer a variety of food choices at both a full-service cafe, The Lunch Pail, and a concession stand, The Munch Box. If you want to bring your own food, there is a limited amount of picnic space outside the gates of Diggerland.
The only exit at Diggerland is through the gift shop, naturally, where you will find a variety of trucks, t-shirts, candy, and more. We left with a t-shirt, a new truck, and a little bit of candy.
Admission, Hours, and Events
Check out the Diggerland website for regular admission prices and upcoming events. Purchasing tickets online saves some money. Also, non-participating adults over 65 and children under 36'' are always free.
The park will be open on weekends only (plus Memorial Day) through Sunday, June 10; starting on Friday, June 15, it will be open from 10am to 6pm Monday–Friday, and 10am to 7pm Saturday and Sunday. It remains open on weekends only (plus school holidays) from Labor Day through the end of November.
Head to West Berlin for the Weekend
Depending on where you're coming from, a trip to Diggerland is a bit more than a day trip. Next time we head down for a visit we will definitely be taking advantage of the surrounding attractions, like the Camden Aquarium and the Jersey Shore.
Top photo: Mini digger. Unless otherwise noted, photos courtesy of Diggerland
​This article was published in 2017 but has been updated for 2018.
Places featured in this article: